Mid-cap stocks have been underperforming large-cap stocks for quite some time. Perhaps, this is a reason for the malaise in the broader market over the past year.
Let's take a closer look at what's happening. In the chart below, we look at the performance ratio of mid-cap stocks to large-cap stocks, using the S&P Mid Cap ETF (MDY) and the S&P 500 (SPY).
As you can see, it's been trading in a longer-term channel and hit upside resistance in late 2016 / early 2017 at (1). And it has been heading lower ever since.
The decline is currently testing 8-year support (2) with momentum levels oversold and potentially creating a higher low. Mid-caps have rallied from these momentum levels in the past (see green markers).
A setup is in play for Mid-cap stocks to outperform Large-cap stocks. Stay tuned!
Mid-Cap Stocks (MDY) / Large-Cap Stocks (SPY) Ratio Chart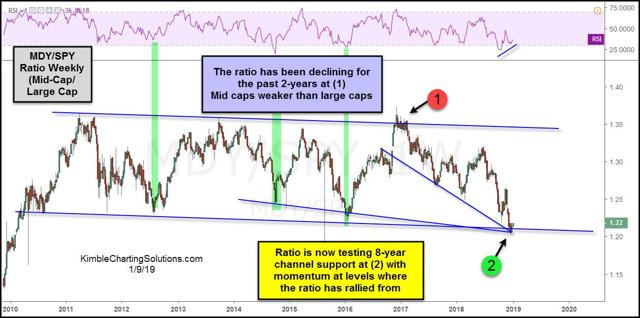 This article was first written for See It Markets.com. To see original article CLICK HERE
Fundamentals tell you what to buy. Our chart patterns show when to buy! Employ the Power of the Pattern
See sample of our most popular research reports here
Receive my free research to your inbox, immediately after it's posted to the blog
Email services@kimblechartingsolutions.com
Call us Toll free 877-721-7217 International 714-941-9381
Website: KIMBLECHARTINGSOLUTIONS.COM
Disclosure: I am/we are long MDY.