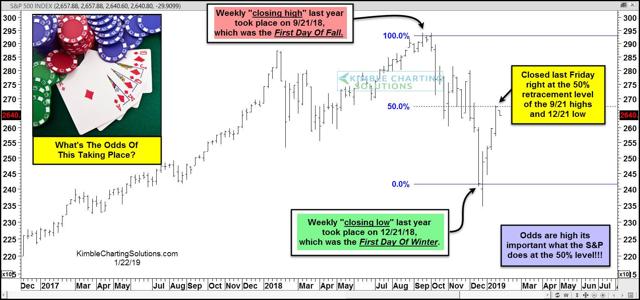 4 weeks ago, the stock market was in panic mode… my, oh my, how things can change fast. But don't let the good vibes go to your head just yet. Active investors need to fight off complacency here, as the S&P 500 knocks on an important price level.
Today we focus on the S&P 500 "weekly" chart.
Note that last year's weekly closing high took place on 9/21/18, the first day of Fall. And the weekly closing low took place on 12/21/18, the first day of Winter.
Last Friday's weekly closing price was at the 50 percent Fibonacci retracement of those very 9/21 highs and 12/21 lows.
In my humble opinion, this level marks an important bull/bear battleground. Breakout or breakdown? Put this one on your radar as this could be a "Make or Break Level" for the S&P 500!
This article was first written for See It Markets.com. To see original post CLICK HERE
Fundamentals tell you what to buy. Our chart patterns show when to buy! Employ the Power of the Pattern
See sample of our most popular research reports here
Receive my free research to your inbox, immediately after it's posted to the blog
Email services@kimblechartingsolutions.com
Call us Toll free 877-721-7217 International 714-941-9381
Website: KIMBLECHARTINGSOLUTIONS.COM
Disclosure: I am/we are long MDY.