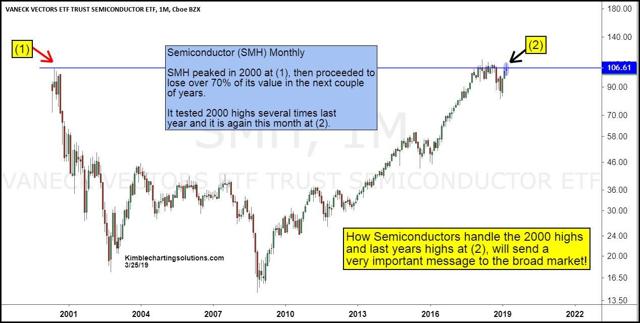 After making all-time highs in the year 2000, it took the Semiconductor ETF (SMH) 18 years to revisit those highs. That's a long lay off!
The Semiconductors are a bellwether in the tech sector as well as a leader within the broader stock market.
The current rally off the December 2018 low has been lead by tech stocks, and has the Semiconductor ETF approaching another important crossroads.
Looking at today's chart, we can see that the Semiconductors are testing their 2000 highs (1) AND 2018 highs again this month (2).
What they do at (2) should send a very important message to the broad markets! Stay tuned!
This article was first written for See It Markets.com. To see original post CLICK HERE
Fundamentals tell you what to buy. Our chart patterns show when to buy! Employ the Power of the Pattern
See sample of our most popular research reports here
Receive my free research to your inbox, immediately after it's posted to the blog
Email services@kimblechartingsolutions.com
Call us Toll free 877-721-7217 International 714-941-9381
Website: KIMBLECHARTINGSOLUTIONS.COM
Disclosure: I/we have no positions in any stocks mentioned, and no plans to initiate any positions within the next 72 hours.