A very significant and encouraging event that would lead to the decriminalization of marijuana use that is otherwise compliant with state marijuana laws occurred Friday (12 Feb). Representative Dana Rohrabacher representing California's 48th Congressional District just introduced House Bill 1523 - Respect State Marijuana Laws Act of 2013. The Bill is simplistic in it approach, but would have a rapid and profound impact on the properly positioned marijuana businesses in this space. Some of the companies that could benefit are:
The Business Impact
The stocks mentioned above, as well as others, will have a significant barrier removed if the states are allowed to regulate marijuana without violating federal laws. They could immediately realize savings in taxes because they or their business partners would then be allowed to claim tax deductions for business operations. This is a big problem for the industry that can mean the difference between an entity being profitable or not. When suppliers can reduce their costs, they can pass that on to their customers. So, even companies with no direct exposure will benefit.
Access to the Banking & Insurance Industry
But, the biggest impact will come from being able to openly use the banking system. Many marijuana businesses that operate, especially at the retail level, are often forced to use cash for operations. From a safety standpoint alone, this could reduce operating cost by not having to operate and maintain extensive security profiles and infrastructure.
Then, there would be access to loans and the services of investment banks. One of the biggest concerns for investors in the marijuana space is the number of a company's shares issued and outstanding. Many companies have had to use equity sales to finance growth or sustain operations. For the record, I feel that equity financing is a valid way to fuel grow and operations, especially when debt financing is not an option.
Actually, equity financing might be superior to debt financing in some cases, in that you have to pay interest on debt. You pay for equity financing with reduced share prices because of dilution, but you can always buy back shares (with approval) to reduce the share counts. In contrast, interest for debt cannot be recovered. But the point is that businesses should have all options available.
Marijuana businesses also need the protection afforded by insurance products. There is one company that I'm aware of that offers insurance for the industry, but with decriminalization, those services and costs would certainly become more favorable.
Letting the States Decide
The bill simply moves to amend the Controlled Substances Act regarding the "production, possession, distribution, dispensation, administration or delivery of marijuana" to not apply to those in compliance with state laws. That's it. In my opinion it works because it forces the states to be very explicit about what is, or what is not allowed. Or, they could just do nothing. This simple bill provides a framework that is manageable from day one, yet able to evolve to support state desires for changes in law at the individual states own pace. Now, here is the part you'll find hard to believe, but is also what makes the bill highly likely to pass; it's bipartisan.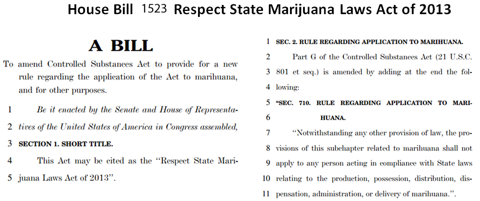 Being a bipartisan initiative, the Respect State Marijuana Laws Act of 2013 is likely to avoid the political agendas that have prevented budgets from being passed and the sequestration. Many politicians support marijuana initiative on one level or another. The bill is being introduced by following congressional leaders:
Rep. Dana Rohrabacher, Republican - California (mentioned above)
Rep. Justin Amash, Republican - Michigan
Rep. Don Young, Republican - Alaska
Rep. Earl Blumenauer, Democrat - Oregon
Rep. Steve Cohen, Democrat - Tennessee
Rep. Jared Polis, Democrat - Colorado
Steve Fox who is the National Policy Director for the Marijuana Policy Project in Washington, DC is asking that supporters contact their member of Congress and urge them to co-sponsor the initiative. The tipping point for those who are in favor of removing the prohibition of marijuana has already been reached. A recent Pew poll showed that 60% of Americans feel "the federal government should not enforce federal laws prohibiting the use of marijuana in states where it is legal."
These are truly exciting times and the changes that are unfolding could prove to be very lucrative with the right investment strategy. We know that the micro cap stocks that are in this space represent more risk than your typical issue. But they also offer the opportunity for significant reward. If House Bill 1523 passes in this legislative session, that reward could be realized sooner than you might think.
Disclosure: I am long OTCPK:MJNA, OTCPK:PHOT, OTCPK:CBIS. I wrote this article myself, and it expresses my own opinions. I am not receiving compensation for it. I have no business relationship with any company whose stock is mentioned in this article.