OK,

So that's what we call a major sell off. Pretty much triggered by the usual bad news coming out of the IMF regarding the global economy.

Greece is also looking likely a seriously dire issue. It could trigger a complete re-design of the EU if it defaults on its loans. And if you look at it from Greece's point of view, default is the best option for them.

In such circumstances, there is a general sell off across all assets....DJ was also hit hard. But looking ahead, gold and silver are the ones that are going to bounce back, because this is the whole premise of bullion investment right now. Economy and paper money down...bullion up.

Gold fell spectacularly and is at $1720 at time of writing...Frankly that's good news. It means there is a potential of $300 upside to the $2000 mark.

Silver is the worry here....It put on a huge crash down to the 200 Daily Moving Average which should be significant support line. If this gives way...I would worry about where the bottom might be.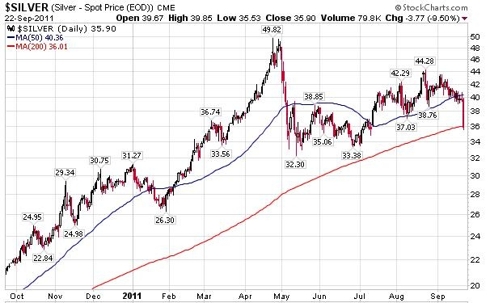 You can keep a constant track of the value of your silver portfolio using this online How Much Is Silver Worth calculator.