In the wake of a robust season of financings, and low valuations we revisit the basic questions in the cell therapy space, updating our tables for year end reported financials. Our numbers are forward looking and subjective to our proprietary algorithm, and this list is not mean to be all comprehensive.
Dendreon and MesoBlast remain the market leaders, but the best values by far are in the micro-cap space with names like Aastrom and PluriStem funded with strong balance sheets.
The sample below represents just over $875 million in market cap for eight of the selected public companies (ex DNDN and MSB). These companies have 3 - PIII trials, 5 PII trials and several P1 trials (based on these crude metrics).
We conclude that is worth investors time to understand among these companies in terms of what they are doing and the associated probabilities of success of their trials.
By price ($), Osiris, MesoBlast, and Dendreon are the highest $ priced stocks: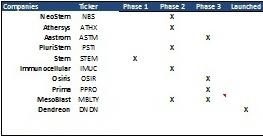 By Price ($), Osiris , MesoBlast and Dendreon are the highest $ price: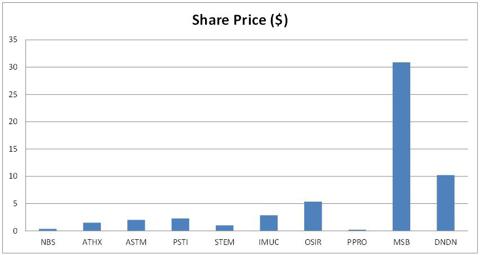 But that starts to change as we migrate to market cap: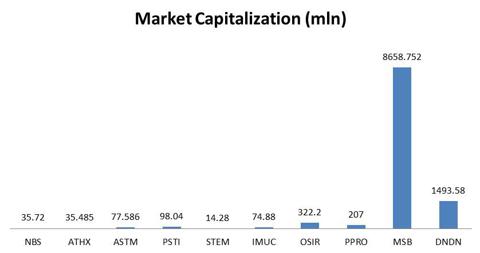 And if we eliminate Mesoblast and Dendreon we get a better picture of the rest of the field: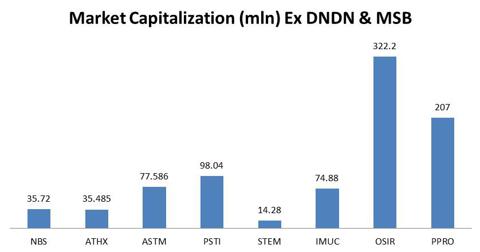 And that picture changes as we adjust for debt and cash (enterprise value):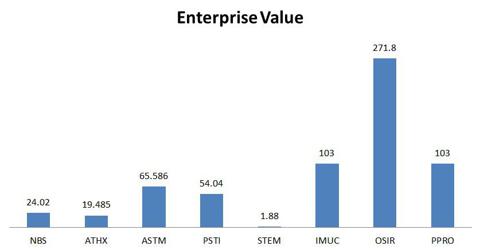 Looking at R&D spend gives us an idea of who is spending what on clinical programs: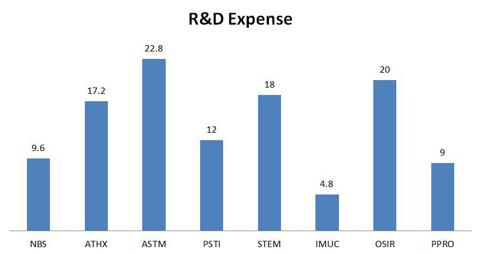 Disclosure: I have no positions in any stocks mentioned, and no plans to initiate any positions within the next 72 hours.