Windows 8 will take over Apps on mobile markets... Slowly but surely. Here are the reasons.
There are more than 50 million Microsoft developers globally and only several thousands of IOS or Android developers, mostly freelancers. I'm talking App developers not HTML developers.
As a business it's hard to find IOS developers. Microsoft is very strong in software and game development. They have all the development tools, documents and support. Most importantly they have the ecosystem for developers which also includes business they make software and tools for developers. The ecosystem reduces the cost of app development and increases the speed.
Most Microsoft Developers didn't even start Windows 8 apps yet.. But they're getting in... and they're coming big... Imagine all businesses which is dominated by Microsoft making new apps.
Google so far trying copy Microsoft steps. They're stealing everything from Microsoft before they release anything, converting into HTML work where they see value which is not a great standard for apps. Microsoft developed two standard for apps. XAML and HTML. XAML is for high end apps, HTML is for simple apps. You can compare Office 365 versus Google Docs.
Plus, with Windows 8 you don't need a browser anymore to search things. Built-in search is way better than browser and you can directly search apps and content. This will definitely kill all the browsers and browser related businesses. GOOGLE's 60 percent of revenue is based on search engine. If they lose 20 percent of that, then goodbye GOOG. Take a look at Windows Search;
The following example show how you can search "new York" with the "Sports" App and jump right to the content you choose. As you scroll to the right you get more and more content.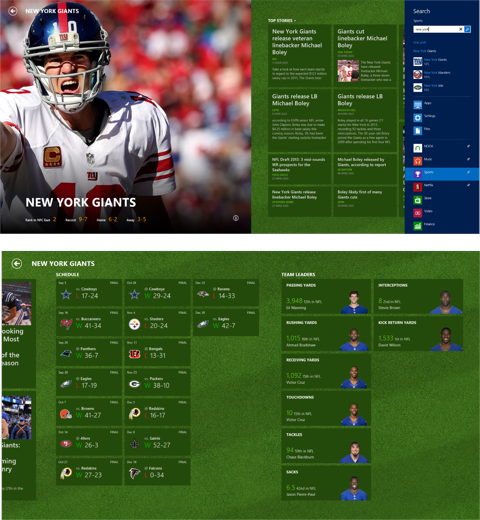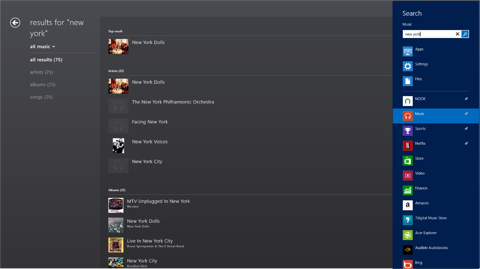 In this example "I can search new york with Music app" and find all the music related to new York. Notice I'm not finding any paid search advertisers. It's pure content.
On the other hand Apple is more focused to design not software or software standards, not even design standards. There is no standard because there is only Apple. They're not good in business because they're not good in software. Ask any business except some design related businesses that if they have Apple software development in their business. The answer is No. Same goes for Google.
So, I would buy Microsoft before it's $60.
Disclosure: I am long MSFT.