Bell wireless vs. Verizon wireless
Yesterday Bell (NYSE:BCE) announced their results. They were good, very good, so good we are really concerned for how bad the others may be, especially Rogers and definitely the new entrants who probably had a nasty quarter with no iPhone 5.
Since Bell executives told investors that they are now a world class management team with a world class network and world class results (and because none of the other Canadian telecos have reported), we decided to take the time to compare Bell's world class results with those of Verizon's. Bell executives used the word "world" 22 times during their presentations which seems a lot considering they only used the word "phone" 8 times and "internet" 26 times. Verizon did not use the word "world" in their Q4 analyst call and only used the word "best" once and it was not related to their network. Bell claims the best network in the world, but their LTE network only covers 22% of the Canadian population compared with Verizon's 87%. OK, this is an unfair comparison, because Verizon already has 700MHz spectrum and Bell is deploying LTE in AWS, which requires more sites. So how can we compare them?
In the industry we have always said that the USA wireless market is 10 times the size of Canada's, so we divided Verizon Wireless' results by 10 for a reasonable comparison.
Service Revenue
Bell had record growth of 7% y/y for the quarter to deliver $1.3bn, but Verizon grew 8.5% to deliver $1.6bn. The graph in fact shows that Verizon is pulling away on the service revenue front.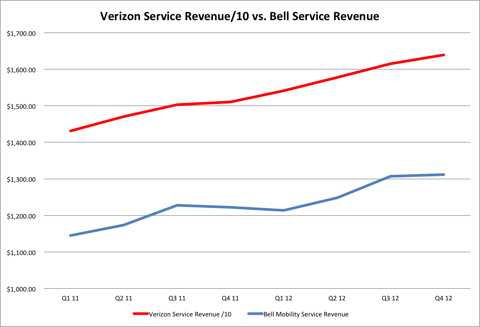 Verizon wireless (divided by 10) vs. Bell wireless - Service Revenue
Equipment Revenue
Bell proudly announced that they still increased their equipment revenue despite lots of aggressive pricing because they sold higher end handsets. Bell equipment revenue was $132m, up 2.3%, but Verizon enjoyed equipment revenue of $256m with growth of 15.5%.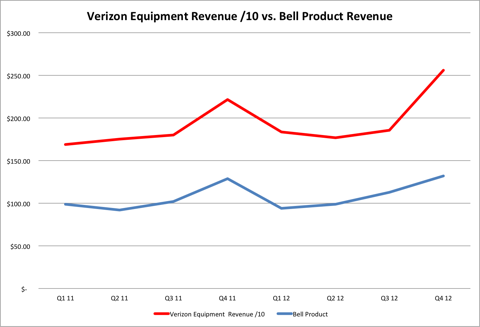 Verizon wireless (divided by 10) vs. Bell wireless - Equipment Revenue
Total Revenue
So with Verizon pulling away in both service and equipment revenue, it should be no surprise that Verizon continues to beat Bell on revenue and is in fact pulling away as the chart below shows.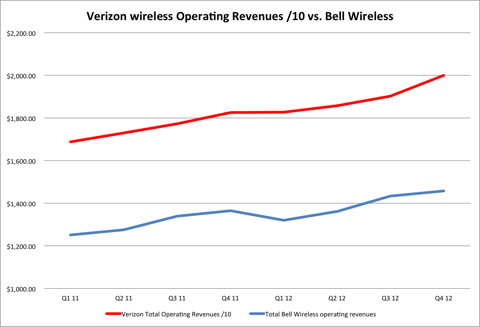 Verizon wireless (divided by 10) vs. Bell wireless - Total Revenue
EBITDA
Bell spent much of the investor meeting talking about removing cost, so it was not a surprise to see improved margins and EBITDA. Bell's EBITDA grew 13.8% to deliver $479m, outpacing Verizon's relatively pedestrian 8.4% growth but way behind Verizon's $1,579m comparator.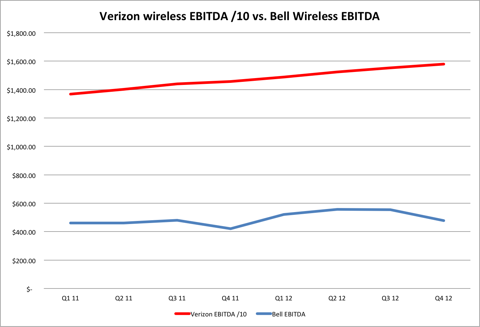 Verizon wireless (divided by 10) vs. Bell wireless - EBITDA
EBITDA Service margins at Bell improved to 36.5% but still lagged Verizon's 41.4%.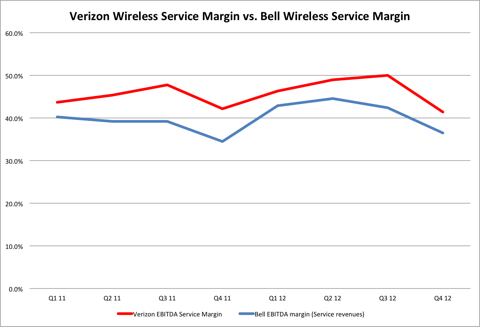 Verizon wireless vs. Bell wireless - Service Margin
Net Adds
After dividing by ten, Bell and Verizon have tracked pretty closely over the last few years. Bell has a cracking quarter on net adds. They did well on gross and with much improved churn came in with postpaid nets of 144k or 9% up. Verizon really blew the lights out with 210k (2.1m/10) net adds or 74% up. Again Verizon is the clear winner.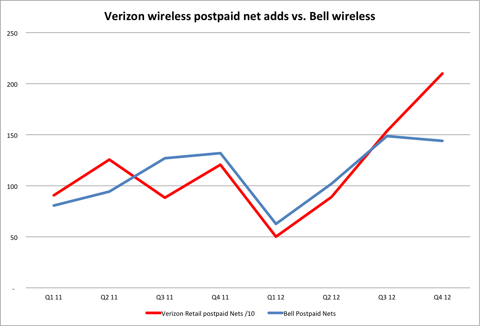 Verizon wireless (divided by 10) vs. Bell wireless - Net Adds
Postpaid Churn
Bell proudly pointed out how their postpaid churn improved from 1.5% to 1.3%. This was indeed dramatic considering the level of competition and the launch of the iPhone 5, but Verizon sold few iPhones than AT&T and still kept their postpaid churn down to 0.95%.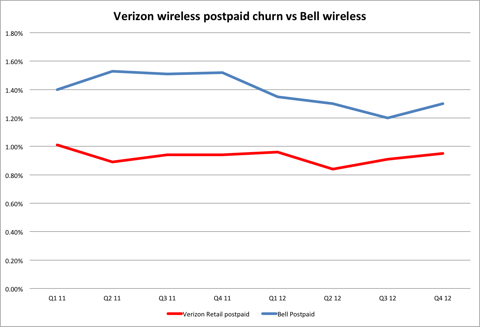 Verizon wireless vs. Bell wireless - Postpaid Churn
Smartphones
After looking at most metrics, it turns out that Bell is ahead in one, smartphone penetration. Bell said that 68% of their postpaid base is now on a smartphone, this compares with Verizon which is only at 58%. The graph shows that they were in fact closer 8 quarters ago and Bell is steadily pulling away. Ironically this trend causes us the most concern. If Bell is ahead in terms of the high ARPU, high margin smartphone, why do they have lower revenue, higher churn and lower margins?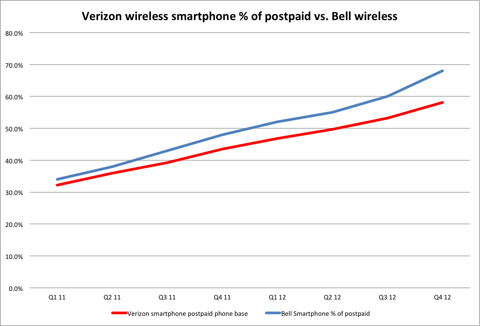 Verizon wireless vs. Bell wireless - Smartphone % of postpaid
Conclusion
Verizon beats Bell on every metric. Even if they are world class, they are not in Verizon's class.
PS
Bell also told investors they have roaming agreements in 225 countries. We will have to check the transcript to confirm that we heard right, because the united nations has only 192 members and lists 3 that are not members. A wiki thinks there are 196.
Disclosure: I have no positions in any stocks mentioned, and no plans to initiate any positions within the next 72 hours.