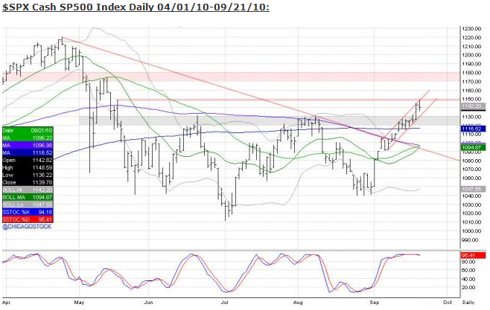 Following the breakout that occurred in a gap and go fashion earlier this month, the SP500 index is in an upward channel that met resistance today as it tested the upper 1140's and quickly reversed. This is testing the May 18 highs of 1148.66 with a high of 1148.59. 
 As you will notice in the weekly chart below, the 1148 level is a big area as this is the top of the left shoulder in the well noted h/s formation. The bears will need to defend Monday's highs of 1144.86 (SPX cash index) and 1140.25 (ESZ0 SP futures) as it is their first line of defense. In here is a small head and shoulders formation against the 1148 number - a prime area for bears to sell as it is against heavy resistance. That assumes they have any ammunition left following the stampede they've seen against them from the lows in August. 
 Bulls on the other hand will need to try to push through this area to retest 1148. An initial pullback to the bottom of the channel needs to be defended by the bulls as they'll need to step up and provide support to continue this momentum. Following this level of resistance 1148, the next major resistance area comes in at the highs of May, between 1170 and 1180. The 1130-1120 area is first level of support before 1105.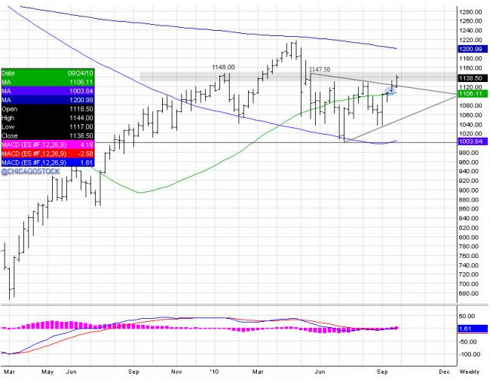 Disclosure:
None