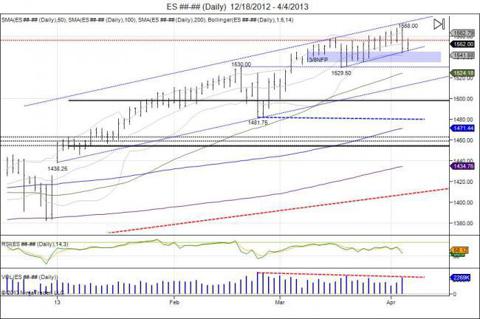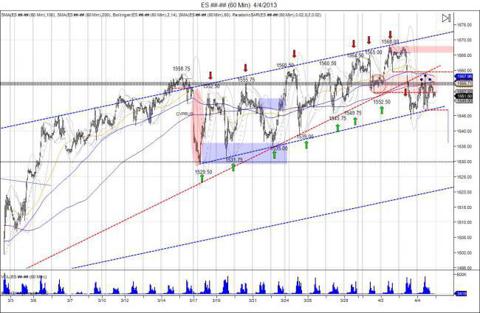 For Friday, Non farm payrolls are due and pressure is to the downside as the market fights to hold levels from the last report on 3/8. This week we saw the market continue its trend of higher lows into higher highs to squeeze out sellers. As 1568s printed the market failed off the level and created another double top where the market was once again sold after making new highs in a rug pull fashion. This time around, the series of higher lows was breached as the market took out 155250 and fell to take out the following lows at 154975 and 154575. As this pattern was shaken and buyers squeezed, the market fell into lows of 1544 to where it closed during the last non farm payroll at 154450 on 3/8. The move on Wednesday setup a bearish engulfment dropping the market down to do a major test within its daily channel from the Cyprus lows. A small relief rally has been seen off this level, however only to retest where the market failed from. Buyers have a lot of work to squeeze out the 1554-1568 range to continue momentum as this has now turned into major resistance. The NFP report will be the catalyst to squeeze this range, or see bears take control lower to take out the lows from the last NFP report at 1535.25. This will then put pressure on the 152950 Cyprus lows which means the market falls back to where it broke out in February and targets those lows at 148175 to confirm a failed breakout above 1530.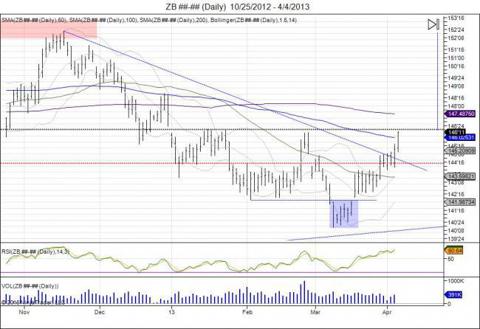 The 30 year bond has moved 5 handles higher since the last NFP report on 3/8 when it closed 14100. The Cyprus news caught shorts below the February lows as the market gapped above 14200 and never looked back. This squeeze has now seen the February high of 14611 taken out which has confirmed the break below the February low was exhaustion on the downside. Bonds have now put in new highs for the year ahead of this Jobs report due April 5th. The new highs on the year will now have people doubt their negative view on the bonds which will give way to force a chase this higher above 14600 and in turn put further pressure on equities. This gives room to 15224 which takes out the high of 15221 of where the market failed last November and gives room to target new highs. Major support is now seen down to 14200 should the bond market give buyers opportunity to defend March's failed breakdown.
Best of luck trading!
RISK DISCLOSURE: PAST PERFORMANCE IS NOT INDICATIVE OF FUTURE RESULTS. THE RISK OF LOSS IN TRADING FUTURES AND OPTIONS IS SUBSTANTIAL AND SUCH INVESTING IS NOT SUITABLE FOR ALL INVESTORS.
For more, become a member at ChicagostockTrading.com to join professional trading group, daily futures report, trade levels, and trade signals.