It's as if Wall Street's collective prayers have been answered this morning: Larry Summers is out of the running to be the next Chairman of the Federal Reserve. As I believe strongly in the wisdom of crowds (and there is no better crowd than the market itself), the market's reaction across the board couldn't be better.
Large Cap Value is up (IWD), Large Cap Growth is up (QQQ), Large Cap Blend is up (SPY), Mid-Caps are up (IJH), Small Cap Growth and Value are up (IWN) IWO), Real Estate is up (IYR), and Bonds are up (TLT).
Practically every world market is up, including all of Asia, the Americas, and Europe.
But you can't really win them all, as commodities are mixed with gold (GLD) Oil (OIL) and Silver (SLV) all in the red. But overall, a great start to the day and to the week.
(click to launch Three Minute Trend TalkTM)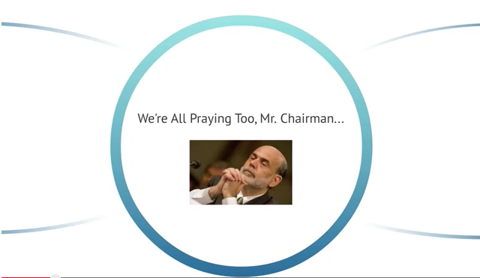 Now for an encore, let's see what the Fed itself has to say later this week. That's when the intense praying really will really start!
Disclosure: I am long IWD, SPY, QQQ, IWN, IWO, IJH, IYR, GLD, OIL, SLV. I wrote this article myself, and it expresses my own opinions. I am not receiving compensation for it. I have no business relationship with any company whose stock is mentioned in this article.
Additional disclosure: I am a happy man today.