Pretty exciting day in the Friday market. I have been watching XOM for a while. Was able to pick it up 58ish in the July sell off, was able to sell 5 Sep65 covered calls (.45) for a nice $225 to pad the $220 dividend paid this month. $445/29k basis represents a 1.5% income return… not bad for one month. That does not even include the price appreciation from 58-62. The Sep65 expired OTM (out of the money) as it never reached the 65 strike price. So now I am looking to resell another covered call to generate additional income. 
I would be remiss not to mention that I sold 5 Aug55 puts for $917 (expired OTM) and then resold 5 Oct55 puts for another $507. The total income generated from selling both puts and calls equals ($1869/29k) 6.4%. Now we're talking! Of course, I have the risk of having the stock put to me at $55, should it close at October expiration at or below that strike price. A risk I am willing to take.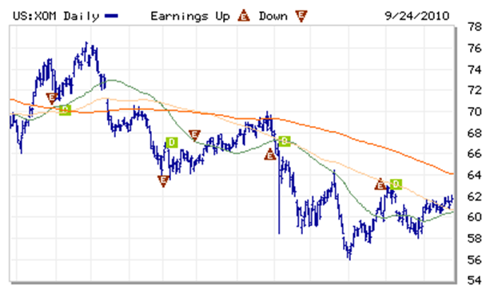 XOM has appreciated and closed near $62 on Friday. Time to consider reselling the expired Sep65 covered call. Recent highs on 6/21 were 64.5 . Also, note the 200 day moving average has descended to approx. 64. The 200 day moving avg. served as a nice top of 69.5 back on 4/26.

Sooo, I am going to use that 200 day avg. and look at selling another 65 covered call. Oct65's are only paying .08, Nov65's are at .40 and would pay $200 for 5 puts. My risk would be that XOM climbs above 65 by November expiration and I would have to surrender my 500 shares at 65. Of course I could always buy the position back and roll it forward a few months and pick up additional premium or move it up to a higher strike price.
Friday price action was interesting. In a market that accelerated up nearly 200 points, XOM closed up .60 at $61.75. It seemed unable to break out above $62. So a 65 covered call may be the level. 
As of yet, I haven't pulled the trigger, but will be watching closely this next week so see how XOM trades. If the market and XOM take off to the downside.  I may have missed an opportunity.
Opportunities come and go. Will keep you advised.
more @
slwmoney.com
Disclosure:
long XOM, also have sold puts and covered calls in underlying equity