Materials have been a hot sector in past two months, especially as a result of QE2 effects and dollar weakness. China has been busy securing supplies of almost every commodity, buying or financing assets in South America, Central Asia, Indonesia, etc. India looks to be serious about developing its infrastructure so commodities should remain in demand. With urbanization of China, China is on pace to almost triple its annual use of copper in 25 years, according to CRU, a London-base metals and mining consulting firm, which is more than world produces today. These numbers are clearly unsustainable and paths will be searched for how to substitute copper. Still, copper prices should remain well bid.
Looking across the copper universe, we were intrigued by a recent fall in Taseko Mines (NYSEMKT:TGB) shares, almost a 30% drop in one day. You do not see such moves too often (well, maybe you do), so we gave a try to explore if an opportunity shaped up or not. Taseko is a company that owns the second largest open pit copper mine in Canada. It also owns three other properties, of which the most interesting one is called Prosperity – a huge deposit of gold and copper. Prosperity project was recently dismissed by the government for its environmental impact. Taseko claimed to seek other options how to start production at the mine, for instance by looking at smaller scale pit and / or redesigning the mine. The market is rightly sceptical of Prosperity's future, but let us makes an back-of-an-envelope calculation of Taseko's already running mine called Gibraltar.
Gibraltar produces about 80 million pounds of Copper annually and should continue to do so for next 25 years. The long-term cash costs of production stand at about USD 1.50 per pound, about 60 cents more than the most lucrative copper mine Kinserve in Congo.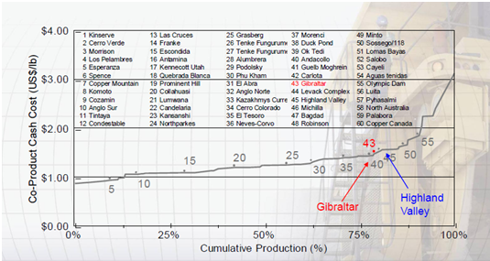 With price at USD 4.50, the market cap is roughly USD 840M. If we convert market capitalization to enterprise value, operation of the company is worth roughly USD 710M.
The company is giving guidance that in 2011, the production of copper should be around 110M pounds. Given that company hedges half its production within the range of USD 2.50-4.00 / lb and we expect some volatility of copper price, let us remain conservative and suppose average price of copper at around USD 3.00 per pound for next year. With long term cash operating costs of USD 1.50/lb and 75% of production belonging to Taseko shareholders (Taseko is a JV operation), the annual cash flow from operations to shareholders is 110M * (3.0-1.5) * 0.75 = USD 123M. After taxes, shareholders are eligible for around USD 85M of cash. Most of the capital expenditures has already been done in past three years so we see the payback time (calculated as ratio of 710 / 85) of 8.5 years quite favorable.
We think market has been very punitive for the recent setback in Prosperity project. The truth is that politicians change and what may not go through today can well be passed in two to three years time. For those bullish on Asian infrastructure development and material prices, we think the recent fall in Taseko's price may be a nice buying opportunity. We would not be surprised to see Taseko back to prices north of 6, just on the simple correlation between stock price and 1y futures on copper prices.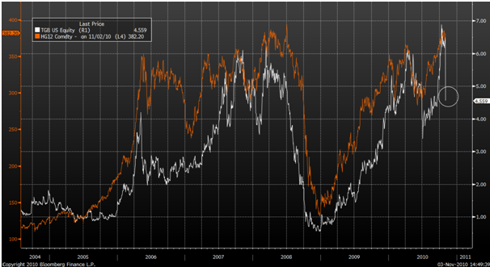 Disclosure:
long