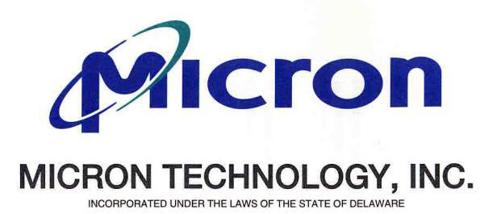 Micron Technology (NASDAQ:MU) has been moving sideways since the mid of 2012 with no real conviction either way. MU has been trending in a channel that it can not escape. With a support level of $5.38 and the resistance level near $7.00 even. I have been accumulating some shares in mid November while Micron was making new lows of $5.16 at which it has been trending higher ever since. Now the shares are back, yet again, for the 5th consecutive time at the top of its channel of $7.00. With that, I made a break for it, trashing the shares while taking my profits elsewhere.
Looking at the whole technology sector, as well as, Apple Inc. (NASDAQ:AAPL),Intel Corp (NASDAQ:INTC), Powershares (NASDAQ:QQQ), and Rambus (NASDAQ:RMBS), are showing a downtrend, if not, many tech stocks are showing to be side stepping in the near future. Note that I am not the only one trashing the shares at this time, many directors, especially Robert L Bailey sold 4,000 shares as of Jan 2, 2013 for $6.57 according to the SEC filings. With those studies, and selling conviction from the board of directors, I was convinced that getting out of my Micron trade, and taking the profits to the bank, is the right course of action.
One can wait and hope for MU to break that resistance level and shoot for the moon from here. However, I am one individual that does not trade on, "HOPE." One more action that you can take, as well, if you have accumulated MU shares at lower levels, is to reduce your position and wait for the trend upward while reducing more at higher highs. I would not advice anyone to get in the shares at this time but rather look elsewhere for better trades. Remember; "Buy da highs, and get poked in da eyes."
myriss.com