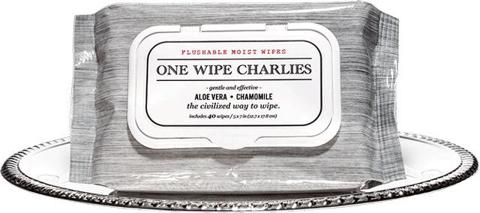 This article may or may not offer any information regarding a possible investment, but the reporting on it was hilarious. Who said finance can't be fun? In this video a female reporter describes how humiliating it was to do a story on the new trend of "men's butt wipes." The Dollar Shave Club has expanded their line of available products to include the "One Wipe Charlie," an affordable butt wipe that is delivered right to your door with your razor order. The Dollar Shave Club isn't a public company, but what I do find interesting about them is their marketing campaigns. Being private allows them the freedom to be very creative with their videos, and public companies may learn something from them. They are also very active in the social media, and are very effective in getting viral videos created for a very affordible cost. Old Spice uses a similar approach, but spends a lot more money on their videos. Most interesting is that companies like Amazon (NASDAQ:AMZN) or Proctor and Gamble (NYSE:PG) didn't think of the concept, but I'm sure that if The Dollar Shave Club keeps making waves, they may jump into that market for a swim.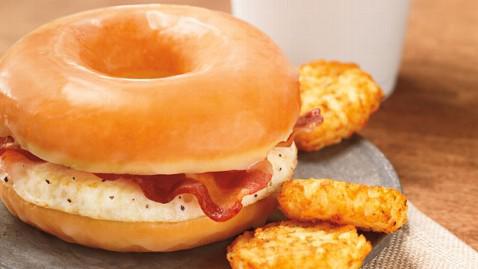 The other top business story of the day was that Dunkin Doughnuts (NASDAQ:DNKN) is coming out with a glazed doughnut breakfast sandwich. The sandwich is an artery clogging mix of bacon, egg and a glazed doughnuts, or to put it another way, a combination of the best foods on earth all wrapped into one convenient calorie laden sandwich. Clearly they are not targeting the health and fitness crowd...which makes up maybe 1% of America. I love how Dunkin Doughnuts surrounds the sandwich with oil soaked tater tots to drive home the health conscious message. Taco Bell/Yum Brands (NYSE:YUM) is also testing out a breakfast menu that includes a breakfast waffle taco which is very similar, but uses a waffle and sausage instead of a doughnut and bacon.
In conclusion, I don't know if men's butt wipes and glazed doughnut breakfast sandwiches would justify serious investment consideration, but the reporting on them is priceless.
Disclaimer: This article is not an investment recommendation. Any analysis presented in this article is illustrative in nature, is based on an incomplete set of information and has limitations to its accuracy, and is not meant to be relied upon for investment decisions. Please consult a qualified investment advisor. The information upon which this material is based was obtained from sources believed to be reliable, but has not been independently verified. Therefore, the author cannot guarantee its accuracy. Any opinions or estimates constitute the author's best judgment as of the date of publication, and are subject to change without notice.
Disclosure: I have no positions in any stocks mentioned, and no plans to initiate any positions within the next 72 hours. I wrote this article myself, and it expresses my own opinions. I am not receiving compensation for it (other than from Seeking Alpha). I have no business relationship with any company whose stock is mentioned in this article.