Executive Summary:
1) Arbitrage opportunities in the Bitcoin market point to serious problems
2) Bitcoin on the Mt Gox exchange fell to $302 today
3) Gold is testing its 200dma
I turned on CNBC that AM and they were discussing the Bitcoin claiming that it was trading near $300. They showed a chart of the Bitcoin price and I thought to myself, "that's it, the last hoorah for Bitcoin." I then went to verify the claims that Bitcoin was trading near $300 and discovered that it wasn't that simple. The Bitcoin traded at $302 today on the Mt Gox exchange. This 1 daily chart demonstrates how on the Mt Gox exchange the Bitcoin fell from over $500 to $302 in less than 24 hours. Ironically, supporters of the Bitcoin believe this is the solution to the US Dollar losing 95% of its value since the creation of the Federal Reserve 100 years ago. My bet is the Bitcoin won't take nearly that long to lose 100% of its value. This is a 24 hour chart.

I then went to another Bitcoin exchange, Bitstamp, which has the Bitcoin trading at $642, and the Bitcoin has actually increased in price today. This is a 24 hour chart.

Blockchain has the most ominous looking chart and has the Bitcoin trading at $588. This is a 1 year chart.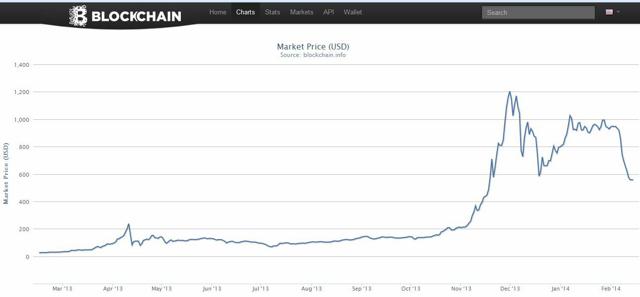 The reason for all these different quotes on the Bitcoin is because each exchange has a different price for the Bitcoin. This is an astronomically inefficient market, clearly not ready for primetime. In any normal market such huge spreads would create arbitrage opportunities the likes of which normal exchanges never offer. Arbitrage traders today beg for penny differences between exchanges. On the Bitcoin exchanges the spreads are measured in hundreds of dollars.

Right now you can buy a Bitcoin on Mt Gox for $302, and that same Bitcoin sells for $650 on camp BX. How insane is that? People think that Bitcoin is going to replace the US Dollar? Good luck. The arbitrage opportunity that exists in the Bitcoin market proves there is something very very very wrong behind the scenes. What it is I have no idea, but something is clearly wrong. Arbitrage opportunities like this simply don't exist in the real world.
Assuming the Mt Gox issue is only temporary and will not impact client accounts, the obvious trade is to Sell Bitcoins on Camp BX and Buy Bitcoin on Mt Gox. That however isn't happening. Eventually the truth will be known, and when the news hits, Bitcoin is almost certain to have another highly volatile day. Which direction it will move will depend upon the news.
The whole irony of this most recent series of Bitcoin panics is that they are being caused by theft and fraud. Mt Gox was hit with fraudsters that many have issued multiple charges for the same item allowing them to receive multiple payments for the same bill. Today it is being reported that Bitcoins were stolen from Silk Road 2.0. All these activities threaten to make the Bitcoin worthless. Fraud and theft are self defeating activities when dealing with the Bitcoin. The more fraud and theft undermine the viability of Bitcoin, the less the stolen Bitcoins will be worth.
By the way, if I was the CEO of Mt Gox and Camp BX, I would be watching for a large purchase/sale of Bitcoins in about the same amount as was stolen from Silk Road 2.0. The obvious trade is to steal Bitcoins, sell them on Camp BX for $650, and use that money to buy Bitcoins on Mt Gox for $302. You then return the double charges you were charging the Mt Gox accounts by claiming it was a software issue, and offer to work with Mt Gox in fixing their security issue. Confidence returns to Mt Gox, withdrawals are reinstated, and suddenly the Bitcoins the crook bought for $302 with money from stolen Bitcoins is now worth $650. The Bitcoin was designed to be the currency of criminals, people shouldn't be surprised when criminals us the Bitcoin as the source of their crime. The Bitcoin is ideally suited for manipulation, it is designed that way.
One other interesting market event I am following is that gold is reaching its 200dma. Gold has had a solid run since it tested the $1,200 support level, and is now running into its 200dma. The 200dma is considered major resistance. Breaking above the 200dma may signal a change in the direction for gold, and may signal higher prices going forward. If however the 200dma holds, gold may be headed back to test $1,200, or even lower. Bottom line, gold is reaching a critical level. Only time will tell which path it takes going forward.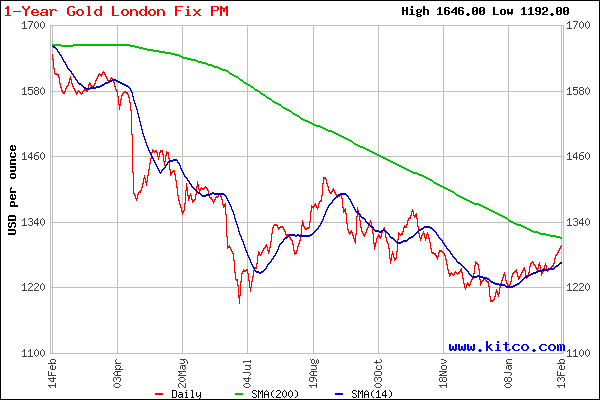 Disclaimer: This article is not an investment recommendation or solicitation. Any analysis presented in this article is illustrative in nature, is based on an incomplete set of information and has limitations to its accuracy, and is not meant to be relied upon for investment decisions. Please consult a qualified investment advisor. The information upon which this material is based was obtained from sources believed to be reliable, but has not been independently verified. Therefore, the author cannot guarantee its accuracy. Any opinions or estimates constitute the author's best judgment as of the date of publication, and are subject to change without notice. Past performance is no guarantee of future results. For my full disclaimer and disclosure, click here.
Disclosure: I am long GLL. I wrote this article myself, and it expresses my own opinions. I am not receiving compensation for it (other than from Seeking Alpha). I have no business relationship with any company whose stock is mentioned in this article.
Additional disclosure: I own calls on GLL as well