Yes, that title was a bit tricky. As Seeking Alpha as a community attracts all sorts of people, with all sorts of backgrounds (from student to executive) they all share 1 goal in common: Seeking Alpha. Beating the markets (NYSEARCA:SPY). I consider Seeking Alpha a true successful community achieving exactly what it pursues to do.
It's a bit of a tricky task to actually check the stock performance of every investor who is really signed up to receive email notifications on a stock. Yet some of them are contributors, in which their performance is easily found. Unfortunately taking that all together is a cumbersome task and not worth wasting your time on.
Nevertheless, I found an easy way to check the Year-To-Date returns on the Dow Jones 30 in conjunction with the amount of members who receive email notifications on any particular stock within the DJ30. Is there a trend to be found? Are we, Seeking Alpha community actually achieving what we want? Which is a good investment advice based on fundamental analysis. I believe so!
The performance of Seeking Alpha:
I have to admit as a professional quant, I love numbers and statistics. Unfortunately, due to the nature of Quantitative Mathematics, its topics are often outside the scope of Seeking Alpha. So this time I tried to keep it easy and simple. Let's have a look at the overall list of DJ30 stocks with the amount of followers: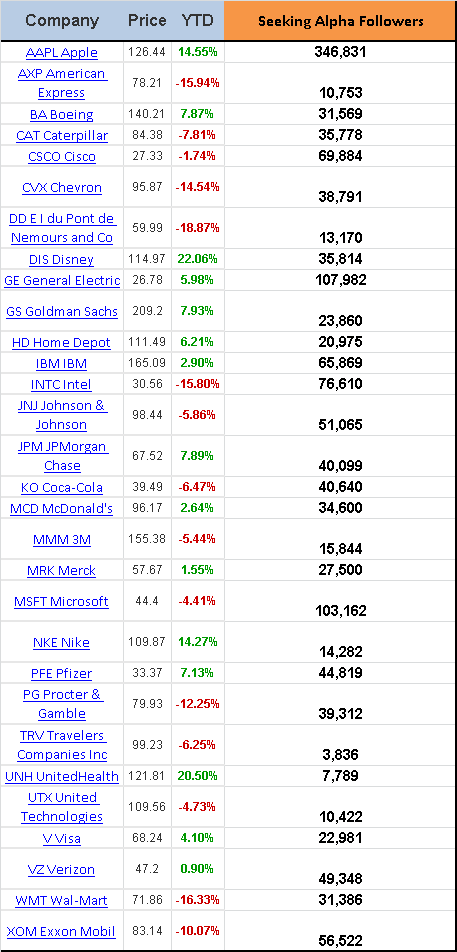 Source: Author's own calculations (list up to date at 7/5/2015)
That is an impressive list, yet some stocks clearly have minimal coverage whilst others have coverage of hundreds of thousands. As the goal here is to'search for alpha', does that necessarily also mean that we are succeeding in our goal here at the community? Let's assume every follower of a stock also own the stock in real life.
When having a look at the top 5, top 10 and top 15 followed stocks, their year-to-date average returns yields to: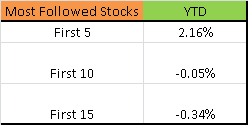 Source: Author's own calculations
As one can see, there seems to be some small favor towards the stocks which are followed most. Let's do it the other way around and look at the least followed stocks and their year-to-date return: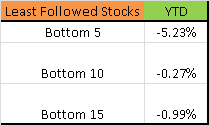 Source: Author's own calculations
The contrast is persuasive, as the least 5 followed stocks have an average year-to-date return of -5% whilst the 5 stocks followed most yield an average of 2.16% year to date return. That smells like a potential relationship between Seeking Alpha followers and their stock returns.
The exact list looks like this based on amount of Seeking Alpha followers: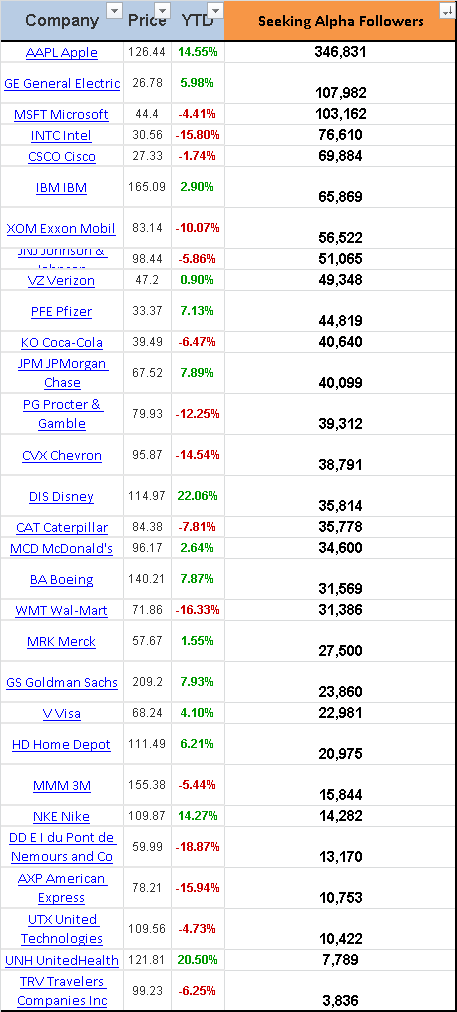 Source: Author's own calculations
So what does this mean? On average expecting a similar weight per stock in the DJ30:

Source: Author's own calculations
The multi-million dollar question is whether or not the Seeking Alpha member has been registering to stocks which enhance their portfolio. In other words, is there a relationship between amount of members which follow stocks and their returns? This can be shown through applying a regression line: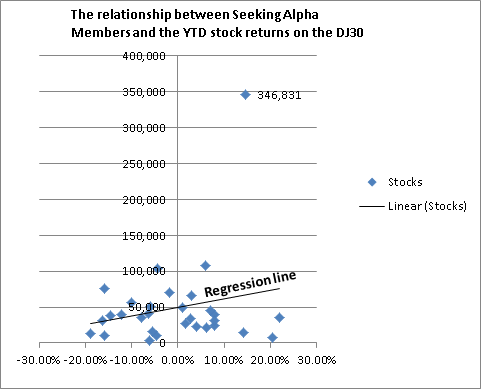 Source: Author's own calculations (X-axis is YTD return: Y-axis is amount of followers)
As one can clearly see, the overall relationship is clearly there as the regression line is positive. This means there is a positive relationship between people who follow stocks on Seeking Alpha and the return they potentially could achieve. I realize that by omitting certain variables the overall outcome would change, but that would be data-dredging. Something I did not pursue in this research.
Conclusion - A pad on the shoulder for the Seeking Alpha investor!
I disregarded the fact that every stock in the DJ30 has a different weight, yet if I would have included this metric, the overall outcome would not have been different.
I think the Seeking Alpha community deserves a pad on the shoulder as this research clearly indicates that on average, the investors on Seeking Alpha are following the stocks which actually would enhance their returns. That is a job well done for the community and for the investors itself.
Happy investing everyone!