Wall Street Brunch- December 29
Please Note: Blog posts are not selected, edited or screened by Seeking Alpha editors.
Summary
Please refrain from comments that are purely political.
Thank you to all you choose to read and comment here! You make this Blog a special place.
History brought to you by www.history.com.
Have a terrific Tuesday. Make it a great day!
Let's start with a little history, shall we?
On the evening of December 29, 1940, London suffers its most devastating air raid when Germans firebomb the city. Hundreds of fires caused by the exploding bombs engulfed areas of London, but firefighters showed a valiant indifference to the bombs falling around them and saved much of the city from destruction. The next day, a newspaper photo of St. Paul's Cathedral standing undamaged amid the smoke and flames seemed to symbolize the capital's unconquerable spirit during the Battle of Britain. In October, Hitler ordered a massive bombing campaign against London and other cities to crush British morale and force an armistice. Despite significant loss of life and tremendous material damage to Britain's cities, the country's resolve remained unbroken. The ability of Londoners to maintain their composure had much to do with Britain's survival during this trying period. As American journalist Edward R. Murrow reported, "Not once have I heard a man, woman, or child suggest that Britain should throw her hand." In May 1941, the air raids essentially ceased as German forces massed near the border of the USSR. By denying the Germans a quick victory, depriving them of forces to be used in their invasion of the USSR, and proving to America that increased arms support for Britain was not in vain, the outcome of the Battle of Britain greatly changed the course of World War II. As Churchill said of the RAF fliers during the Battle of Britain, "Never in the field of human conflict was so much owed by so many to so few."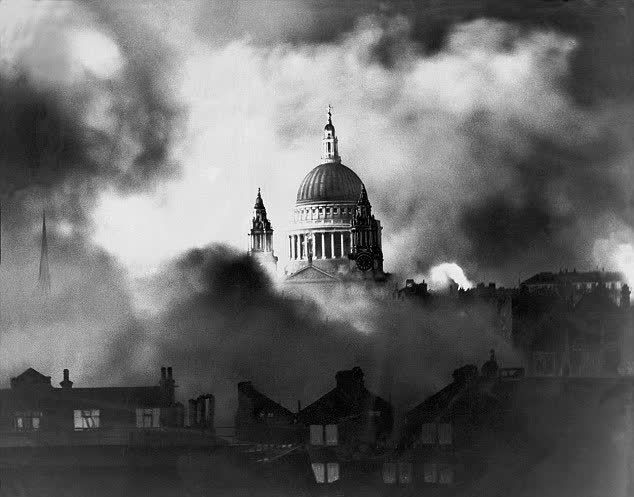 On this day in 1170, Archbishop Thomas Becket is brutally murdered in Canterbury Cathedral by four knights of King Henry II of England, apparently on orders of the king. In 1155, Henry II appointed Becket as chancellor, a high post in the English government. Becket proved a skilled diplomat and won the trust of Henry, who nominated him as archbishop of Canterbury in 1162. The king hoped his friend would help in his efforts to curb the growing power of the church. However, soon after his consecration, the new archbishop emerged a zealous defender of the jurisdiction of the church over its own affairs. In 1164, Becket was forced to flee to France under fear of retaliation by the king. He was later reconciled with Henry and in 1170 returned to Canterbury amid great public rejoicing. Soon afterward, against the objections of the pope, Henry had his son crowned co-king by the archbishop of York, and tensions again came to a head between Becket and Henry. At this time, perhaps merely in a moment of frustration, the king issued to his court the following public plea: "What a parcel of fools and dastards have I nourished in my house, and not one of them will avenge me of this one upstart clerk." A group of Henry's knights took the statement very seriously, and on December 29, Thomas Becket was murdered in Canterbury Cathedral. The Christian world was shocked by Becket's death, and in 1173 he was canonized a Catholic saint. In 1174, Henry was forced to do penance at his tomb, and his efforts to end the separation between church and state ceased. In 1220, Becket's bones were transferred to Trinity Chapel in Canterbury Cathedral, which later became a popular site of English religious pilgrimage.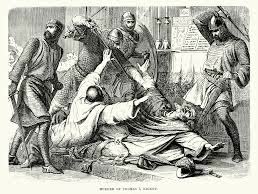 Now for some stock and investing news-
Square (SQ -0.9%) and PayPal (PYPL -0.1%) both slipped in early trading after Piper Sandler analyst Christopher Donat contends that the redesigned Google (GOOG +1.6%) Pay app poses a threat to Square's Cash App and PayPal. Google Pay is now the No. 5 finance app in Apple's App store list; Square holds the top spot followed by Mobile Cash and Venmo, both PayPal apps.
In a regulatory filing, hedge fund Islet Management reveals a 7.44% stake in FuboTV (NYSE:FUBO). FuboTV shares are up 3.4% AH after closing today down nearly 12% after Hedgeye named the company a best idea for a short trade. The furious trading may not come as a surprise for some. Shares were primed for outsized volatility heading into this week, as were EV high-flyer QuantumScape (NYSE:QS), MicroVision (NASDAQ:MVIS). Other names, like those with rising short interest, like Virgin Galactic (NYSE:SPCE) and Rackspace Technology (NASDAQ:RXT) were also flagged.
Tesla (TSLA, +0.7%) wants to integrate Apple Music (AAPL, +4%) and Amazon Music (AMZN, +3.7%) into its user interface. Integration would allow drivers to play their streaming music through the in-car system without using their phones to play over Bluetooth, which is currently a feature with almost all major auto companies. No word from Apple or Amazon, oddly enough. Seems that CEO Elon Musk had some negative things to say about both Apple and Amazon recently. Would not be surprised if both companies pass on a meeting with Mr. Musk. Be careful when you burn bridges and then need them to improve your brand.
Federal officials have launched new drone rules that could help open the skies for widespread commercial deliveries, allowing operators to fly small drones over people and at night under certain conditions. The regulations will give the FAA and law enforcement a handle on what's actually flying around in the skies, requiring remote identification technology to pinpoint them from the ground.
Not sure if anyone has seen the new format for Wall Street Breakfast. Not sure if I like it or not.
Where is Jon Corzine and is MF Global looking to open an office in India?
Where is Marissa Mayer and does she still have an office at Google?
Where is Elizabeth Holmes and would she really be punished more for selling a ounces of marijuana than she will for committing massive fraud?
Have a great day everyone. Stay safe out there.
This is the day The Lord has made. Let us rejoice and be glad in it.
I can do all things through Christ who strengthens me.
Seeking Alpha's Disclosure: Past performance is no guarantee of future results. No recommendation or advice is being given as to whether any investment is suitable for a particular investor. Any views or opinions expressed above may not reflect those of Seeking Alpha as a whole. Seeking Alpha is not a licensed securities dealer, broker or US investment adviser or investment bank. Our analysts are third party authors that include both professional investors and individual investors who may not be licensed or certified by any institute or regulatory body.