Wall Street Brunch- January 4
Please Note: Blog posts are not selected, edited or screened by Seeking Alpha editors.
Summary
Happy 2021 to all!
Please refrain from comments that are purely political.
Thank you to all who choose to read and comment here!
History brought to you by www.history.com.
Have a marvelous Monday. Make it a great day!
Let's start with a little history, shall we?
On January 4, 1996, General Motors announces at the Greater Los Angeles Auto Show it will build an electric car, dubbed the EV1, to be launched in the fall of that year. The EV1 wasn't an entirely new concept, as electric vehicles had been around since the auto industry's nascent days. In the early 20th century, the Columbia Runabout, which could travel 40 miles on a single electric charge at speeds of 15 mph, was a best-seller. As Time.com noted: "Before her husband Henry's mass production of gas-powered cars crushed the electric industry, Clara Ford drove a 1914 Detroit Electric, which could last 80 miles without a charge." The oil crisis of the 1970s, coupled with a burgeoning environmental movement, led to renewed interest in electric vehicles, although no automaker was able to develop one that garnered mass appeal. When it debuted in 1996, the EV1 was made available to consumers in just two states, Arizona and California, and for lease-only, as GM considered the development of electric vehicle technology to be ongoing. During its years in production, from 1996 to 1999, around 2,500 EV1s were produced in total. In late 2003, the company announced it was pulling the plug on the EV1 program and wouldn't renew any leases. GM cited the high cost of producing and maintaining the vehicles as a reason for the EV1's demise. However, as The Los Angeles Times noted in 2009: "The EV1 began in the 1990s as a response to a zero-emission vehicle mandate by California's Air Resources Board….When, finally, GM and other automakers managed to get California to soften its zero-emission mandate in 2002, [GM CEO Rick] Wagoner promptly canceled the program." (During this time, other automakers introduced then discontinued their own electric vehicles, including Toyota, whose RAV4 EV was available from 1997 to 2003.) By 2008, GM had been hit hard by a global economic crisis and slumping auto sales and needed a multi-billion-dollar bailout loan from the federal government in order to stay in business. In March 2009, company CEO Wagoner was ousted by the Obama administration and in April of that year, GM filed for bankruptcy. The company was criticized for continuing to focus on its sport-utility vehicles and small trucks despite a growing consumer demand for smaller, more fuel-efficient vehicles. Wagoner was quoted as saying that pulling the plug on the EV1 and not putting more development resources toward hybrid gas-electric vehicles was a major mistake of his career.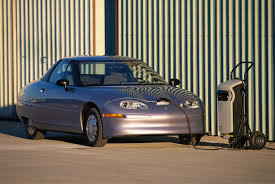 On this day in 1847, Samuel Colt rescues the future of his faltering gun company by winning a contract to provide the U.S. government with 1,000 of his .44 caliber revolvers. Before Colt began mass-producing his popular revolvers in 1847, handguns had not played a significant role in the history of either the American West or the nation as a whole. Expensive and inaccurate, short-barreled handguns were impractical for the majority of Americans, though a handful of elite still insisted on using dueling pistols to solve disputes in highly formalized combat. When choosing a practical weapon for self-defense and close-quarter fighting, most Americans preferred knives, and western pioneers especially favored the deadly and versatile Bowie knife. That began to change when Samuel Colt patented his percussion-repeating revolver in 1836. The heart of Colt's invention was a mechanism that combined a single rifled barrel with a revolving chamber that held five or six shots. When the weapon was cocked for firing, the chamber revolved automatically to bring the next shot into line with the barrel. Yet most cowboys, gamblers and gunslingers could never have afforded such a revolver if not for the de facto subsidy the federal government provided to Colt by purchasing his revolvers in such great quantities. After the first batch of revolvers proved popular with soldiers, the federal government became one of Colt's biggest customers, providing him with the much-needed capital to improve his production facilities. With the help of Eli Whitney and other inventors, Colt developed a system of mass production and interchangeable parts for his pistols that greatly lowered their cost. Though never cheap, by the early 1850s, Colt revolvers were inexpensive enough to be a favorite with Americans headed westward during the California Gold Rush. Between 1850 and 1860, Colt sold 170,000 of his "pocket" revolvers and 98,000 "belt" revolvers, mostly to civilians looking for a powerful and effective means of self-defense in the Wild West.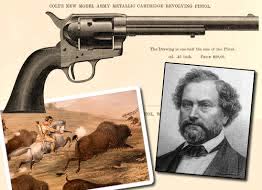 Now for some stock and investing news-
With bond yields stuck at historic lows, the best yield opportunities are clustered in the equity markets, Barron's says in this weekend's edition, ranking income investment categories for 2021 from first to worst: energy pipelines, U.S. dividend stocks, overseas dividend stocks, electric utilities, REITs, telecoms, convertibles, junk bonds, tax-exempt munis, taxable munis, preferred stock, treasuries. Top 2021 income ideas include: Enterprise Products Partners (NYSE:EPD), Salient Midstream & MLP (NYSE:SMM), GlaxoSmithKline (NYSE:GSK), Eletrobras (NYSE:EBR), Gazprom (OTCPK:OGZPY), Mitsubishi (OTCPK:MSBHF), Mitsui (OTCPK:MITSY), Dominion Energy (NYSE:D), Consolidated Edison (NYSE:ED), Simon Property Group (NYSE:SPG), Vornado Realty Trust (NYSE:VNO), Verizon (NYSE:VZ), Deutsche Telekom (OTCQX:DTEGY).
Interested in your thoughts on Barron's Top 2021 Income Ideas.
As COVID-19 vaccines roll out, the market should continue to broaden as investors shift their focus on company fundamentals, writes Janus Henderson portfolio manager Jonathan Coleman. He sees optimism for small and mid-cap equities in 2021 because the disconnect between stock performance and company fundamentals that occurred in 2020 isn't sustainable, Coleman contends. Hmmm...a disconnect between stock performance and company fundamentals matters now? Hope folks are listening to Jonathan Coleman, because if he is right, there are some stocks that are headed for a crash.
Top ETF Gainers for 2020- 
Gainers: Microsectors Fang+ 3X ETN (NYSEARCA:FNGU) +379%.
Solar Invesco ETF (NYSEARCA:TAN) +234%.
Wilderhill Clean Energy Invesco ETF (NYSEARCA:PBW) +202%.
Nasdaq Clean Edge Green Energy Index Fund FT (NASDAQ:QCLN) +182%.
Ark Genomic Revolution ETF (BATS:ARKG) +178%.
Interested in thoughts on these or other ETFs that might be worth looking into.
Top ETF Losers for 2020-
Losers: S&P Oil & Gas Expl Bull 3X Direxion (NYSEARCA:GUSH) -97%.
Junior Gold Mine Bear 3X Direxion (NYSEARCA:JDST) -96%.
Microsectors Fang+ -3X ETN (NYSEARCA:FNGD) -96%.
Microsectors U.S. Big Oil Index 3X ETN (NYSEARCA:NRGU) -94%.
Semiconductor Bear 3X Direxion (NYSEARCA:SOXS) -93%.
Interested in thoughts on these or other ETFs that might be worth avoiding.
Teledyne Technologies (NYSE:TDY) to acquire FLIR Systems (NASDAQ:FLIR) in a cash and stock transaction for ~$8B.  FLIR stockholders will receive $28/share in cash and 0.0718 shares of Teledyne common stock for each FLIR share, which implies a total purchase price of $56/FLIR share.
The U.S. casino operator MGM Resorts (NYSE:MGM) has proposed £8B (~$11B) in a bid to takeover Entain (OTCPK:GMVHF), the owner of the Ladbrokes and Coral betting brands.  However, the British gaming company says that the offer "significantly undervalues" the company.
A weaker dollar and investors positioning for a recovery in the oil sector could support oil prices in 2021, Energy Aspects analyst Virendra Chauhan declared as crude touched multi-month highs at $49/bbl.  The forecast comes as OPEC+ looks poised to cap output at current levels in February, with the group meeting via videoconference. It previously decided to raise output by 500K barrels per day in December, and agreed to meet every month to review production, following a difficult 2020.
Where is Jon Corzine and is MF Global buying oil stocks today?
Where is Marissa Mayer and will Yahoo ever bring back reader comments?
Where is Elizabeth Holmes and what is the next move of her legal team prior to her trial on massive fraud?
Have a great day everyone. Stay safe out there.
This is the day The Lord has made. Let us rejoice and be glad in it.
I can do all things through Christ who strengthens me.
Seeking Alpha's Disclosure: Past performance is no guarantee of future results. No recommendation or advice is being given as to whether any investment is suitable for a particular investor. Any views or opinions expressed above may not reflect those of Seeking Alpha as a whole. Seeking Alpha is not a licensed securities dealer, broker or US investment adviser or investment bank. Our analysts are third party authors that include both professional investors and individual investors who may not be licensed or certified by any institute or regulatory body.