Wall Street Brunch- January 25
Please Note: Blog posts are not selected, edited or screened by Seeking Alpha editors.
Seeking Alpha Analyst Since 2010
Over thirty years experience with the stock market and investing. Enjoy actively managing several portfolios. Looking for diversification in portfolios. Research and homework on stocks are enjoyable: BS Ed./MS- Thirty years of coaching HS Varsity Football- Proud husband to my beautiful wife - Dad to five amazing children- Keeper of two stunning Bengal cats and a handsome Cavapoo. 
Summary
Please refrain from comments that are purely political. There is no place on this Blog for such comments.
Thanks to all who choose to read and comment here!
History brought to you by www.history.com.
Have a marvelous Monday. Make it a great day!
Thoughts on the Brunch Weekend Edition? Add a comment below and let me know what you think.
Let's start with a little history, shall we?
On January 25, 1905, at the Premier Mine in Pretoria, South Africa, a 3,106-carat diamond is discovered during a routine inspection by the mine's superintendent. Weighing 1.33 pounds, and christened the "Cullinan," it was the largest diamond ever found. Frederick Wells was 18 feet below the earth's surface when he spotted a flash of starlight embedded in the wall just above him. His discovery was presented that same afternoon to Sir Thomas Cullinan, who owned the mine. Cullinan then sold the diamond to the Transvaal provincial government, which presented the stone to Britain's King Edward VII as a birthday gift. Worried that the diamond might be stolen in transit from Africa to London, Edward arranged to send a phony diamond aboard a steamer ship loaded with detectives as a diversionary tactic. While the decoy slowly made its way from Africa on the ship, the Cullinan was sent to England in a plain box. Edward entrusted the cutting of the Cullinan to Joseph Asscher, head of the Asscher Diamond Company of Amsterdam. Asscher, who had cut the famous Excelsior Diamond, a 971-carat diamond found in 1893, studied the stone for six months before attempting the cut. On his first attempt, the steel blade broke, with no effect on the diamond. On the second attempt, the diamond shattered exactly as planned; Asscher then fainted from nervous exhaustion. The Cullinan was later cut into nine large stones and about 100 smaller ones, valued at millions of dollars all told. The largest stone is called the "Star of Africa I," or "Cullinan I," and at 530 carats, it is the largest-cut fine-quality colorless diamond in the world. The second largest stone, the "Star of Africa II" or "Cullinan II," is 317 carats. Both of these stones, as well as the "Cullinan III," are on display in the Tower of London with Britain's other crown jewels; the Cullinan I is mounted in the British Sovereign's Royal Scepter, while the Cullinan II sits in the Imperial State Crown.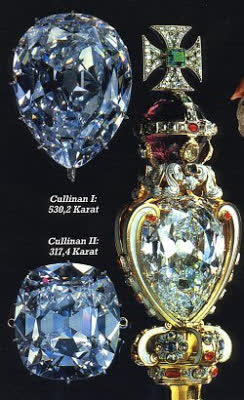 On January 25, 1924, the first Winter Olympics take off in style at Chamonix in the French Alps. Spectators were thrilled by the ski jump and bobsled as well as 12 other events involving a total of six sports. The "International Winter Sports Week," as it was known, was a great success, and in 1928 the International Olympic Committee (IOC) officially designated the Winter Games, staged in St. Moritz, Switzerland, as the second Winter Olympics. Five years after the birth of the modern Olympics in 1896, the first organized international competition involving winter sports was staged in Sweden. Called the Nordic Games, only Scandinavian countries competed. Like the Olympics, it was staged thereon every four years but always in Sweden. In 1908, figure skating made its way into the Summer Olympics in London, though it was not actually held until October, some three months after the other events were over. In 1911, the IOC proposed the staging of a separate winter competition for the 1912 Stockholm Games, but Sweden, wanting to protect the popularity of the Nordic Games, declined. Germany planned a Winter Olympics to precede the 1916 Berlin Summer Games, but World War I forced the cancellation of both. At the 1920 Olympics in Antwerp, Belgium, ice hockey joined figure skating as an official Olympic event, and Canada took home the first of many hockey gold medals. Soon after, an agreement was reached with Scandinavians to stage the IOC-sanctioned International Winter Sports Week. It was so popular among the 16 participating nations that, in 1925, the IOC formally created the Winter Olympics, retroactively making Chamonix the first. n Chamonix, Scandinavians dominated the speed rinks and slopes, and Norway won the unofficial team competition with 17 medals. The United States came in third, winning its only gold medal with Charles Jewtraw's victory in the 500-meter speed-skating event. Canada won another hockey gold, scoring 110 goals and allowing just three goals in five games. Of the nearly 300 athletes, only 13 were women, and they only competed in the figure-skating events. Austrian Helene Engelmann won the pairs competition with Alfred Berger, and Austrian Herma Planck Szabo won the women's singles. The Olympics offered a particular boost to skiing, a sport that would make enormous strides within the next decade. At Chamonix, Norway won all but one of the nine skiing medals.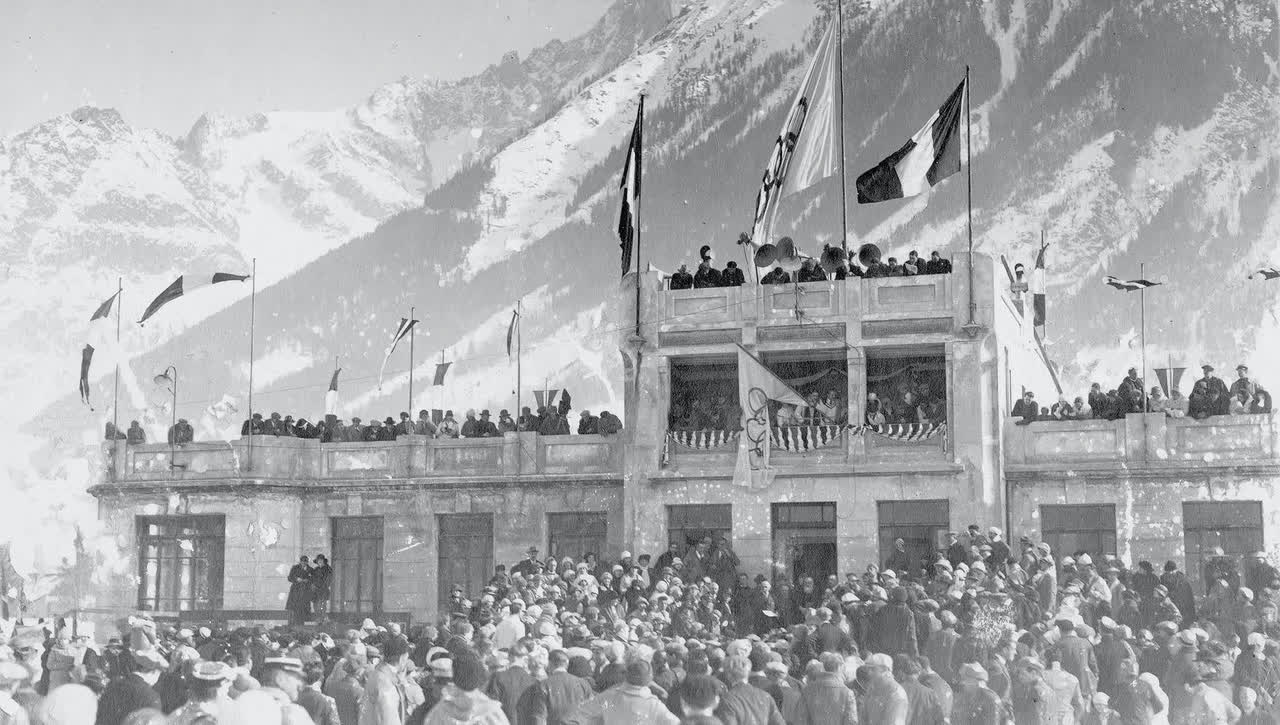 Now for some stock and investing news-
Junk bond sales are poised to break records for January, with month-to-date sales at ~$1.2B below the current January record of $37B. Yields on CCC debt, the riskiest level of high-yield bonds, touched an all-time low on Thursday as investors venture down the credit quality spectrum hunting for returns. Energy companies are among those expected to tap the market to refinance or repay existing debt. NGL Energy Partners is expected to price its $2.05B five-year note offering Tuesday.
DraftKings (NASDAQ:DKNG) launches DraftKings Sportsbook in Virginia, making it the 12 state in which the mobile and online sportsbook is available. A consumer research study by DraftKings indicated that Virginia sports fans are most likely to bet on the NFL, followed by the NBA and college football. That same study found the Washington Football Team and the Dallas Cowboys are the two most favored NFL teams in Virginia, while the LA Lakers, Chicago Bulls, and Washington Wizards are the most popular NBA teams.
Bill Foley's SPAC Foley Trasimene Acquisition Corp. (NYSE:WPF) is near a deal to take U.S. benefits services provider Alight Solutions public at a valuation of $7.3b including debt. Alight Solutions is owned by Blackstone Group (NYSE:BX). I/we are long $BX and have been for years.
Solar costs (NYSEARCA:TAN) will fall another 15%-25% over the next decade thanks to developing technologies already in the pipeline, potentially making solar the lowest-cost power resource in all U.S. states by 2030, according to a new report released by Wood Mackenzie. The cost of solar has dropped by 90% over the last two decades, making it the cheapest form of new power generation in markets including Spain, Italy, India and 16 U.S. states, and the list of countries where solar will become dominant over the next decade will increase to include every U.S. state as well as Canada, China and 14 other countries, the report says. Anyone with any exposure to the solar sector out there?
2020 was supposed to be the year of the self-driving car, with several companies estimating they would have tens of thousands of autonomous vehicles on the road by now, but a big disconnect is being seen between these cars rolling out and the revolution that was promised.  Waymo is still the only company globally to have have a driverless ride-hailing service, and while its fleet spans 300 vehicles, it is confined to one area in southeastern Phoenix. Have to correct this a news a bit. Tesla claimed that they would have 1 million robotaxis on the road by the end of 2020. 1 million is a touch more than tens of thousands. It is OK to call them out for being wrong.
GameStop shares  are up another 50% premarket as an epic run and battle between investing (gambling?) forces continues. The stock, which was trading near $20 just two weeks ago, is now set to open near $100.  GameStop popped on the investing radar after the company added some new directors to collectively bring deep expertise in e-commerce, online marketing, finance and strategic planning. That included Chewy co-founder Ryan Cohen and two former colleagues after he pushed the company to better focus on digital sales. A battle then ensued between short-selling firm Citron Research and speculative buyers organizing on Reddit's popular WallStreetBets. 
Congratulations to the Kansas City Chiefs and the Tampa Bay Buccaneers on winning their respective Divisional titles yesterday. There were four teams playing yesterday and the focus of the sports media world has been on three...except in WNY where we appreciate the season the Buffalo Bills just put together. 
Where is Jon Corzine and is MF Global a buyer of GameStop today?
Where is Marissa Mayer and will Yahoo ever improve their content?
Where is Elizabeth Holmes and will she be in the news again soon?
Have a great day everyone. Stay safe out there.
This is the day The Lord has made. Let us rejoice and be glad in it.
I can do all things through Christ who strengthens me.
Greater love hath no man than this, that a man lay down his life for his friends.
Seeking Alpha's Disclosure: Past performance is no guarantee of future results. No recommendation or advice is being given as to whether any investment is suitable for a particular investor. Any views or opinions expressed above may not reflect those of Seeking Alpha as a whole. Seeking Alpha is not a licensed securities dealer, broker or US investment adviser or investment bank. Our analysts are third party authors that include both professional investors and individual investors who may not be licensed or certified by any institute or regulatory body.