Wall Street Brunch- February 24
Please Note: Blog posts are not selected, edited or screened by Seeking Alpha editors.
Seeking Alpha Analyst Since 2010
Over thirty years experience with the stock market and investing. Enjoy actively managing several portfolios. Looking for diversification in portfolios. Research and homework on stocks are enjoyable: BS Ed./MS- Thirty years of coaching HS Varsity Football- Proud husband to my beautiful wife - Dad to five amazing children- Keeper of two stunning Bengal cats and a handsome Cavapoo. 
Summary
Please refrain from comments that are purely political. Thank you for your attention with this.
Thanks to all who choose to read, comment, and discuss here.
History brought to you by www.history.com.
Have a wonderful Wednesday. Make it a great day!
Let's start with a little history, shall we?
On February 24, 1836, in San Antonio, Texas, Colonel William Travis issues a call for help on behalf of the Texan troops defending the Alamo, an old Spanish mission and fortress under siege by the Mexican army. On February 23, 1836, a large Mexican force commanded by General Antonio Lopez de Santa Ana arrived suddenly in San Antonio. Travis and his troops took shelter in the Alamo, where they were soon joined by a volunteer force led by Colonel James Bowie. Though Santa Ana's 5,000 troops heavily outnumbered the several hundred Texans, Travis and his men determined not to give up. On February 24, they answered Santa Ana's call for surrender with a bold shot from the Alamo's cannon. Furious, the Mexican general ordered his forces to launch a siege. Travis immediately recognized his disadvantage and sent out several messages via couriers asking for reinforcements. Addressing one of the pleas to "The People of Texas and All Americans in the World," Travis signed off with the now-famous phrase "Victory or Death." Only 32 men from the nearby town of Gonzales responded to Travis' call for help, and beginning at 5:30 a.m. on March 6, Mexican forces stormed the Alamo through a gap in the fort's outer wall, killing Travis, Bowie, Davy Crockett and 190 of their men. Despite the loss of the fort, the Texan troops managed to inflict huge losses on their enemy, killing at least 600 of Santa Ana's men. The defense of the Alamo became a powerful symbol for the Texas revolution, helping the rebels turn the tide in their favor. At the crucial Battle of San Jacinto on April 21, 910 Texan soldiers commanded by Sam Houston defeated Santa Ana's army of 1,250 men, spurred on by cries of "Remember the Alamo!" The next day, after Texan forces captured Santa Ana himself, the general issued orders for all Mexican troops to pull back behind the Rio Grande River. On May 14, 1836, Texas officially became an independent republic. Texas joined the Union in 1845.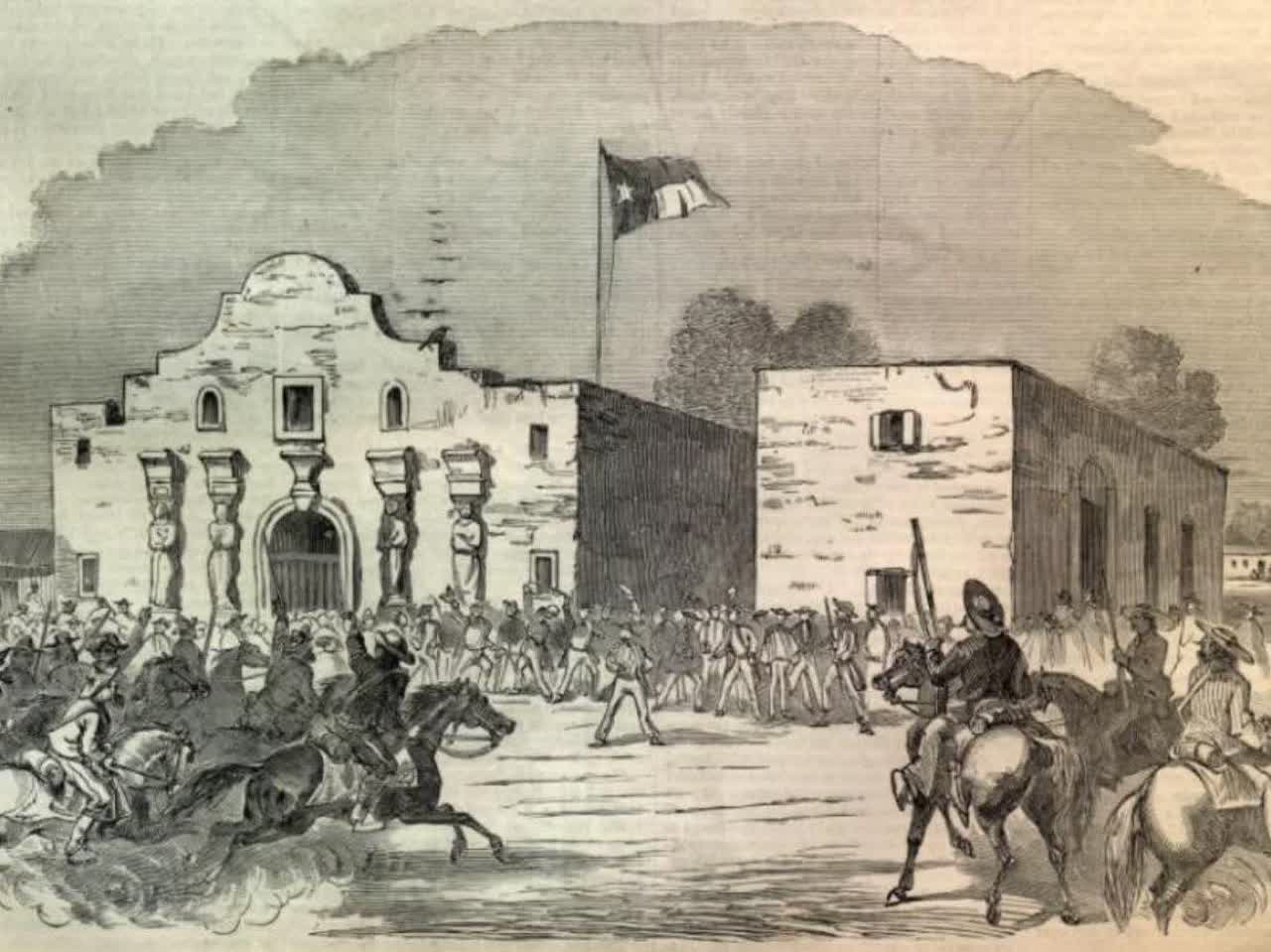 On this day in 1917, During World War I, British authorities give Walter H. Page, the U.S. ambassador to Britain, a copy of the "Zimmermann Telegram," a coded message from Arthur Zimmermann, the German foreign secretary, to Count Johann von Bernstorff, the German ambassador to Mexico. In the telegram, intercepted and deciphered by British intelligence in late January, Zimmermann stated that in the event of war with the United States, Mexico should be asked to enter the conflict as a German ally. In return, Germany promised to restore to Mexico the lost territories of Texas, New Mexico and Arizona. After receiving the telegram, Page promptly sent a copy to U.S. President Woodrow Wilson, who in early March allowed the U.S. State Department to publish the note. The press initially treated the telegram as a hoax, but Arthur Zimmermann himself confirmed its authenticity. The Zimmermann Telegram helped turn U.S. public opinion, already severely strained by repeated German attacks on U.S. ships, firmly against Germany. On April 2, President Wilson, who had initially sought a peaceful resolution to end World War I, urged the immediate U.S. entrance into the war. Four days later, Congress formally declared war against Germany.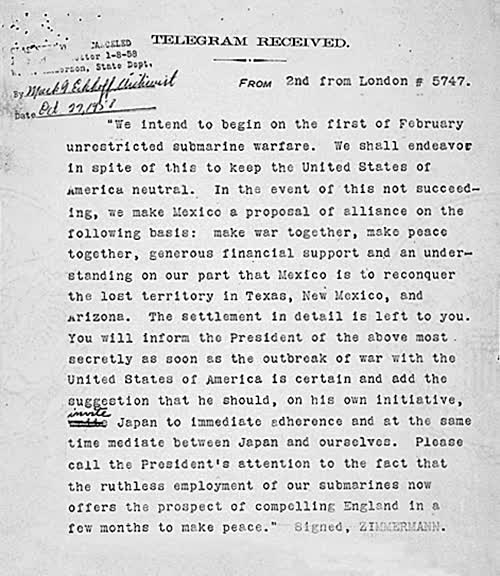 Our Blog's new format is for stock and investing news to be provided by all who read, discuss, and comment here. 
This is the day The Lord has made. Let us rejoice and be glad in it.
I can all things through Christ who strengthens me.
Greater love hath no man than this, that a man lay down his life for his friends.
Seeking Alpha's Disclosure: Past performance is no guarantee of future results. No recommendation or advice is being given as to whether any investment is suitable for a particular investor. Any views or opinions expressed above may not reflect those of Seeking Alpha as a whole. Seeking Alpha is not a licensed securities dealer, broker or US investment adviser or investment bank. Our analysts are third party authors that include both professional investors and individual investors who may not be licensed or certified by any institute or regulatory body.