Wall Street Brunch- March 15
Please Note: Blog posts are not selected, edited or screened by Seeking Alpha editors.
Summary
Thank you to all who choose to read, comment, and discuss here! You make this Blog a special place.
Please refrain from comments that are purely political. This Blog is not the place for such comments.
History brought to you by www.history.com.
Have a marvelous Monday. Make it a great day!
Let's start with a little history, shall we?
On this day in 44 B.C., Julius Caesar, dictator of Rome, is stabbed to death in the Roman Senate house by 60 conspirators led by Marcus Junius Brutus and Gaius Cassius Longinus on March 15. The day later become known as the Ides of March. Caesar, born into the Julii, an ancient but not particularly distinguished Roman aristocratic family, began his political career in 78 B.C. as a prosecutor for the anti-patrician Popular Party. He won influence in the party for his reformist ideas and oratorical skills, and aided Roman imperial efforts by raising a private army to combat the king of Pontus in 74 B.C. He was an ally of Pompey, also known as Pompey the Great, the recognized head of the Popular Party, and essentially took over this position after Pompey left Rome in 67 B.C. to become commander of Roman forces in the east. In 63 B.C., Caesar was elected pontifex maximus, or "high priest," allegedly by heavy bribes. Two years later, he was made governor of Farther Spain and in 60 B.C. returned to Rome, ambitious for the office of consul. The consulship, essentially the highest office in the Roman Republic, was shared by two politicians on an annual basis. Consuls commanded the army, presided over the Senate and executed its decrees, and represented the state in foreign affairs. Caesar formed a political alliance—the so-called First Triumvirate—with Pompey and Marcus Licinius Crassus, the wealthiest man in Rome, and in 59 B.C. was elected consul. Although generally opposed by the majority of the Roman Senate, Caesar's land reforms won him popularity with many Romans. In 58 B.C., Caesar was given four Roman legions in Cisalpine Gaul and Illyricum, and during the next decade demonstrated brilliant military talents as he expanded the Roman Empire and his reputation. Among other achievements, Caesar conquered all of Gaul, made the first Roman inroads into Britain, and won devoted supporters in his legions. However, his successes also aroused Pompey's jealousy, leading to the collapse of their political alliance in 53 B.C. The Roman Senate supported Pompey and asked Caesar to give up his army, which he refused to do. In January 49 B.C., Caesar led his legions across the Rubicon River from Cisalpine Gaul to Italy, thus declaring war against Pompey and his forces. Caesar made early gains in the subsequent civil war, defeating Pompey's army in Italy and Spain, but was later forced into retreat in Greece. In August 48 B.C., with Pompey in pursuit, Caesar paused near Pharsalus, setting up camp at a strategic location. When Pompey's senatorial forces fell upon Caesar's smaller army, they were entirely routed, and Pompey fled to Egypt, where he was assassinated by an officer of the Egyptian king. Caesar was subsequently appointed Roman consul and dictator, but before settling in Rome he traveled around the empire for several years and consolidated his rule. In 45 B.C., he returned to Rome and was made dictator for life. As sole Roman ruler, Caesar launched ambitious programs of reform within the empire. The most lasting of these was his establishment of the Julian calendar, which, with the exception of a slight modification and adjustment in the 16th century, remains in use today. He also planned new imperial expansions in central Europe and to the east. In the midst of these vast designs, he was assassinated on March 15, 44 B.C., by a group of conspirators who believed that his death would lead to the restoration of the Roman Republic. However, the result of the "Ides of March" was to plunge Rome into a fresh round of civil wars, out of which Octavian, Caesar's grand-nephew, would emerge as Augustus, the first Roman emperor, destroying the republic forever.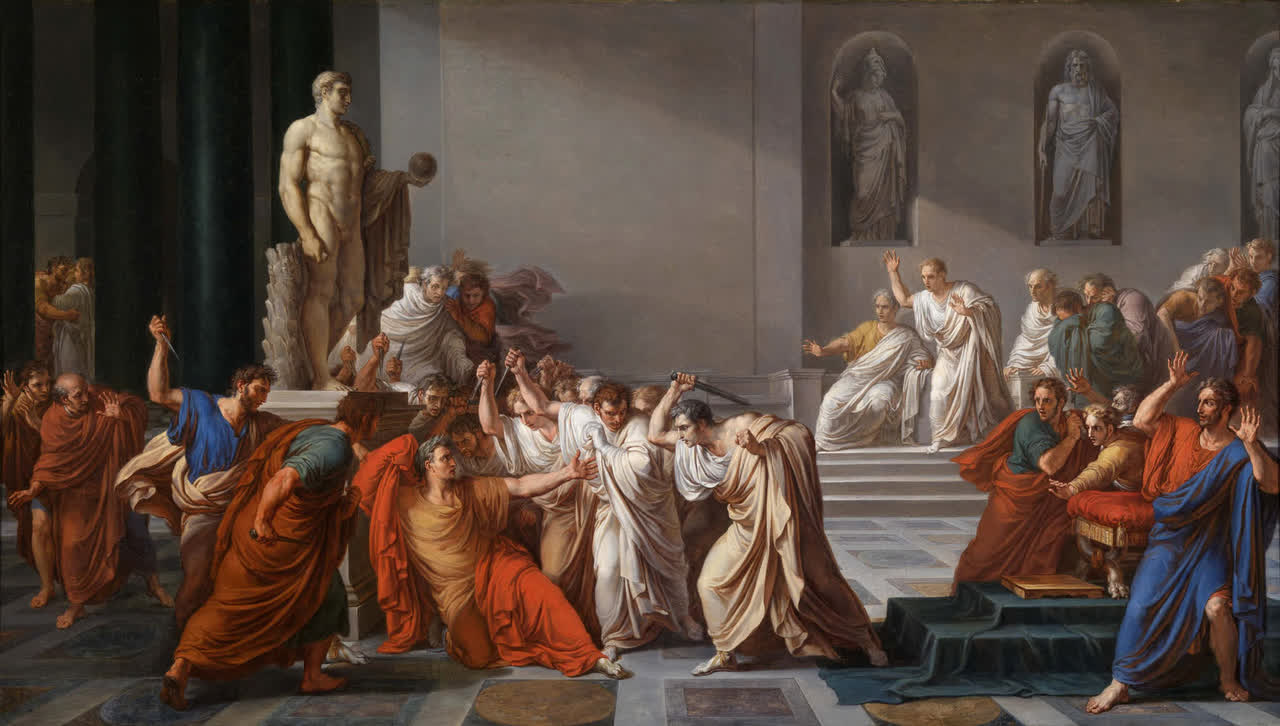 On March 15, 1972, The Godfather—a three-hour epic chronicling the lives of the Corleones, an Italian-American crime family led by the powerful Vito Corleone (Marlon Brando)—is released in theaters. The Godfather was adapted from the best-selling book of the same name by Mario Puzo, a novelist who grew up in New York City's Hell's Kitchen and got his start writing pulp stories for men's magazines. Controversy surrounded the film from the beginning: Soon after Paramount Pictures announced its production, the Italian-American Civil Rights League held a rally in Madison Square Garden, claiming the film would amount to a slur against Italian Americans. The uproar only increased publicity for the movie, which Paramount was counting to become a big-money hit after the success of Puzo's novel. The studio's production chief, Robert Evans, approached several directors—including Sergio Leone and Costa Gavras—about The Godfather before hiring the relatively unknown Francis Ford Coppola, who was only 31 years old at the time. As an Italian American himself, Coppola strove to make the film an authentic representation of the time period and the culture, and to do justice to the complex relationships within the Corleone family, instead of focusing primarily on the violent crime aspect of the story. He worked with Puzo on the screenplay and persuaded Paramount to increase the budget of the film, which the studio had envisioned as a relatively meager $2.5 million. Perhaps most importantly, Coppola and Puzo fought to cast Marlon Brando in the coveted role of Vito Corleone. At the time, Brando's career had been in decline for a decade, and he had become notorious for his moody on-set behavior, most notably during the filming of 1962's Mutiny on the Bounty. When Paramount insisted that Brando do a screen test, the legendary actor complied because he wanted the role so badly. Reading his lines from hidden cue cards, Brando turned in a phenomenal, intuitive performance as the Godfather, winning an Academy Award for Best Actor (which he declined to accept). Combined with Coppola's meticulous direction and memorable performances by the rest of the film's cast, including Al Pacino, James Caan, Robert Duvall and Diane Keaton, Brando's star turn propelled the film to record-breaking box-office success, as well as three Academy Awards, for Best Actor, Best Picture and Best Adapted Screenplay. The Godfather has remained a perennial choice on critics' lists of the all-time best films in history. In 2007, it ranked second on the American Film Institute (AFI)'s list of the greatest movies of all time, behind Orson Welles' Citizen Kane (1941). Its sequel, The Godfather: Part II, was released in 1974 and won six Oscars, including Best Picture and Best Director. A third installment, The Godfather: Part III (1990), received some positive reviews but was generally considered to be the weakest of the three films.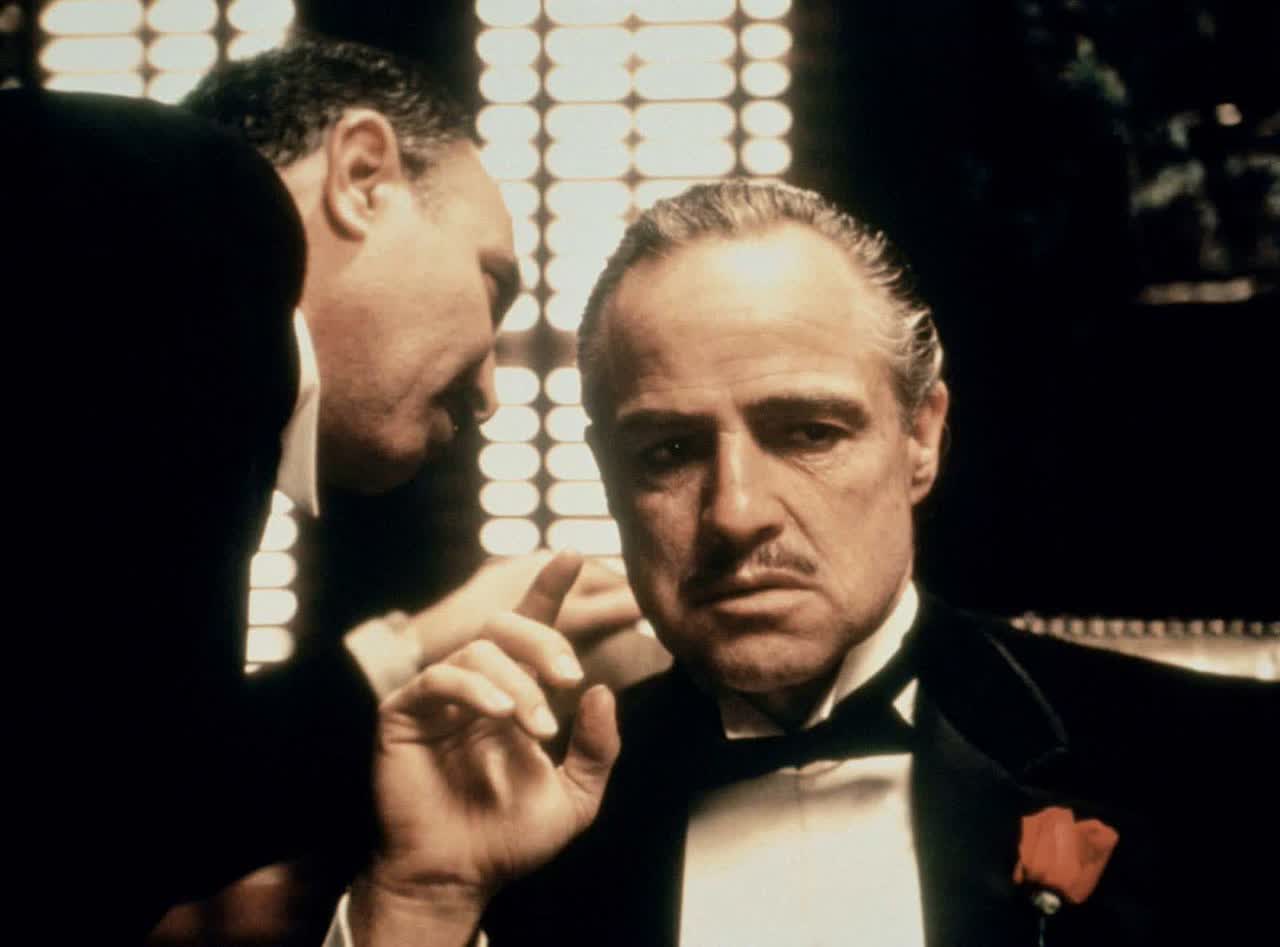 Have a great day everyone. Stay safe out there.
This is the day The Lord has made. Let us rejoice and be glad in it.
I can do all things through Christ who strengthens me.
Greater love hath no man than this, that a man lay down his life for his friends.
Stock news, investing news, and other comments are generated by our readers.
Seeking Alpha's Disclosure: Past performance is no guarantee of future results. No recommendation or advice is being given as to whether any investment is suitable for a particular investor. Any views or opinions expressed above may not reflect those of Seeking Alpha as a whole. Seeking Alpha is not a licensed securities dealer, broker or US investment adviser or investment bank. Our analysts are third party authors that include both professional investors and individual investors who may not be licensed or certified by any institute or regulatory body.