Wall Street Brunch- May 24
Please Note: Blog posts are not selected, edited or screened by Seeking Alpha editors.
Summary
THANK YOU to all who read, comment, and discuss here.
Please refrain from comments that are purely political.
All opinions are welcome and civil discussion is an expectation on this Blog.
History is brought to you by www.history.com.
Have a marvelous Monday. Make it a great day!
Let's start with a little history, shall we?
The Cincinnati Reds beat the Philadelphia Phillies 2-1 on May 24, 1935 in Major League Baseball's first-ever night game, played courtesy of recently installed lights at Crosley Field in Cincinnati. The first-ever night game in professional baseball took place May 2, 1930, when a Des Moines, Iowa, team hosted Wichita for a Western League game. The game drew 12,000 people at a time when Des Moines was averaging just 600 fans per game. Evening games soon became popular in the minors: As minor league ball clubs were routinely folding in the midst of the Great Depression, adaptable owners found the innovation a key to staying in business. The major leagues, though, took five years to catch up to their small-town counterparts. The first big league night game on this day in 1935 drew 25,000 fans, who stood by as President Roosevelt symbolically switched on the lights from Washington, D.C. To capitalize on their new evening fan base, the Reds played a night game that year against every National League team–eight games in total–and despite their lousy record of 68-85, paid attendance rose 117 percent. Though baseball owners had a well-deserved reputation for being old-fashioned, most teams soon followed suit, as they knew night games would benefit their bottom line. Teams upgraded their facilities to include lights throughout the 1930s and 40s, and before long, most of the league had night games on the schedule. Wrigley Field, on Chicago's North Side–the second oldest major league park after Boston's Fenway–was the last of the parks to begin hosting night games. Wrigley's tradition of hosting only day games held for 74 seasons until August 8, 1988, when the Cubs hosted the Philadelphia Phillies. That game was rained out in the third inning, so Wrigley's first night game is officially recorded as a 6-4 win over the New York Mets on August 9, 1988.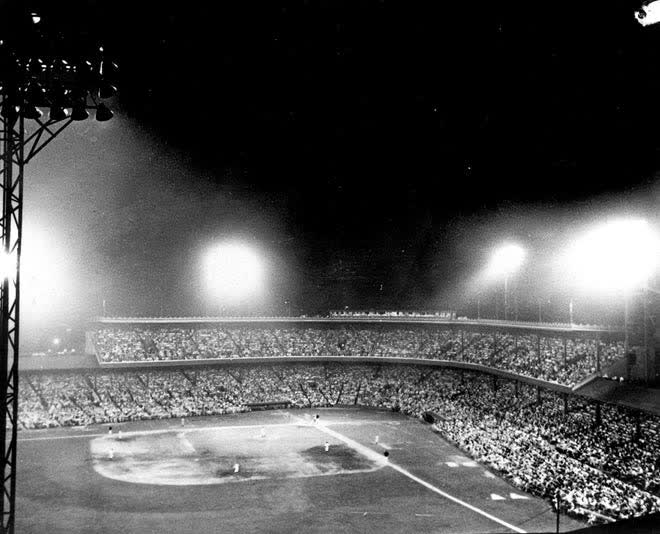 On this day in 1883, after 14 years, the Brooklyn Bridge over the East River opens, connecting the great cities of New York and Brooklyn for the first time in history. Thousands of residents of Brooklyn and Manhattan Island turned out to witness the dedication ceremony, which was presided over by President Chester A. Arthur and New York Governor Grover Cleveland. Designed by the late John A. Roebling, the Brooklyn Bridge was the largest suspension bridge ever built to that date. John Roebling, born in Germany in 1806, was a great pioneer in the design of steel suspension bridges. He studied industrial engineering in Berlin and at the age of 25 immigrated to western Pennsylvania, where he attempted, unsuccessfully, to make his living as a farmer. He later moved to the state capital in Harrisburg, where he found work as a civil engineer. He promoted the use of wire cable and established a successful wire-cable factory. Meanwhile, he earned a reputation as a designer of suspension bridges, which at the time were widely used but known to fail under strong winds or heavy loads. Roebling is credited with a major breakthrough in suspension-bridge technology: a web truss added to either side of the bridge roadway that greatly stabilized the structure. Using this model, Roebling successfully bridged the Niagara Gorge at Niagara Falls, New York, and the Ohio River at Cincinnati, Ohio. On the basis of these achievements, New York State accepted Roebling's design for a bridge connecting Brooklyn and Manhattan–with a span of 1,595 feet–and appointed him chief engineer. It was to be the world's first steel suspension bridge. Just before construction began in 1869, Roebling was fatally injured while taking a few final compass readings across the East River. A boat smashed the toes on one of his feet, and three weeks later he died of tetanus. He was the first of more than two dozen people who would die building his bridge. His 32-year-old son, Washington A. Roebling, took over as chief engineer. Roebling had worked with his father on several bridges and had helped design the Brooklyn Bridge. The two granite foundations of the Brooklyn Bridge were built in timber caissons, or watertight chambers, sunk to depths of 44 feet on the Brooklyn side and 78 feet on the New York side. Compressed air pressurized the caissons, allowing underwater construction. At that time, little was known of the risks of working under such conditions, and more than a hundred workers suffered from cases of compression sickness. Compression sickness, or the "bends," is caused by the appearance of nitrogen bubbles in the bloodstream that result from rapid decompression. Several died, and Washington Roebling himself became bedridden from the condition in 1872. Other workers died as a result of more conventional construction accidents, such as collapses and a fire. Roebling continued to direct construction operations from his home, and his wife, Emily, carried his instructions to the workers. In 1877, Washington and Emily moved into a home with a view of the bridge. Roebling's health gradually improved, but he remained partially paralyzed for the rest of his life. On May 24, 1883, Emily Roebling was given the first ride over the completed bridge, with a rooster, a symbol of victory, in her lap. Within 24 hours, an estimated 250,000 people walked across the Brooklyn Bridge, using a broad promenade above the roadway that John Roebling designed solely for the enjoyment of pedestrians. The Brooklyn Bridge, with its unprecedented length and two stately towers, was dubbed the "eighth wonder of the world." The connection it provided between the massive population centers of Brooklyn and Manhattan changed the course of New York City forever. In 1898, the city of Brooklyn formally merged with New York City, Staten Island, and a few farm towns, forming Greater New York.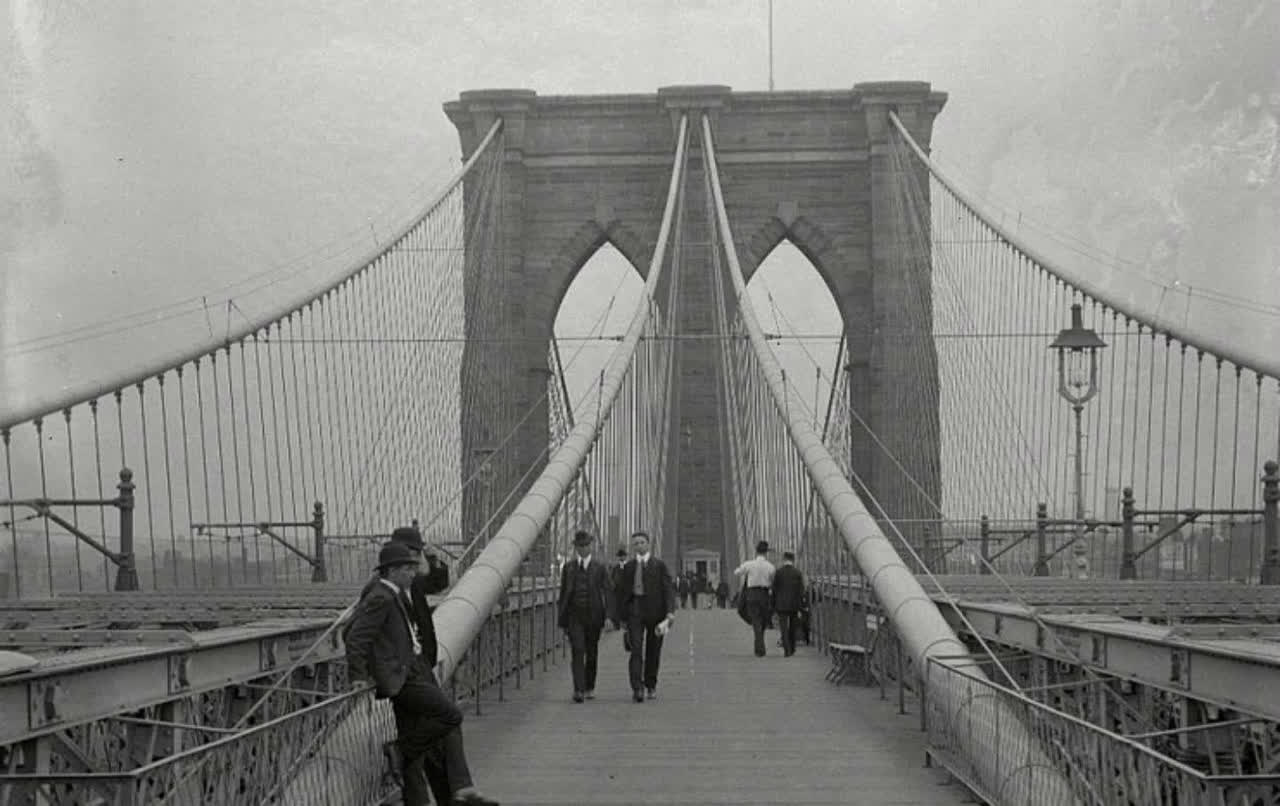 Now for some stock and investing news-
China's Zhejiang Huayou Cobalt Co said on Monday it would partner electric vehicle battery maker EVE Energy and others in a $2.08 billion nickel and cobalt project in Indonesia. The company is also splashing out $210 million on a stake in Chinese battery materials producer Tianjin B&M Science and Technology Co (B&M) as it makes investments across the rechargeable battery supply chain. Huayou will hold 20% of the Indonesian venture, tentatively called PT Huayu Nickel Cobalt. It is the cobalt producer's third battery nickel smelting project in Indonesia, which is becoming an important centre for battery chemicals.
Oil prices rose on Monday as a potential snag emerged in reviving the 2015 Iran nuclear deal that could add more oil supply, while Goldman Sachs said the case for higher prices remains intact even with increased Iran exports. Brent crude oil futures for July rose $1.25, or 1.9%, to $67.69 a barrel by 0950 GMT, while U.S. West Texas Intermediate for July was at $64.73 a barrel, up $1.15, or 1.8%.
U.S. stock futures are around 0.5% higher to start the week as investors size up the volatile swings in crypto markets, as well as China's intensifying campaign to rein in raw material prices. Equities are coming off a mixed week in which the DJIA logged its fourth negative week in five, while the S&P notched two consecutive weeks of losses for the first time since February. Meanwhile, the Nasdaq Composite inched 0.3% last week, snapping a four-week losing streak.
Cummins (NYSE:CMI) announces its plans for one of the world's largest electrolyzer plants for the production of green hydrogen to be located in Castilla-La Mancha, Spain, the investment in Spain comes following Iberdrola and Cummins' decision to partner together on large-scale hydrogen production projects in Spain and Portugal. The companies have signed an agreement to accelerate the growth of business opportunities in the electrolyzer market of Iberia, promoting the green hydrogen value chain.
NIO (NYSE:NIO) has entered into manufacturing contracts with Jianghuai Automobile Group (JAC) and Jianglai Advanced Manufacturing Technology ((Jianglai)) regarding the joint manufacturing of NIO vehicles and related fee arrangements. As per the new terms, from May 2021 to May 2024, JAC will continue to manufacture the ES8, ES6, EC6, ET7, and probably other NIO models in the pipeline. In addition, JAC will expand its annual production capacity to 240,000 units.
Cabot Oil & Gas (NYSE:COG) +1.6% pre-market after agreeing to combine with Cimarex Energy (NYSE:XEC) in an all-stock merger of equals, with an enterprise value of ~$17B. Under the deal terms, Cimarex shareholders will receive 4.0146 shares of Cabot common stock for each Cimarex share owned. Upon completion of the deal, Cabot shareholders will own ~49.5% and Cimarex shareholders will own 50.5% of the combined company. The merged company will combine Cabot's 173K net acres in the Marcellus Shale basin with Cimarex's 560K net acres in the Permian and Anadarko basins.
The PGA took a page from Mr. Market's book and promoted a long driving "young gun" in the first round of the PGA Championship. Fast forward to the winner of the event, who hit a drive farther than the promoted player on Sunday, who became the oldest golfer ever to win a major championship. Congratulations to Phil Mickelson for continuing to show what a complete golfer is all about. What does Mr. Market have to do with this? The promotion of the automotive Market Cap "king" only to see slow and steady Ford win the EV pickup truck "race." Ford is Phil Mickelson. The Market Cap "king" is the long driving media favorite.
Have a great day everyone. Stay safe out there.
This is the day The Lord has made. Let us rejoice and be glad in it.
I can do all things through Christ who strengthens me.
Greater love hath no man than this, that a man lay down his life for his friends.
Seeking Alpha's Disclosure: Past performance is no guarantee of future results. No recommendation or advice is being given as to whether any investment is suitable for a particular investor. Any views or opinions expressed above may not reflect those of Seeking Alpha as a whole. Seeking Alpha is not a licensed securities dealer, broker or US investment adviser or investment bank. Our analysts are third party authors that include both professional investors and individual investors who may not be licensed or certified by any institute or regulatory body.