Wall Street Brunch- May 27-28
Please Note: Blog posts are not selected, edited or screened by Seeking Alpha editors.
Summary
THANK YOU to all who choose to read, comment, and discuss here.
This is an open Blog. Please behave like adults with comments and discussions. Thank you.
History brought to you by www.history.com.
Have a tremendous Thursday everyone. Make it a great day!
This Edition is for today and tomorrow (Thursday and Friday).
Let's start with a little history, shall we?
On this day in 1937, 
San Francisco's Golden Gate Bridge, a stunning technological and artistic achievement, opens to the public after five years of construction. On opening day–"Pedestrian Day"–some 200,000 bridge walkers marveled at the 4,200-foot-long suspension bridge, which spans the Golden Gate Strait at the entrance to San Francisco Bay and connects San Francisco and Marin County. The next day, on May 28, the Golden Gate Bridge opened to vehicular traffic. The concept of bridging the nearly mile-wide Golden Gate Strait was proposed as early as 1872, but it was not until the early 1920s that public opinion in San Francisco began to favor such an undertaking. In 1921, Cincinnati-born bridge engineer Joseph Strauss submitted a preliminary proposal: a combination suspension-cantilever that could be built for $27 million. Although unsightly compared with the final result, his design was affordable, and Strauss became the recognized leader of the effort to bridge the Golden Gate Strait. During the next few years, Strauss' design evolved rapidly, thanks to the contributions of consulting engineer Leon S. Moisseiff, architect Irving F. Morrow, and others. Moisseiff's concept of a simple suspension bridge was accepted by Strauss, and Morrow, along with his wife, Gertrude, developed the Golden Gate Bridge's elegant Art Deco design. Morrow would later help choose the bridge's trademark color: "international orange," a brilliant vermilion color that resists rust and fading and suits the natural beauty of San Francisco and its picturesque sunsets. In 1929, Strauss was selected as chief engineer. To finance the bridge, the Golden Gate Bridge and Highway District was formed in 1928, consisting of San Francisco, Marin, Sonoma, Del Norte, and parts of Mendocino and Napa counties. These counties agreed to collectively take out a large bond, which would then be paid back through bridge tolls. In November 1930, residents of the Golden Gate Bridge and Highway District voted 3-1 to put their homes, farms, and businesses up as collateral to support a $35 million bond to build Strauss' Golden Gate Bridge. Construction began on January 5, 1933, at the depths of the Great Depression. Strauss and his workers overcame many difficulties: strong tides, frequent storms and fogs, and the problem of blasting rock 65 feet below the water to plant earthquake-proof foundations. Eleven men died during construction. On May 27, 1937, the Golden Gate Bridge was opened to great acclaim, a symbol of progress in the Bay Area during a time of economic crisis. At 4,200 feet, it was the longest bridge in the world until the completion of New York City's Verrazano-Narrows Bridge in 1964. Today, the Golden Gate Bridge remains one of the world's most recognizable architectural structures.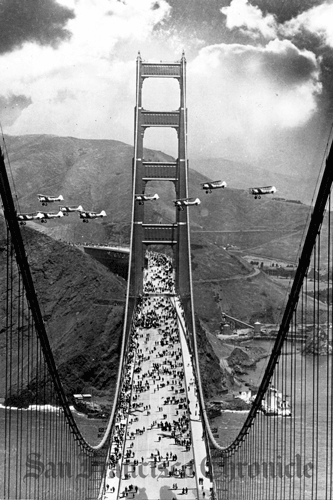 On May 27, 1941, the British navy sinks the German battleship Bismarck in the North Atlantic near France. The German death toll was more than 2,000. On February 14, 1939, the 823-foot Bismarck was launched at Hamburg. Nazi leader Adolf Hitler hoped that the state-of-the-art battleship would herald the rebirth of the German surface battle fleet. However, after the outbreak of war, Britain closely guarded ocean routes from Germany to the Atlantic Ocean, and only U-boats moved freely through the war zone. In May 1941, the order was given for the Bismarck to break out into the Atlantic. Once in the safety of the open ocean, the battleship would be almost impossible to track down, all the while wreaking havoc on Allied convoys to Britain. Learning of its movement, Britain sent almost the entire British Home Fleet in pursuit. On May 24, the British battle cruiser Hood and battleship Prince of Wales intercepted it near Iceland. In a ferocious battle, the Hood exploded and sank, and all but three of the 1,421 crewmen were killed. The Bismarck escaped, but because it was leaking fuel it fled for occupied France. On May 26, the ship was sighted and crippled by British aircraft, and on May 27 three British warships descended on the Bismarck, inflicting heavy damage. By mid-morning, the pride of the German navy had become a floating wreck with numerous fires aboard, unable to steer and with her guns almost useless because she was listing badly to port. Soon, the command went out to scuttle the ship, and the Bismarck quickly sank. Of a 2,221-man crew, only 115 survived.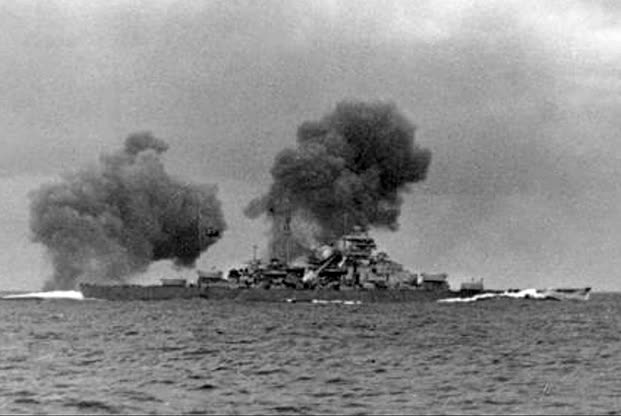 Now for some stock and investing news-
Up, down, up, down... Stock futures are pointing slightly lower this morning, keeping up with a trend seen this week of tepid gains and losses. Nasdaq futures are off by 0.5%, while contracts tied to the S&P 500 and Dow Jones are down 0.3% and 0.1%, respectively. The wavering of equities this week came as fears over runaway inflation eased, but Fed taper talk picked up pace, resulting in mixed sentiment all over Wall Street.
Yesterday brought a trifecta of trouble for Big Oil: Exxon Mobil (NYSE:XOM) lost at least two board seats to an activist hedge fund, Chevron (NYSE:CVX) shareholders voted to further cut emissions, and Royal Dutch Shell's (RDS.A, RDS.B) emissions targets were deemed insufficient by a Dutch court.
U.K. stocks were subdued on Thursday as investors fretted over the Indian coronavirus variant which continues to spread across England. On Wednesday, the U.K. COVID-19 cases hit 3,000 for the first time in more than six weeks.  The benchmark FTSE 100 was marginally lower at 7,025 after ending flat with a negative bias on Wednesday. 
Indian shares opened flat to slightly lower on Thursday, tracking mixed global cues and amid caution ahead of May series derivative contracts expiry later today. The 30-share BSE Sensex dropped 62 points, or 0.1 percent, to 50,954 in early trade, while the broader NSE Nifty index was down 10 points at 15,291.
Gap (NYSE:GPS) and Walmart (NYSE:WMT) announced a strategic partnership to introduce Gap Home, a new brand of home essentials, beginning June 24 exclusively on Walmart.com. New Gap Home seasonal and special collections will drop throughout the year and will be developed in partnership with Gap's licensing agency, IMG.
Have a great day everyone. Stay safe out there.
This is the day The Lord has made. Let us rejoice and be glad in it.
I can do all things through Christ who strengthens me.
Greater love hath no man than this, that a man lay down his life for his friends.
Seeking Alpha's Disclosure: Past performance is no guarantee of future results. No recommendation or advice is being given as to whether any investment is suitable for a particular investor. Any views or opinions expressed above may not reflect those of Seeking Alpha as a whole. Seeking Alpha is not a licensed securities dealer, broker or US investment adviser or investment bank. Our analysts are third party authors that include both professional investors and individual investors who may not be licensed or certified by any institute or regulatory body.