Novatel Wireless - (NVTL) $7.16 2/4
Investors have given shares of Novatel Wireless the cold shoulder over the past three months.  NVTL is down approximately 25% YTD and 30% over the past three months.  So the question is... Does this represent an attractive entry point? Or should investors not touch this stock even with a ten-foot pole?  Naturally, as with any stock, analysts are going to have mixed opinions.  However, I will argue the former and provide fundamental evidence to support this claim.
First thing first... How does Novatel make money?
Novatel is a provider of wireless broadband access solutions for the mobile communications market.  They are best known for their flagship "MiFi" device that allows users to create their own personal wi-fi hotspot at the push of a button through its connection to a 3G or 4G network.  I am sure readers of this article are familiar with device as it has been well advertised.  Novatel derives approximately 47% of its Revenue from these devices.  Novatel also has a fairly broad line of other devices such as embedded PCI express mini card modems (50% of Revenue) and PC express card modems (3%).  The embedded PCI express mini cards are small modems that allow users of portable electronic devices (ebooks, netbooks, tablets, etc.) to gain access to the internet anywhere there is a signal.  PC express card modems do the exact same thing; however, the differentiator is that one is embedded inside the device and the latter is exterior to the device, attaching via a USB port.
Who are their customers?
As of FY 2009, approximately 68% of revenues were derived from the company's three largest customers.  Verizon Wireless, Hon Hai and Sprint represented approximately 38%, 20.5% and 10.7%, respectively.  Novatel has formed strategic relationships with its top-customers and have signed preferred-vendor contracts.  While these contracts do not specify a quantity of devices to be sold, they ensure that Novatel is their go-to vendor.
Who manufactures their products?
Novatel outsources the manufacutring of their devices to LG Innotek, located in South Korea, and Inventec Appliances.  In doing so, Novatel can focus on their key competancy of product innovation and design.  Operating on this model has allowed them to stay ahead in the development cycle and be first-to-market with their products.

So why the 30% sell-off?

The sell-off was initially triggered by Verizon's announcement that it will carry Apple's iPhone and there were concerns over tethering.  Shortly thereafter, the decline was furthered as the result of a Bloomberg article stating that Verizon plans on selling an iPad that will connect directly to Verizon's Network.  Prior to this, the Verizon iPad could only connect to Verizon's network with the help of Novatel's MiFi device.  Therefore, these two devices were bundled together and sold as one package to any Verizon customer interested in purchasing an iPad.  One can see why investors were concerned as Verizon comprises 38% of Novatel's revenue and if an iPad were to be able to connect directly to their network there would be no need for the MiFi device.
Putting things in context..
.
The abovementioned concerns are valid.  However, lets try and put things in context.  Lets start with tethering capabilities from the new iPhone.  Most smartphones have a tethering ability.  What is tethering?  Tethering is when you essentially turn your smartphone into a modem and in doing so, can gain mobile access to the internet on your personal computer or other device.  However, smartphones are not designed to handle this type of usage.  As a result, battery life quickly diminishes and devices can even overheat.  Further, as it relates to CDMA technology, when using your smartphones 'tethering' feature, you cannot receive or make calls or use your phone for anything else besides a modem.  Therefore, for the intensive mobile broadband internet user, the tethering option is not necessarily efficient.  In addition, there is only one tethering data package available from Verizon.  That is $20/mo, 2gb and $20 per gb thereafter.  This is compared to the available mobile hotspot and data card packages that scale usage on 1, 3, 5 and 10 GB levels.  Okay, now what about the iPad?  While an iPad being able to connect directly to Verizon's network is inevitable, the impact depends on timing.  Verizon currently has stockpiles of Apple iPads that it needs to sell before it can even consider selling a newer version.  Further, if a new CDMA iPad is released, it will likely have 4G capabilities.  Being that there is not even an iPhone available that has full 4G technology in it, in terms of release, it is unlikely to see a 4G iPad anytime soon.  Lastly, it is even a possibility that the new iPad that will connect directly to Verizon's network will do so via an embedded card that Novatel produces. Naturally, this is all speculation and later in this article I will share with you the results of a worst-case scenario if the iPad transition happened tomorrow.
Investment Thesis & Drivers
Novatel currently finds itself at the bottom of the 3G product cycle, placing significant pressure of ASPs (Avg Selling Price) and margins.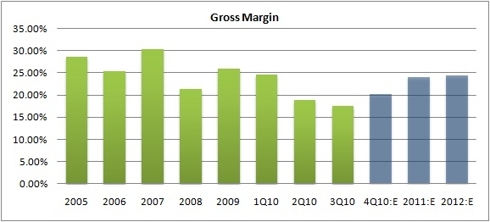 This is evident by 3Q10 adjusted gross margin of 17.5%, which is only 25bps above historic trough levels.  I expect gross margins will improve in FY 11 and beyond as service providers make the transition to 4G and consumers demand faster access speeds.

Next-Gen Cycle Ramp
Novatel is positioned to strongly benefit from an industry wide transition to 4G technology across all segments.  Historically, the transition years after initial development resulted in y/y revenue growth of 55% and 97% in 2005 and 2007, respectively.  Further next-gen devices are higher up on the value chain and are characterized by stronger gross margins. Transition year gross margins were 28% and 31% in 2005 and 2007, respectively.  Major wireless network providers (AT&T, Verizon, Sprint) are currently in fierce competition with respect to the rollout of their 4G network and device capabilities.  More recently, Verizon and NVTL announced the availability of a 4G LTE MiFi to be released during the 1Q11.  Being the first 4G capable device of its kind, this places competitive pressure on other networks and affirms Novatel's early-mover position.

Growth in Celluar and Mobile Broadband Modems
Looking beyond 2011, long-term growth potential lies in cellular and mobile broadband modems.  According to ABI Research, the cullar and mobile broadband PC modem market is forecasted to grow at a CAGR of 22% over the next five years from $8.2 billion in 2011 to $18 billion by 2015.  This is driven by greater attachment rates of embedded broadband access cards to mobile devices such as netbooks, tablets and e-book readers.  Further, continuous improvements in access speed will perpetuate this trend and result in a more practically access channel for internet users on the go.
Growth in Cellular and Mobile Broadband Modems
Novatel's recent acquisition of Enfora, a leader in M2M solutions, represents their push to expand offerings and diversify its product portfolio.  As of 3Q10, Enfora had TTM revenues of $53 million with gross margins of approximately 36%.  Novatel paid a little over 1x revenue or $64.5 million in an all cash transaction.  Management expects the acquisition to be immediately accretive and with little to no related cost increases.  Infonetics research estimate that the M2M will grow at a CAGR of 38% through 2014.  Mobile M2M technology allows for the instantaneous disbursement and transfer of logistical information from source to central database, which benefits firms of all size through additional cost savings and product control.
Valuation & Estimates

When attempting to value any company, I like to use multiple methods and then take the average of all the target prices.  Especially for companies like Novatel, whose fundamentals do not trend nicely and can experience years of negative profit.  However, regardless of the firm, industry or size, I always start my valuation using a DCF model.
In this case, I used a 5-year DCF analysis with a computed WACC of 11.56% (Computed using CAPM) and a terminal growth rate of 3%.  This valuation method revealed an intrinsic value of $8.49.  Critics of the DCF approach take issue with the use of the discount rate since just minor variations in the rate can alter the intrinsic value substantially.  Therefore, I performed a sensitivity analysis that adjusted the long-term growth rate 2-4% and WACC 9-13% which generated a price range of $7.25-$12.21.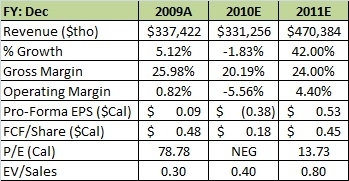 However, I also utilized a number of relative valuation approaches based on industry and historical multiples in order to balance out the DCF variance.  I used a historical EV/EBITDA multiple of 6x and 8x to calculated a price range of $9.87 and $11.94.  Novatel is currently trading at EV/Sales of 0.4x.  Historically, this multiple during ramp cycles has averaged north of 1x; however, due to increased competition a conservative multiple of 0.8x was used to generate a target price of $13.08.  NVTL is currently trading at a P/S of 0.7x which is a discount to the industry average of 1.4x and below the historical average of 1.2x.  Applying a 1x P/S multiple on 2011 RPS estimates suggest a fair value of $14.56.  Giving an equal weighting to all five valuation methods provides a target price of $10.84.

Balance Sheet: Liquidity & Financial Health
Novatel currently has approximately $110 million in cash and equivalents.  If you add marketable securities, you have approximately $145 million.  This number converted to a per share figure is $4.55.  Below is a chart of my estimates of how cash and equivalents will grow through 2015.  Please keep in mind that these are purely estimates, based on current cash usage and trying to forecast figures 5-years from now is very difficult.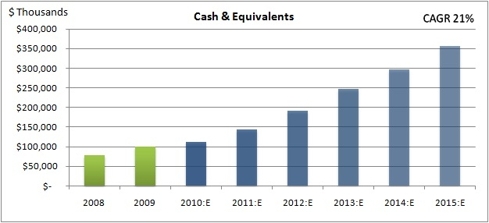 Novatel has no debt on its balance sheet and management intends on maintaining a debt free capital structure; relying purely on its cash reserves and operating cash flow to fund operations and investments.  As such, Novatel has plenty of cash and liquid assets to meet all current liabilities.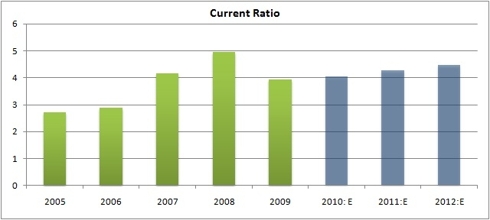 Since management is operating with no-debt, it is important to look at how quickly management can convert its assets into cash.  Therefore, we can look at and trend Novatel's cash conversion cycle.  As of 2009, it took approximately 40 days to convert assets into cash.  This figure is expected to trend downward over the next few years as inventory turns increase due to abovementioned next-gen cycle ramp.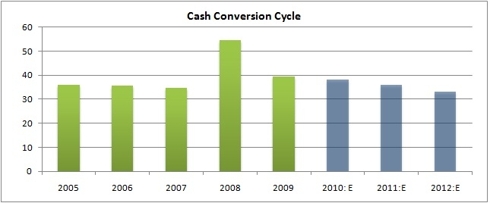 Risks to Thesis

As with any investment, there are risks.
Component Constraints...
There are currently industry wide component constraints, with management stating that they are relying on deliveries and orders more than what is on hand.  Management also noted that lead-times have also stretched out over the buildup of their backlog.  This being said, management seems confident in their abilities to control the issue and obtain their allocation in order to meet demand.  It is also possible that NVTL could even benefit from this constraint through higher ASPs.
Limited Scale and Distribution...
92% of 2009 revenues were derived from North American customers.  Currently, the only other geographic segment that has the infrastructure in place to operate NVTLs products are located in developed Europe and certain Middle Eastern countries.  While management is working to again expand their European presence after being forced out by pricing pressure, continued economic weakness is a severe head-wind.  Additionally, the majority of all sales are conducted directed through NVTLs sales force team, with only a small portion from indirect distribution channels.
Reliance on Major Customers...
Approximately 68% of 2009 revenues were derived from the company's three largest end customers.  Verizon Wireless, Hon Hai and Sprint PCS represented approximately 38%, 20.5% and 10.7%, respectively.
Worst Case Scenario: Verizon Loss

Okay, so the worst case scenario is that Novatel loses its largest customer which comprises approximately 38% of revenue.  Although, this is unlikely to happen for the abovementioned reasons, I decided to stress test my model and determine a target price if Novatel were to lose 30% of its revenue source in 2011 and beyond.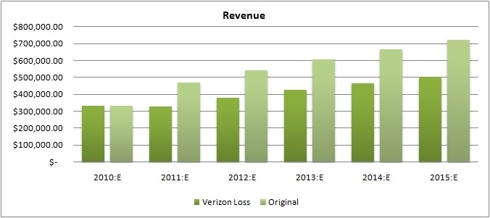 Based on these revised estimates and applying the same valuation methods as those above, provides the following results: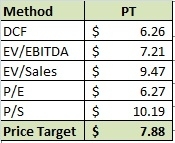 So as you can see, it seems that the market has already priced in the worst-case scenario for Novatel Wireless.  However, this scenario is extremely unlikely as NVTL and Verizon are strategic partners and if Verizon were to back-out of the deal with NVTL it would not be dramatic.  Instead, it would be scaled out over a period of time and not be 30% immediately.
Conclusion

Based on the above analysis, it appears that now is an attractive entry point to initiate a position in shares of Novatel Wireless (NVTL).  Downside risk seems to be extremely limited and upside potential attractive.  I would imagine that the next catalyst for a major price-movement will be when NVTL reports earnings on 2/24.
As always.... Happy Investing!
Note:  All estimates are the result of my own analytics.  They are not deemed to be accurate or reliable by an means and all investors should conduct their own analysis and due-diligence before investing.  All information was obtained from publicly available sources.  This article represents my opinions and should not be taken as investment advice. 
Disclosure:
I am long
NVTL
.