If you have been following medical marijuana boom then no doubt you have heard of the most popular stocks in the sector. (MMJ), (OTCPK:CBIS), (OTCPK:HEMP), and of course (MDBX). Since February the medical marijuana sector has been on a steady decline. The stocks tend to rise when new legislation is passed, and there has been no exciting news lately. Also, many investors like to walk away with a profit so they sell after these rallies.
Latteno Foods Inc. also plays an important role in the medical marijuana industry. They are a portfolio company that acquires companies that sell edibles to dispensaries. The currently own Green Cannabis Collective (green-cannabis.com). On their website you can find a list of the products they sell. This includes cookies, peanut butter cups, and chocolate bars all baked in with the love THC that medical patients desire. They also recently signed a letter of intent to acquire Mekonza Corp., a seafood importer from Southern California with strong ties and business connection in Vietnam and Southeast Asia. This could potentially help the supply and distribution of the companies' future products.
I have three main reasons why I am long Latteno Food Inc. (OTCPK:LATF). Number one; they approved a loyalty stock dividend of 2% to all shareholders on record. This is typically unheard of for a penny stock. Number two; they plan on achieving revenue of 10,000,000 dollars buy 2015. With a current market cap of 227,159 dollars they have a lot of room to grow. Number three; as of December 31, there are 365,581,160 restricted shares compared to the total 400,000,000 authorized shares). This means there are only 34,418,840 on the float. (OTCPK:LATF) is also near its 52 week low. These are all signs of a legitimate company that has a bright future.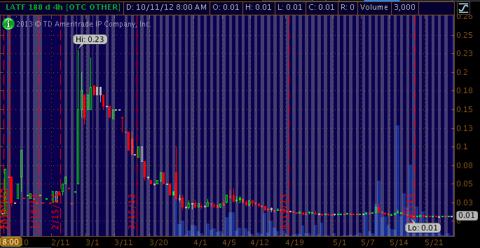 Disclosure: I am long OTCPK:LATF.
Additional disclosure: I wrote this article myself and I am not receiving any compensation for this article (other than seeking alpha).