A small company for learning real estate and investments, primarily under Kiyosaki's "Rich Dad" brand.
Presents a stable profitability and a potential for growth in the coming years.
The trigger to increased value: an increase in the number of shares float in the market after the spinoff of company's shares by its holding company.
Legacy Education Alliance (OTCQB:LEAI) is a small company (market cap of $7 million) that holds professional courses designed to train people to achieve financial independence through activities in the fields of entrepreneurship, real estate and stock market investments. The courses are offered primarily in the US, and a smaller number of courses are held in Canada, UK and several other countries, with the majority of content being marketed under Robert Kiyosaki's popular "Rich Dad" brand.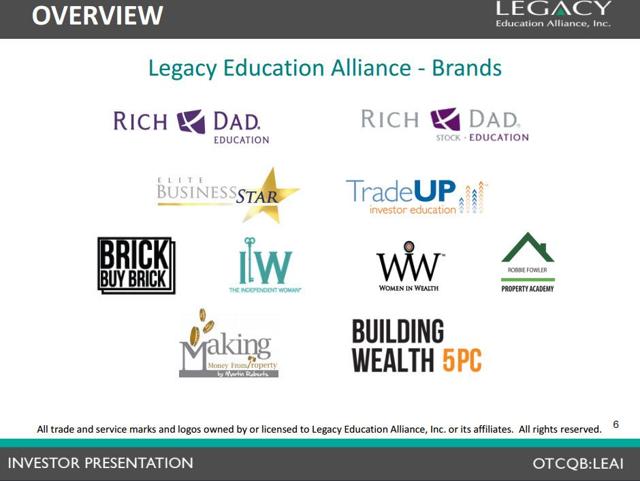 The company has over $7 million in cash, no debt, annual revenue of $85 million, normalized operating income of $2.5 million and free cash flow of $1.5 million, and it is traded at a market cap of only $7 million. In other words, the stock is traded at a Price to free cash flow of 4.8 and EV/EBIT of 0.1.
If you do a full discounted cash flow valuation (NYSE:DCF), even if you assume a decrease of 10% in revenues every year in the next five years and then have the income drop to zero, have the Company pay 35% tax in 2017, and have the cash flow discounted by 15% - you'll have the stock worth half a dollar. A more likely scenario in which revenues and profitability will remain more or less constant over the next five years, and then begin to shrink by 5% each year (and will be discounted by 12%), you'll have the stock worth at least 70 cents. More than twice the current price. In the more optimistic scenarios which include growth, higher prices can be justified, even 90 cents ...
In short, LEAI is free money.
Before you rush to buy, let's ask ourselves whether LEAI's business model will actually last long enough, are there significant risks that could interfere along the way, and of course what could be the trigger to flood the value of the share?
Risk #1: How stable is Legacy Education's business model?
The company has 20 years of experience in the business and revenues of nearly $90 million a year, so apparently, it knows what it is doing. On the other hand, when reading quite a few negative reviews about its activities it is understood that there are some risks. The company's business model is simple (by the way, it did not invent it): conduct a short course of 3-4 sessions at a low cost of several hundred dollars, in which briefly introduce the principles of the method of how to make money from entrepreneurship, real estate or the stock market, and use the rest of the time to fairly aggressively market the full course, which its cost is a lot more expensive - tens of thousands of dollars / euros (the average participant pays for the full course approximately 15,000 dollars).
Most of the negative reviews are by workshop participants who were disappointed and argue that they did not receive real value from the workshop, but were mainly pressured to enroll in the long and expensive course. Personally, I do not really like this aggressive marketing strategy, but Legacy Education is no different from other companies in the field. It is just the way this business works.
For me, what is important for the long-term success of the company is - is there a plurality of disappointed participants among those who enrolled in the full course. The answer is that there are disappointed participants throughout the internet, but they are not many. The company's revenues are fairly stable in recent years, so its marketing system does the job well, and if people enjoy the long course, keeping enrollments at a similar rate in the coming years should not be a complex task. A revenue growth is a bigger challenge, which I think is possible, but even in a conservative scenario the share has enough upside, so growth would be a bonus for us.
What about competitors? As we know, the field of investment courses is an extremely competitive industry, where there are hundreds of colleges of various sizes that hold such courses. However, the advantage and uniqueness of Legacy Education is the license awarded to it, to market its services under the "Rich Dad" brand, something that I believe will help the company maintain a level of income at least similar to that of recent years. Why? The eternal desire of so many people to get rich fast, as is written in popular books such as "Rich Dad" and its likes is so strong, that they are willing to invest large amounts of money for the potential of fulfilling the dream. Books like "Rich Dad" became an international bestseller for a reason. Moreover, most people do not have the courage to take the first step towards being an entrepreneur or an investor, therefore they need these courses mainly for the psychological aspect, to give them the push to start investing. It is a product of the world in which we live in today, and it will probably not change in the foreseeable future. In other words, you and I would not spend our money on such courses (between us, it is clear that they will not turn anyone into the next Warren Buffett, Bill Gates, Steve Jobs or even Robert Kiyosaki), but there will always be many people in the world who would buy the dream, so companies such as Legacy Education will probably continue to make a profit over time.
What may lead to a decrease in income, is losing the license to use Kiyosaki's "Rich Dad" brand name. Currently, most of the company's revenues are from services sold under this brand, so its loss can significantly hurt sales. The question is what is the probability of this happening? The current license ends in August of 2018 but can be renewed for another period of time, as has happened repeatedly in the past. Since the license produces its owners' attractive royalties from Legacy Education every year, I see no particular reason that may lead to denying the company from using the brand in the future. Therefore, although this risk exists, it is less likely to materialize in my opinion. In addition, Legacy Education seems to be preparing itself for the day after, and is working to reduce its dependence on the brand. Recent quarters did show an increase of sales which came from courses that are not under the "Rich Dad" brand, especially outside the US.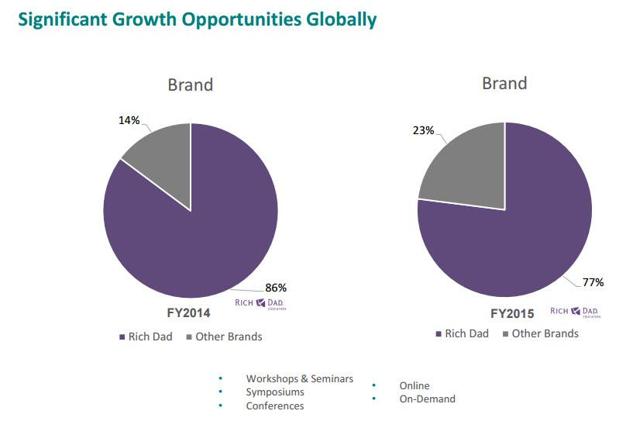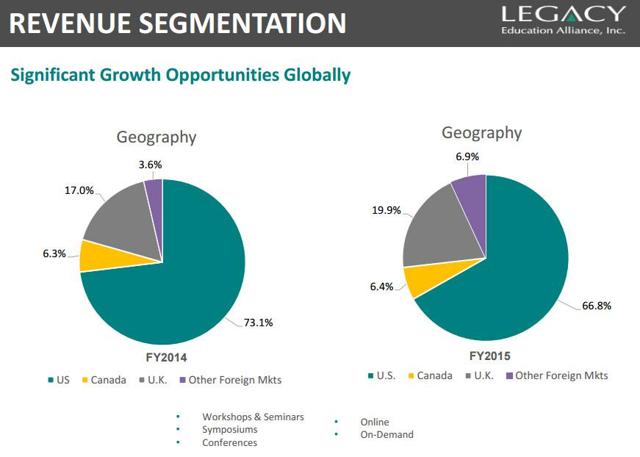 Risk #2: What is the likelihood of financial damage due to a large lawsuit in the future?
As mentioned, there are many customers who are dissatisfied (to say the least) with Legacy Education and what they have received for the money they paid the company. If one or two students sued the company it will not be a disaster, but if many of them would join a common class action lawsuit that succeeds, it could be catastrophic for the company, which has a total of 7 million dollars' cash. On the other hand, most people complaining are not participants of the long and extensive (and expensive) course. They just took part in a workshop that cost a few hundred dollars, and are claiming it did not have sufficient value. This claim is legitimate, but as long as it is not a scam I guess it would be difficult to win a case like this (but I am not a lawyer so take my thoughts on the matter with limited liability).
Another encouraging point in this aspect, is that history shows that large class actions are usually served to companies with high finances. There is no logic in filing a class action lawsuit of $100 million against a company that has a total of several millions in funds. It is done against large, rich companies; therefore, I believe that the risk is not particularly high in this case.
Risk #3: Risk in OTC trading
The stock is traded at the OTC market. This means less transparency and less sympathy to the share from many investors, especially institutional investors. This does not preclude the share from reaching its fair price, but it can delay it for a longer period of time, and increase the volatility along the way. It means that investing in the stock is not suitable for all investors, only the patient ones among you.
What is the trigger that may flood the value of LEAI?
Recently, Tigrent - the holding company of Legacy Education (held approximately 73% of the shares) distributed LEAI shares it held among its shareholders via spin-off. Tigrent just did not see capital gains from its holding in a long time, so it decided to get rid of the shares. Now, after the distribution, the number of shares held by the public has increased from 5 million shares to more than 22 million shares. This means that the number of free shares for trading on the market is now much higher. So far this has not led to a significant increase in trading volume for LEAI, but one investment fund seems to have used the situation to acquire a significant position in the stock - LAZARUS MANAGEMENT Fund, which owns approximately 6% of the company. I believe that with time additional sophisticated investors will be added, who will build significant positions in the stock and will support a rise in its price to a more reasonable level.
The Company management also realizes that the shares are traded at a low valuation that does not reflect the Company's operations and true value, therefore the Company may be subject to a hostile takeover by anyone wishing to pull the reins and enjoy the fruits. To cope with this, the Company has recently pursued a rights plan to shareholders (something referred to as "poison pill"), in which for every ordinary share a right to purchase a preferred share is issued and can be exercised in case of an attempt at a hostile takeover - directly at the company or through the massive purchase of its shares (when an investor's holding reaches 20% of the company). The aim is to ensure that stock holders will benefit from the investment in the case of acquisition by any third party, whether it be friendly to shareholders or not. The right to the preferred share will be linked to the ordinary share up to the point of the exercise, so that each ordinary share purchased will contain the right to preferred share (The program will expire on February 15, 2019). I can think of countless companies who will be interested to get their hands on Legacy Education, especially at the current price, and the rights plan will not prevent them from doing so. But, even if a cheap purchasing offer comes up, the program ensures that shareholders will not be deprived.
Conclusion: LEAI is worth buying, but gradually
I have no doubt that LEAI is a cheap investment at 30 cents, but we must not forget the risks and the low trading volume. This means that if you decide to buy, you should limit the position you purchase to a small percentage of the portfolio at the most, since there are risks. In addition, you should enter the share gradually, in a number of increments, so as to not affect the price significantly.
Disclosure: I am/we are long LEAI.