Covidien plc (NYSE:COV)

Integra LifeSciences Holdings Corp. (Nasdaq:IART)
COV reported that it has entered into a definitive agreement with IART to sell its Confluent Surgical product line.
Under the terms of the agreement, COV will receive an initial cash payment of $235 million from IART upon the closing of the transaction. Additionally, COV may receive up to $30 million, contingent upon the achievement of certain performance measures related to the transition of the Confluent Surgical business to IART.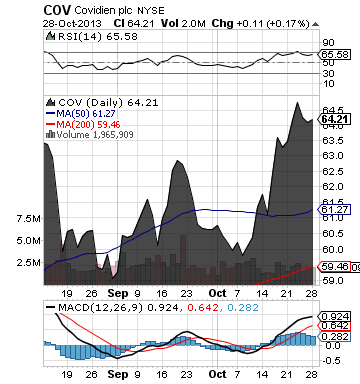 COV is a leading global healthcare products company that creates innovative medical solutions for better patient outcomes and delivers value through clinical leadership and excellence. COV manufactures, distributes and services a diverse range of industry-leading products in medical devices and supplies.
More about Integra LifeSciences Holdings Corp. (Nasdaq:IART) at www.covidien.com
***
Read full disclaimer at www.mikezaman.com/disclaimer
Disclosure: I have no positions in any stocks mentioned, and no plans to initiate any positions within the next 72 hours.