Article text goes here...


CARBO Ceramics Inc. (NYSE:CRR)
Shares of CRR surged after the company reported its quarterly financial results.
For the third quarter of 2013, CRR posted revenues of $201.5 million, an increase of 33% (or $50.3 million) compared to the same period the prior year, and net income of $30.1 million, or $1.31 per share, compared to $23.8 million, or $1.04 per share in the third quarter of 2012.
According to CRR, third quarter revenue set a new high for the Company, driven by strong demand for CRR's high quality, high conductivity ceramic proppant, combined with market share gains.
CRR stock closed at $125.34, up $27.66 or 28.32%, with a volume of 2,993,218 shares on Thursday's trading session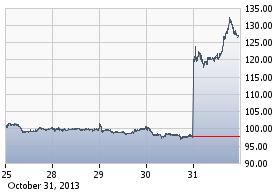 CRR enhances oil and natural gas well production and recovery by providing technology products and services to design, build, and optimize fracs. CRR has the industry-leading fracture simulation software, is the world's largest producer of ceramic proppant, has proprietary technology it applies to proppant to aid in fracture diagnostics and production assurance, and provides consulting services for fracture and completion optimization. CRR also provides a range of technology solutions for spill prevention and containment.
More about CARBO Ceramics Inc. (NYSE:CRR) at www.carboceramics.com
**
Read full disclaimer at www.mikezaman.com/disclaimer
Disclosure: I have no positions in any stocks mentioned, and no plans to initiate any positions within the next 72 hours.