Infosonics Corp. (Nasdaq:IFON)
IFON reported a profitable quarter driven by an 84% increase in sales of its verykool(NYSE:R) products over the same period last year, as well as its fourth consecutive quarter of record unit shipments. IFON shipped 477,000 handsets this quarter, a 166% increase compared to unit shipments in the particularly soft third quarter last year.
For the third quarter of 2013, IFON posted net sales of $9.9 million, an 84% increase year over year, gross profit of $1.8 million, a 60% increase compared to the same period the prior year, reflecting the significantly higher level of net sales, and net income for the third quarter of 2013 was $34,000, or $0.00 per share, compared to a net loss of $1.2 million, or $0.08 per share, in the third quarter of 2012.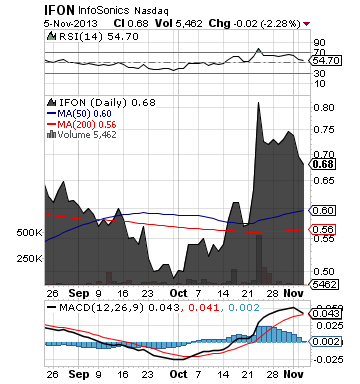 IFON is a designer, manufacturer and provider of wireless handsets and related products to OEMs, carriers, distributors and consumers in the United States, Latin America, Europe, Africa and Asia Pacific. IFON sells and supports its own line of products under the verykool(R) and other private label brands.
More about Infosonics Corp. (Nasdaq:IFON) at www.infosonics.com
**

Mindspeed Technologies Inc. (Nasdaq:MSPD)
MSPD reported that it has entered into a definitive agreement to be acquired by M/A-COM Technology Solutions Holdings, Inc. for $5.05 per share in a cash tender offer. This represents a premium of approximately 66% to the close of $3.04 on November 4, 2013.
The transaction value is approximately $272 million in diluted equity value.The boards of both companies have approved the transaction, which is subject to customary closing conditions and regulatory approvals. MSPD currently expects the transaction to close by the end of calendar year 2013.
MSPD is also in advanced discussions with a strategic acquirer of its wireless business and expects to continue those efforts in the coming weeks.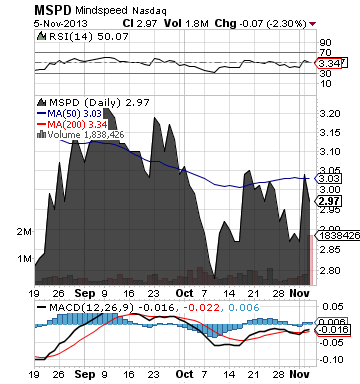 MSPD is a leading provider of network infrastructure semiconductor solutions to the communications industry.
More about Mindspeed Technologies Inc. (Nasdaq:MSPD) at www.mindspeed.com
**
Read Full Disclaimer at www.drstockpick.com/disclaimer
Disclosure: I have no positions in any stocks mentioned, and no plans to initiate any positions within the next 72 hours.