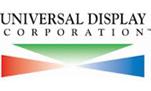 Universal Display Corp. (Nasdaq:OLED)
Shares of OLED skyrocketed on Friday's market activity after the company delivered outstanding financial results that were directly attributable to the commercial adoption of its red emitter, green emitter and green host materials. The use of these industry leading materials in a number of new products resulted in record material sales in the quarter
For the third quarter of 2013, OLED posted revenues of $32.8 million, compared to $12.5 million in the same period the prior year, and net income of $5.5 million, or $0.12 per diluted share, compared to a net loss of $5.5 million, or $(0.12) per diluted share, in the third quarter of 2012.
According to its 2013 guidance, OLED now has better visibility into its potential future financial performance for this year and expects 2013 revenues to be approximately $142-$144 million, compared to the prior guidance of reaching the high end of its $110-$125 million range.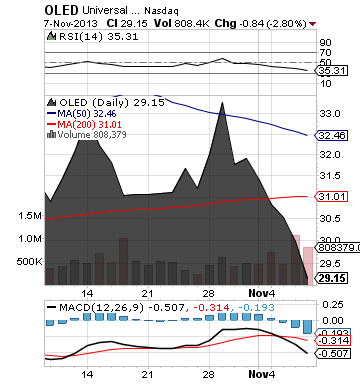 OLED is a leader in developing and delivering state-of-the-art, organic light emitting diode (OLED) technologies, materials and services to the display and lighting industries.
More about Universal Display Corp. (Nasdaq:OLED) at www.udcoled.com.
**

Arena Pharmaceuticals, Inc. (Nasdaq:ARNA)
ARNA's BELVIQ (lorcaserin HCl) is believed to decrease food consumption and promote satiety by selectively activating serotonin 2C receptors in the brain. The exact mechanism of action of BELVIQ is not known.
Reaching and maintaining a healthy weight is important for overall health and can help you prevent and control many diseases and conditions.
Being overweight or obese isn't a cosmetic problem.
If you are overweight or obese, you are at higher risk of developing serious health problems, including heart disease, high blood pressure, type 2 diabetes, gallstones, breathing problems, and certain cancers. That is why maintaining a healthy weight is so important: It helps you lower your risk for developing these problems, helps you feel good about yourself, and gives you more energy to enjoy life.
Many factors can contribute to a person's weight. These factors include environment, family history and genetics, metabolism (the way your body changes food and oxygen into energy), and behavior or habits.
The price on ARNA stock surged after the company and Eisai Inc. reported that they have expanded the BELVIQ marketing and supply agreement to provide Eisai with exclusive commercialization rights for all countries worldwide, except for South Korea, Taiwan, Australia, Israel and New Zealand.
Under the terms of the agreement, ARNA will receive an upfront payment of $60 million from Eisai and is eligible to receive up to a total of $176.5 million in regulatory and development milestone payments.
ARNA is also eligible to receive a total of $1.56 billion in one-time purchase price adjustment payments based on sales in the territories covered by the agreement.
ARNA's BELVIQ is approved by the US Food and Drug-Administration for chronic weight management, is available by prescription in the United States and is under review for regulatory approval in additional territories.
Eisai is a fully integrated pharmaceutical business with discovery, clinical, manufacturing and marketing capabilities. Eisai's key areas of commercial focus include oncology and specialty care (Alzheimer's disease, epilepsy and metabolic disorders).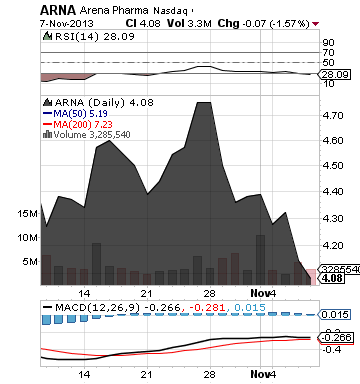 ARNA is a biopharmaceutical company focused on discovering, developing and commercializing novel-drugs that target G protein-coupled receptors, or GPCRs, to address unmet medical needs.
More about Arena Pharmaceuticals, Inc. (Nasdaq:ARNA) at www.arenapharm.com.
**
Read Full Disclaimer at www.pennyomega.com/disclaimer
Disclosure: I have no positions in any stocks mentioned, and no plans to initiate any positions within the next 72 hours.