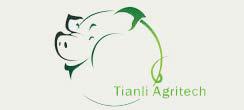 Tianli Agritech, Inc. (Nasdaq:OINK)
After closing bell on Wednesday's trading session, OINK reported on its financial results strong top-line growth and the return to profitability after more than a year.
For the third quarter 2013, OINK posted revenue of $8.73 million, a 33% increase year over year, gross profit of $0.90 million, compared to $0.62 million in the same period the prior year, and net income from continuing operations of $0.17 million, compared to a net loss of $1.13 million for the third quarter 2012.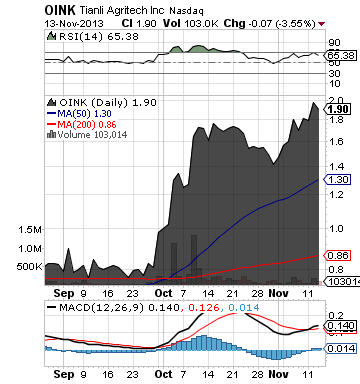 OINK is in the business of breeding, raising and selling breeder and market hogs in China and is developing a retail channel for its pork products including high-value, black hog meat.
More about Tianli Agritech, Inc. (Nasdaq:OINK) at www.tianli-china.com
**

Novavax, Inc. (Nasdaq:NVAX)
An outbreak of human infections with a new avian influenza A (H7N9) virus was first reported in China by the World Health Organization on April 1, 2013. The virus was detected in poultry in China as well. Most human infections are believed to have occurred after exposure to infected poultry or contaminated environments.
During the spring of 2013, 135 H7N9 human infections were reported, the vast majority with illness onset during the month of April; 44 people died. Only 5 cases were detected over the summer. To date this fall, four human cases have been reported; all with illness onset in October.
Most concerning about this situation is the pandemic potential of this virus. Influenza viruses constantly change and it's possible that this virus could gain the ability to spread easily and sustainably among people, triggering a global outbreak of disease.
NVAX reported that positive clinical data for its virus-like particle (NYSE:VLP) vaccine candidate against A(H7N9) influenza were published online in the Correspondence section of The New England Journal of Medicine. The correspondence can be found at: http://www.nejm.org/doi/full/10.1056/NEJMc1313186 and will appear in the December 26, 2013 print edition.
According to the study, conducted in 284 adult male and female subjects, NVAX's A(H7N9) VLP vaccine candidate was generally well tolerated, and the safety was in line with the company's previous findings with its influenza VLP antigens using ISCOMATRIX(NYSE:R) adjuvant.
NVAX is a clinical-stage biopharmaceutical company creating novel vaccines and vaccine adjuvants to address a broad range of infectious diseases worldwide. Using innovative proprietary recombinant protein nanoparticle vaccine technology, NVAX produces vaccine candidates to efficiently and effectively respond to both known and newly emergent diseases.
More about Novavax, Inc. (NVAX) at www.novavax.com
**
Read full disclaimer at www.mikezaman.com/disclaimer
Disclosure: I have no positions in any stocks mentioned, and no plans to initiate any positions within the next 72 hours.