VisionChina Media Inc. (Nasdaq:VISN)
VISN will report its financial results for the third quarter of 2013 after the U.S. markets close on November 18, 2013.
Shares of VISN skyrocketed $1.80 (or +20.36%) to $10.64 on Friday's trading session.
For the second quarter of 2013, VISN posted substantial financial improvements, with total revenues of $26.7 million, increased by 56.3% sequentially, and gross profit of $4.5 million compared to gross loss of $5.1 million in the previous quarter.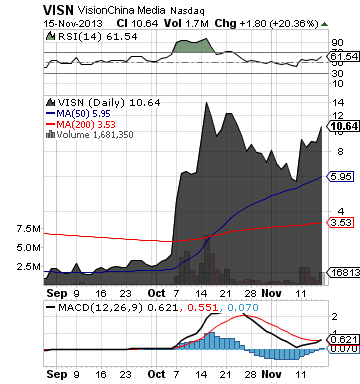 VISN operates an out-of-home advertising network on mass transportation systems, including buses and subways.
More about VisionChina Media Inc. (Nasdaq:VISN) at www.visionchina.cn
**

Biostar Pharmaceuticals, Inc. (Nasdaq:BSPM)
The price of BSPM stock soared $0.48 (or +22.64%) to $2.60 per share after the company reported a substantial improvement on revenues and gross profits in its unaudited financial results
For the third quarter 2013, BSPM posted revenue of $15.01 million, increased by $5.04 million over the same period of the prior year, and gross profits of $6.94 million, a 32.5% increase year over year.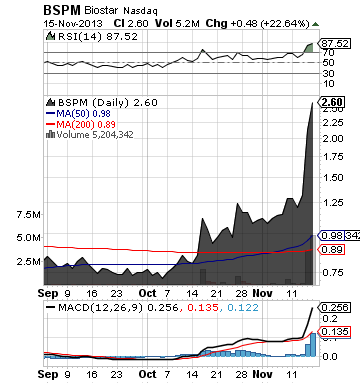 BSPM through its wholly owned subsidiary and controlled affiliate in China, develops, manufactures and markets pharmaceutical and health supplement products for a variety of diseases and conditions.
More about Biostar Pharmaceuticals, Inc. (Nasdaq:BSPM) at www.biostarpharmaceuticals.com
**

Tetra Tech Inc. (Nasdaq:TTEK)
Shares of TTEK climbed slightly $0.19 (or +0.66%) to $28.87 on Friday's market activity. The company was upgraded from Hold to Buy and price target of $32.00 by brokerage firm Brean Capital.
TTEK expects diluted EPS for the first quarter of fiscal 2014 to be in the range of $0.35 to $0.40.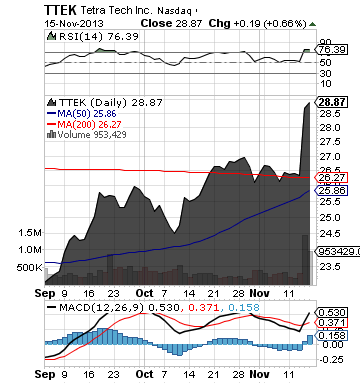 TTEK is a leading provider of consulting, engineering, program management, construction management, and technical services.
More about Tetra Tech Inc. (Nasdaq:TTEK) at www.tetratech.com
**
Read full disclaimer at www.mikezaman.com/disclaimer
Disclosure: I have no positions in any stocks mentioned, and no plans to initiate any positions within the next 72 hours.