Janssen Therapeutics, Division of Janssen Products, LP, is one of the Janssen Pharmaceutical Companies of Johnson & Johnson (NYSE:JNJ).
JNJ's Janssen Therapeutics reported that the U.S. FDA has approved OLYSIO(NYSE:TM) (simeprevir), for the treatment of chronic hepatitis C infection as part of an antiviral treatment regimen in combination with pegylated interferon and ribavirin in genotype 1 infected adults with compensated liver disease, including cirrhosis.
Hepatitis means inflammation of the liver. There are many causes of hepatitis. For example, drinking too much alcohol, various drugs and chemicals, and also several different viruses can cause hepatitis.
Hepatitis C, a virus which is carried in the bloodstream to the liver, is one of several hepatitis viruses and is generally considered to be among the most serious of these viruses. Hepatitis C is passed through contact with contaminated blood - most commonly through needles shared during illegal-drug use.
Chronic hepatitis C is a blood-borne infectious disease of the liver that affects approximately 3.2 million people in the United States.
OLYSIO(TM) may benefit patients with chronic hepatitis C, including those who are treatment naive or who have failed prior interferon-based therapy.
OLYSIO(TM) is the first once-daily protease inhibitor approved for the treatment of chronic hepatitis C in a combination antiviral regimen for adults with compensated liver disease. It works by blocking the viral protease enzyme that enables the hepatitis C virus (HCV) to replicate in host cells. The goal of treatment for chronic hepatitis C is cure, also known as sustained virologic response (SVR), which is defined as undetectable levels of HCV in the patients' blood 12 to 24 weeks after the end of treatment.
According to Bloomberg Industries, the market for hepatitis C drugs-may reach more than $100 billion over a decade. OLYSIO may generate $447 million for JNJ in 2016, according to the average of four analysts' estimates compiled by Bloomberg.
OLYSIO(TM) (simeprevir) is an NS3/4A protease inhibitor jointly developed by Janssen R&D Ireland and Medivir AB.
JNJ's Janssen is responsible for the global clinical development of OLYSIO(TM) and has exclusive, worldwide marketing rights, except in the Nordic countries. Medivir AB will retain marketing rights for OLYSIO(TM) in these countries under the marketing authorization held by Janssen-Cilag International NV.
JNJ's Janssen is dedicated to addressing and solving some of the most important unmet medical needs of our time in hepatitis C, HIV and other infectious diseases.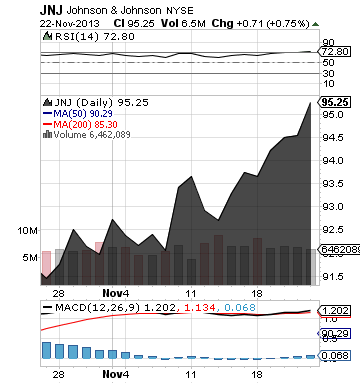 JNJ is dedicated to improving the health and well-being of people everywhere.
More about Johnson & Johnson (JNJ) at www.jnj.com
**
Read Full Disclaimer at www.mikezaman.com/disclaimer
Disclosure: I have no positions in any stocks mentioned, and no plans to initiate any positions within the next 72 hours.