The U.S. no longer has the highest obesity rates in the world. It is now second to Mexico, according to a report by the Food and Agricultural Organization (United Nations). In that report, published in July 2013, Mexico's adult obesity rate of 32.8% was just above America's 31.8%.
Being overweight or obese isn't a cosmetic problem. Obesity increases the risk of a number of health conditions including hypertension, adverse lipid concentrations, and type 2 diabetes. Obese children are more likely to become obese adults and suffer lifelong physical and mental health problems.
Orexigen Therapeutics, Inc. (NASDAQ:OREX) reported successful results of the interim analysis of the Contrave Light Study. Based on these results, OREX will resubmit the Contrave(NYSE:R) New-Drug Application to the FDA in the next few weeks with potential approval by June 2014.
The FDA previously agreed that if the interim analysis meets the specified criteria to exclude cardiovascular risk, OREX's Contrave could be approved.
According to OREX, the interim analysis of the Light Study clearly achieved the goal set by the FDA, and the resubmission will contain an unprecedented amount of cardiovascular outcomes data for an obesity therapeutic.OREX is confident these data will support a favorable benefit:risk assessment for Contrave.
OREX's lead product candidate Contrave (naltrexone sustained release (NYSE:SR)/bupropion SR) is an investigational medication being evaluated for weight loss.
OREX has licensed North American Contrave rights to Takeda Pharmaceuticals. OREX owns Contrave rights in Europe and throughout the rest of the world outside of North America and will seek a partner to commercialize Contrave in those territories. In October 2013, OREX submitted a Marketing Authorization Application for Contrave to the European Medicines Agency.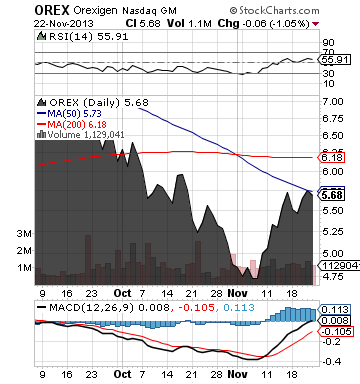 OREX is a biopharmaceutical company focused on the treatment of obesity.
More about Orexigen Therapeutics, Inc. (OREX) at www.orexigen.com
**

Hanwha SolarOne Co., Ltd (HSOL) reported that it will supply more than 170,000 high efficiency HSC 60 Poly Can-Am modules to the 42.5 MW Ontario Solar Photovoltaic Farm. This project represents HSOL's largest supply deal to Canada
Hanwha Solar Canada, a wholly owned subsidiary of HSOL, will manufacture the modules. while Hanwha Q CELLS is building the project, owned by Fiera Axium Infrastructure, located across four sites in Ontario.
The solar farm, scheduled for completion in early 2014, will generate up to 50 gigawatt hours of electricity annually, enough energy to power 5,000 average Ontario households, reducing the province's carbon footprint by 25,000 tons. Shipment of modules has already commenced.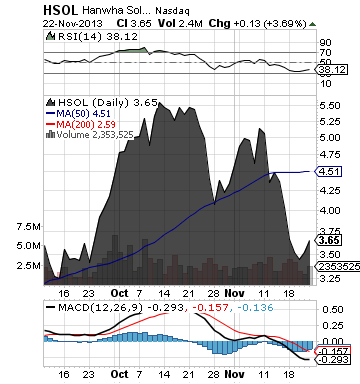 HSOL is one of the top 10 photovoltaic module manufacturers in the world, providing cost-competitive, high quality PV modules. It is the flagship company of Hanwha Group, one of the largest business enterprises in South Korea.
More about Hanwha SolarOne Co., Ltd (HSOL) at www.hanwha-solarone.com.
**
Read Full Disclaimer at www.pennyomega.com/disclaimer
Disclosure: I have no positions in any stocks mentioned, and no plans to initiate any positions within the next 72 hours.