InterDigital, Inc. (NASDAQ:IDCC)
Shares of IDCC climbed slightly to $34.02 on Wednesday's trading session.
IDCC reported that its patent holding subsidiaries have entered into a worldwide, non-exclusive, royalty-bearing patent license agreement with Teltronic S.A. Unipersonal for 4G technologies, including LTE.
Teltronic is a communications company that provides radio and mobile broadband solutions to the public safety and law enforcement, transportation, education and manufacturing segments.
IDCC expects its total fourth quarter 2013 revenue to be between $80 million and $83 million.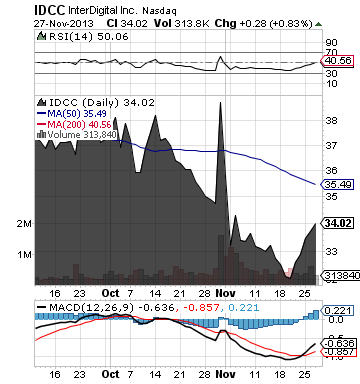 IDCC develops fundamental wireless technologies that are at the core of mobile devices, networks, and services worldwide.
More about InterDigital, Inc. (IDCC) at www.interdigital.com.
**
Ruckus Wireless, Inc. (NYSE:RKUS)
RKUS surged $0.60 (or +4.74%) to $13.25, with a volume of 1,692,101 shares traded on Wednesday's market activity.
RKUS was initiated with a Buy and price target of $17.00 by brokerage firm Stifel.
RKUS will be presenting at the Credit Suisse Annual Technology Conference in Scottsdale, AZ on Wednesday, December 4, 2013. The presentation is scheduled to begin at 4:30 p.m. Mountain Standard Time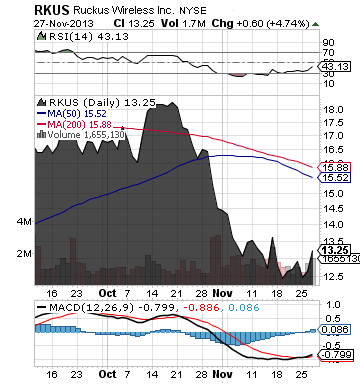 RKUS is a global supplier of advanced wireless systems for the rapidly expanding mobile Internet infrastructure market.
More about Ruckus Wireless, Inc. (RKUS) at www.ruckuswireless.com.
**
Read Full Disclaimer at www.mikezaman.com/disclaimer
Disclosure: I have no positions in any stocks mentioned, and no plans to initiate any positions within the next 72 hours.