Trina Solar Limited (NYSE:TSL)
Shares of TSL closed at $14.00, down $0.06 (or -0.43%), with a volume of 2,634,661 shares traded on Friday's trading session.
The company reported that it has entered into an agreement to establish a joint venture (JV) with Yabang Investment Holding Group Co., Ltd. ("Yabang Group"), a Chinese conglomerate engaged in businesses across multiple industries, including chemical, pharmaceutical, logistics and real estate, to acquire certain production assets from Changzhou NESL Solartech Co., Ltd., a subsidiary of Yabang Group, which specializes in the production of solar PV modules.
The total investment by TSL and Yabang Group is approximately US$45 million which will be used for capital expenditure and working capital. The JV aims to increase total solar module production capacity to 500 MW within the next 12 months.
The JV will acquire the existing module production assets of Changzhou NESL, including plants, machinery and equipment, which will be upgraded by utilizing the combined capital investment and international expertise provided by TSL and Yabang Group.
As TSL expects the demand for solar modules will continue to grow, particularly in China, Japan and emerging markets, the JV will strengthen TSL's market position by delivering much needed extra module production capacity.
According to the JV Agreement, the Joint Venture will be named Changzhou Trina Yabang Solar Energy Co., Ltd. TSL will hold a 51% stake in the JV and Yabang Group will hold the remaining 49%. TSL and Yabang Group expect to complete the establishment of their JV partnership by the end of 2013.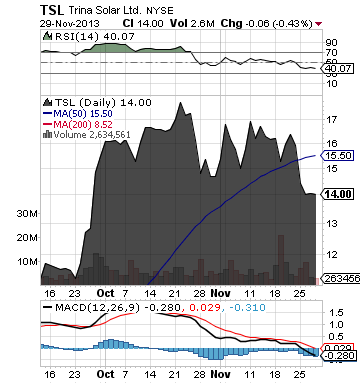 TSL is a global leader in photovoltaic modules, solutions and services.
More about Trina Solar Limited (NYSE:TSL) at www.trinasolar.com.
**

Points International Ltd. (Nasdaq:PCOM)
The price of PCOM's stock declined $0.38 (or -1.43%) to $26.11, and 50,185 of its shares exchanged hands during the market activity on Friday.
PCOM was upgraded from Outperform to Sector Perform and raised its price target from $24.00 to $27.00 by brokerage firm RBC Capital Markets.
For the third quarter 2013, PCOM posted revenues of $54.4 million, a 59% increase year over year, and net income of $1.1 million, or $0.07 per diluted share, compared to net income of $0.7 million, or $0.05 per share, in the third quarter of 2012.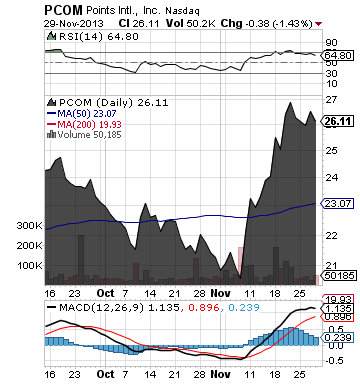 PCOM is the global leader in loyalty currency management. Via a state-of-the-art loyalty commerce platform, PCOM provides loyalty eCommerce and technology solutions to the world's top brands to enhance their consumer offerings and streamline their back-end operations.
More about Points International Ltd. (Nasdaq:PCOM) at www.pointsinternational.com
**
Read Full Disclaimer at www.drstockpick.com/disclaimer
Disclosure: I have no positions in any stocks mentioned, and no plans to initiate any positions within the next 72 hours.