Cell Therapeutics, Inc. (NASDAQ:CTIC)
CTIC reported that it has received a $5 million milestone payment from Teva Pharmaceutical Industries Ltd. related to the achievement of a sales milestone for TRISENOX(NYSE:R) (arsenic trioxide).
TRISENOX was acquired from CTIC by Cephalon, Inc., which was subsequently acquired by Teva.
The milestone was paid pursuant to an acquisition agreement for TRISENOX entered into with Cephalon under which CTIC is eligible to receive up to an additional $95 million in payments upon achievement by Teva of specified sales and development milestones related to TRISENOX.
Trisenox is a concentrate that is made up into a solution for infusion (drip into a vein). It contains the active substance arsenic trioxide.
Trisenox is used to treat adults (aged 18 years or over) with acute promyelocytic leukaemia (NYSE:APL), a rare form of leukaemia (cancer of the white blood cells). APL is caused by a genetic 'translocation' (when there is a swap of genes between two chromosomes). The translocation affects the way the white blood cells grow, and they lack the ability to use retinoic acid (vitamin A). Patients with APL are normally treated with retinoids (substances derived from vitamin A).
Trisenox is used when patients have not responded to treatment with retinoids and anticancer medicines, or when their disease has come back after this type of treatment.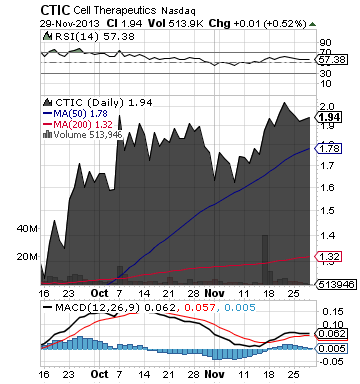 CTIC is a biopharmaceutical company committed to the development and commercialization of an integrated portfolio of oncology products aimed at making cancer more treatable.
More about Cell Therapeutics, Inc. (CTIC) at www.CellTherapeutics.com.
**
VolitionRX Ltd. (NYSEMKT:VNRX)
Colorectal cancer (often called simply "colon cancer") is cancer that develops in the colon or the rectum, and it's the third most common cancer in the U.S. While most people diagnosed with colon cancer do not have a family history the disease, people who have this cancer in their family have a significantly higher chance of being diagnosed.
The American Cancer Society's estimates for colorectal cancer in the United States for 2013 are: about 102,480 new cases of colon cancer, about 40,340 new cases of rectal cancer and about 50,830 deaths from colorectal cancer (Source: www.cancer.org/cancer/colonandrectumcancer/overviewguide/colorectal-cancer-overview-key-statistics)
VNRX released new data showing that when combining two of its proprietary NuQ(R) assays into one test, they can achieve 85% detection rates at 85% specificity for colorectal cancer. The data also shows that VNRX's two-assay test can detect more than 50% of precancerous polyps.
These new findings come from its ongoing prospective study with CHU Dinant Godinne | UCL Namur Hospital in Belgium.
VNRX recently presented preliminary data from a 90 patient independent trial, later confirmed in a further 113 patients, at University Hospital Bonn in Germany. This data demonstrated 75% detection rates at 70% specificity when using a single NuQ assay. The Belgian team confirmed these results using the same single assay, but when combining it with another nucleosome biomarker they achieved even better results.
VNRX's NuQ(R) tests are based on the science of Nucleosomics which is the practice of identifying and measuring nucleosomes in the bloodstream - an indication that cancer is present.
According to VNRX, the 85% detection rate seen in this latest research is on par with rates achieved by faecal occult blood tests and this test has the potential to become a global first choice diagnostic tool, replacing faecal occult blood tests and preventing unnecessary colonoscopies around the world. VNRX hopes to apply for CE mark early next year and FDA approval roughly a year later.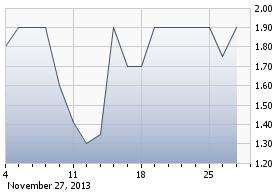 VNRX is a life sciences company focused on developing blood-based diagnostic tests for different types of cancer.
More about VolitionRX Ltd. (VNRX) at www.volitionrx.com
**
Read Full Disclaimer at www.pennyomega.com/disclaimer