Shares of B.O.S. Better Online Solutions Ltd. (NASDAQ:BOSC) skyrocketed after the company reported its financial results, which reflect a continuing improvement in the Company's performance and financial position.
For the third quarter 2013, BOSC posted net profit of $219,000, compared to a net loss of $66,000 in the same period the prior year, and EBITDA of $495,000, compared to $175,000 in the third quarter 2012.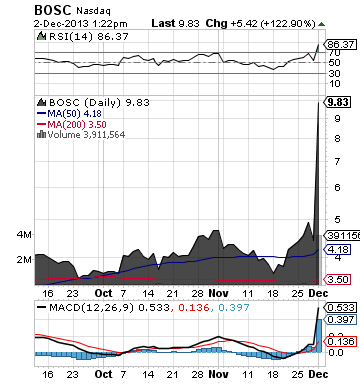 BOSC is a leading provider of Mobile and Supply Chain solutions to global enterprises.
More about B.O.S. Better Online Solutions Ltd. (BOSC) at www.boscom.com
**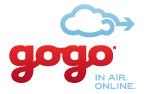 The price of Gogo Inc. (NASDAQ:GOGO) stock soared after the company reported that it has received a Supplemental Type Certificate to install its Ku-satellite technology on Boeing 747-400 aircraft.
GOGO will begin testing the new service immediately and plans to offer the service for customer usage by the first quarter of 2014. The technology will give travelers and crew access to the Internet. The service will also offer passengers Gogo Vision, GOGO's wireless in-flight entertainment service.
GOGO plans to continue installing equipment on 747-400 aircraft throughout 2014, in addition to other international aircraft.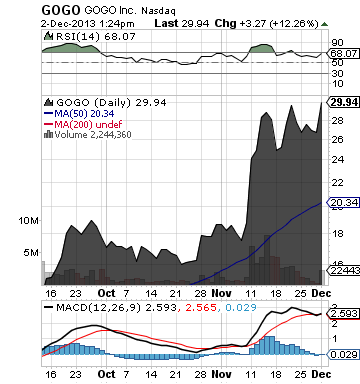 GOGO is the global leader of in-flight connectivity and wireless in-flight digital entertainment solutions.
More about Gogo Inc. (GOGO) at www.gogoair.com
**
Read Full Disclaimer at www.mikezaman.com/disclaimer
Disclosure: I have no positions in any stocks mentioned, and no plans to initiate any positions within the next 72 hours.