Unilife Corporation (NASDAQ:UNIS) reported an agreement with Novartis to supply clinical products from one of its platforms of injectable drug-delivery systems for use with one of Novartis' targeted early-stage pipeline-drugs.
Under this agreement, UNIS will supply Novartis with a customized delivery device, consisting of syringe, needle, tubing, controller and pump, to enable administration of a novel investigational Novartis drug-into a targeted organ in clinical trials. UNIS has granted Novartis an option for exclusivity under this agreement.
Under this agreement UNIS will generate revenue on the basis of the clinical product supplies and activities involved in clinical development.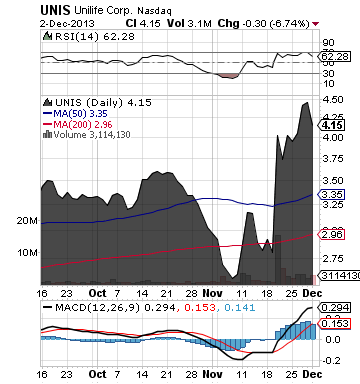 UNIS is a developer and commercial supplier of injectable drug-delivery systems.
More about Unilife Corporation (UNIS) at www.unilife.com
**

Conatus Pharmaceuticals Inc. (NASDAQ:CNAT) reported that the U.S. FDA has granted Orphan Drug-Designation to CNAT's drug-candidate emricasan for the treatment of liver transplant recipients with reestablished fibrosis to delay the progression to cirrhosis and end-stage liver disease.
The FDA's Orphan Drug-Designation program is intended to encourage the development of drugs-and biologics that may provide benefit to patients suffering from rare diseases or conditions.
CNAT is developing emricasan, a first-in-class, orally active caspase protease inhibitor designed to reduce the activity of enzymes that mediate inflammation and cell death (or apoptosis), for the treatment of patients with chronic liver disease and significant unmet medical need.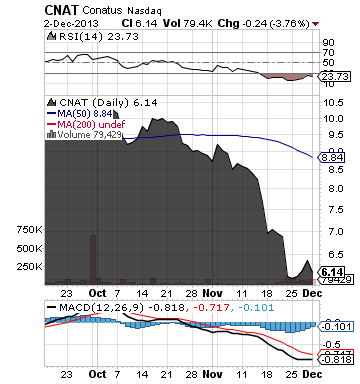 CNAT is a biotechnology company focused on the development and commercialization of novel medicines to treat liver disease.
More about Conatus Pharmaceuticals Inc. (CNAT) at www.conatuspharma.com.
**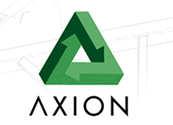 In a major deal adding $42 million of new revenues (http://finance.yahoo.com/news/axion-recycled-plastics-signs-42-120000486.html), AXION International Holdings, Inc. (AXIH) reported that its subsidiary, AXION Recycled Plastics Incorporated, signed a 3-year contract to provide recycled materials to one of the largest heavy gauge thermoformers in the U.S. The contract is renewable in 12-month increments.
The customer has agreed to purchase High Molecular Weight High Density Polyethylene (HDPE HMW) in monthly volume commitments from AXIH's AXION Recycled Plastics.
AXION Recycled Plastics is a newly established subsidiary of AXIH and positions the Company as a major recycled materials processor and supplier in the Midwest and Southwest U.S.
AXIH's AXION Recycled Plastics recycles post-consumer and post-industrial plastics including HDPE, PP, PVC, TPO, and PS in many forms.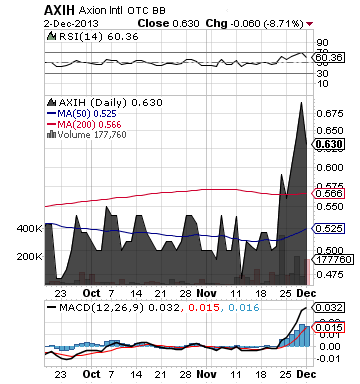 AXIH is a green technology company, transforming waste plastics into structural building materials.
More about AXION International Holdings, Inc. (AXIH) at www.AXIH.com
**
Read Full Disclaimer at www.pennyomega.com/disclaimer
Disclosure: I have no positions in any stocks mentioned, and no plans to initiate any positions within the next 72 hours.