The price of Metabolix, Inc. (MBLX) stock jumped $0.56 (or +52.34%) to $1.63, after company reported that it has launched Mvera(NYSE:TM) B5011, a new film grade resin that allows for production of compostable, and highly transparent, film and bags.
MBLX designed Mvera B5011 to meet international industrial standards for compostability, while also enabling customers to produce films for compostable bags and packaging applications with exceptional transparency compared to competing products. B5011 is certified for compostability by Vincotte to meet the EN13432 standard and by the Biodegradable Products Institute to meet the ASTM D6400 standard.
The new film grade resin processes well on existing blown film equipment and features a good balance of puncture toughness, tear propagation resistance, seal strength, printability and durability.
MBLX's Mvera B5011 compostable film grade resin is available immediately.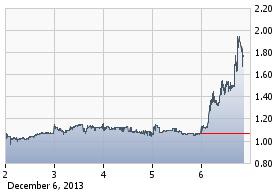 MBLX is an advanced biomaterials company that is well positioned to address growing market demand for sustainable solutions in the plastics, chemicals and energy industries.
More about Metabolix, Inc. (MBLX) at www.metabolix.com.
**

Shares of Ballard Power Systems Inc. (NASDAQ:BLDP) soared $0.27 (or +18.88%) to $1.70, after the company reported the signing of a non-binding Memorandum of Understanding (NASDAQ:MOU) with Van Hool NV, Europe's fourth largest bus manufacturer, in support of the manufacture and further deployment of zero emission fuel cell buses.
According to BLDP, in 2014, there will be 27 Van Hool fuel cell buses in public transit operation in Europe, powered by BLDP's fuel cell power modules.
BLDP's FCvelocity(NYSE:R)-HD6 fuel cell power modules are delivering a high level of performance in European buses. For example, on a year-to-date basis, BLDP's fuel cell modules have delivered availability greater than 97% in buses operating in London and Amsterdam.
By February 2014, Van Hool NV and BLDP plan to jointly respond to calls for proposals under the EU Hydrogen Fuel Cell Joint Undertaking, and also plan to jointly respond to other future calls for proposals under the Horizon 2020 program.
The EU Hydrogen Fuel Cell Joint Undertaking is a public-private partnership supporting research, technological development and demonstration activities in fuel cell and hydrogen energy technologies, providing subsidies for eligible projects through a cost share mechanism.
The European Commission and industry have each committed to contribute €470 million of funding into fuel cell and hydrogen research in the 2008-17 period. The next program, Horizon 2020, will extend this initiative through the year 2020 with an incremental budget of €700 million.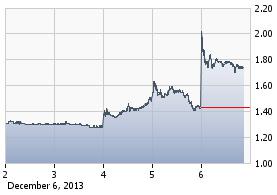 BLDP provides clean energy fuel cell products enabling optimized power systems for a range of applications.
More about Ballard Power Systems Inc. (BLDP) at www.ballard.com.
**

HIV stands for human immunodeficiency virus. It is the virus that can lead to acquired immunodeficiency syndrome, or AIDS. Unlike some other viruses, the human body cannot get rid of HIV. That means that once you have HIV, you have it for life.
Sangamo BioSciences, Inc. (NASDAQ:SGMO) presented positive data from all dose cohorts in its ongoing clinical trials (SB-728-1101 and SB-728-902 Cohort 5) of SB-728-T, which is being developed for the functional control of HIV/AIDS. The data are being presented at the Sixth International Workshop on HIV Persistence during Therapy.
SGMO's SB-728-T, is generated by ZFN-mediated modification of the gene encoding the CCR5 receptor in a patient's own T-cells. ZFN modification disrupts the expression of this key co-receptor for HIV entry and renders cells resistant to HIV infection.
According to SGMO, data from its clinical studies suggest that protection of CD4 T-cells by ZFN mediated CCR5 disruption may provide helper function to CD8 cells enabling the immune system to mount an anti-HIV response that can also erode the HIV reservoir. The reservoir is a compartment of the HIV-infected immune system that is not addressed by antiretroviral medication and its depletion is key to the goal of complete eradication of HIV infection.
In all trial subjects, SGMO's SB-728-T treatment results in a durable increase in total CD4 T-cells and sustained levels of SB-728-T which correlate with ZFN-modification of long lived central memory and memory stem cell subsets. Data from immunological analyses of subjects in both Phase 1 and Phase 2 studies of SB-728-T suggest that certain cell surface marker and gene expression profiles may predict which patients will likely respond best to SB-728-T treatment.
SGMO is focused on research and development of novel DNA-binding proteins for therapeutic gene regulation and genome editing. SGMO has ongoing Phase 2 and Phase1/2 clinical trials to evaluate the safety and efficacy of a novel ZFP Therapeutic(R) for the treatment of HIV/AIDS.
More about Sangamo BioSciences, Inc. (SGMO) at www.sangamo.com.
**
Read Full Disclaimer at www.mikezaman.com/disclaimer
Disclosure: I have no positions in any stocks mentioned, and no plans to initiate any positions within the next 72 hours.