Melanoma is a serious form of skin cancer that develops in the cells (melanocytes) that make our skin color. Melanoma is the sixth most common cancer in the United States, and the number of melanoma cases diagnosed annually is increasing faster than for any other cancer.
Melanoma is advanced when the cancerous cells have spread from the original melanoma to other parts of the body. When the cancer cells from a tumour spread to a different part of the body, they grow into new a cancer (known as a secondary cancer or metastasis).
ZIOPHARM Oncology, Inc. (NASDAQ:ZIOP) reported positive interim results from its ongoing Phase 1/2 study of Ad-RTS-IL-12, a novel DNA-based therapeutic candidate that is being evaluated with the oral activator, veledimex, in patients with advanced melanoma.
In this study, 21 patients with unresectable, recurrent stage III/IV melanoma have been treated with intratumoral injections of Ad-RTS-IL-12 and the oral activator veledimex. The purpose of the study is to evaluate the safety and tolerability of the Ad-RTS-IL-12 and veledimex therapy, determine tumor and immune response, and select the optimal dose and schedule of veledimex for future study.
According to ZIOP, to date, this study has demonstrated immune response and encouraging activity, along with a tolerability profile that is well controlled by dose of the activator ligand veledimex. This should combine well with other emerging treatments to create a new treatment option for advanced melanoma and other cancers.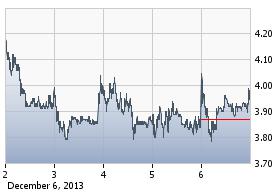 ZIOP is a biotechnology company employing novel gene expression and control technology to deliver DNA for the treatment of cancer.
More about ZIOPHARM Oncology, Inc. (ZIOP) at www.ziopharm.com.
**

Shares of Auxilium Pharmaceuticals, Inc. (NASDAQ:AUXL) soared after the company reported that the U.S. FDA has approved XIAFLEX(NYSE:R) (collagenase clostridium histolyticum, or CCH), an in-office, biologic for the treatment of Peyronie's disease, a condition that involves the development of collagen plaque, or scar tissue, on the shaft of the male genital..
AUXL's Xiaflex (collagenase clostridium histolyticum) is an enzyme that dissolves the plaque and, combined with physical therapy, can alleviate the curvature and associated symptoms.
Xiaflex is the first and only FDA-approved treatment proven effective for Peyronie's disease in men with a palpable plaque and a curvature deformity of 30 degrees or greater at the start of therapy.
It is estimated that as many as 9% of men have the condition - an embarrassing and sometimes painful curvature of the male genital. -, which can make intercourse painful or impossible.
The treatment will cost nearly $20,000 per patient, per year. Each injection of Xiaflex costs $3,300.
To support access to Xiaflex, AUXL has created Auxilium Advantage(NYSE:TM) which is intended to provide a single point of contact for health care providers and patients for help accessing the product.
AUXL is a fully integrated specialty biopharmaceutical company with a focus on developing and commercializing products to predominantly specialist audiences.
More about Auxilium Pharmaceuticals, Inc. (AUXL) at www.auxilium.com
**
Read Full Disclaimer at www.drstockpick.com/disclaimer
Disclosure: I have no positions in any stocks mentioned, and no plans to initiate any positions within the next 72 hours.