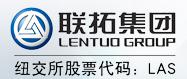 Lentuo International Inc. (LAS) reported its financial results before the opening bell on Monday.
For the third quarter 2013, LAS posted revenues of RMB953.1 million ($155.7 million), a 13.6% increase year over year, gross profit of RMB99.1 million ($16.2 million), a 99.2% increase compared to the same period the prior year, operating income of RMB39.2 million ($6.4 million), a 288.3% increase versus the same period a year ago and net income attributable to controlling interest of RMB17.6 million ($2.9 million), compared with a net loss of RMB6.4 million for the third quarter 2012.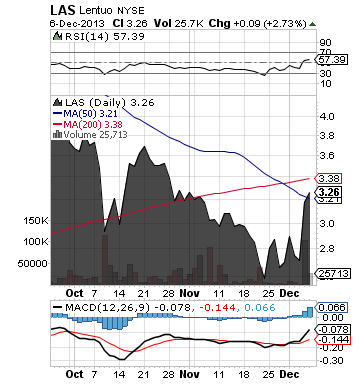 LAS is a leading non-state-owned automobile retailer headquartered in Beijing. LAS operates 12 franchise dealerships, 10 automobile showrooms, one automobile repair shops and one car leasing company.
More about Lentuo International Inc. (LAS) at www.lentuo.net/theme/en
**

Abraxas Petroleum Corporation (OTC:AXAS) reported the execution of a definitive agreement to sell its Eagle Ford interests at WyCross in McMullen County, Texas for $73 million.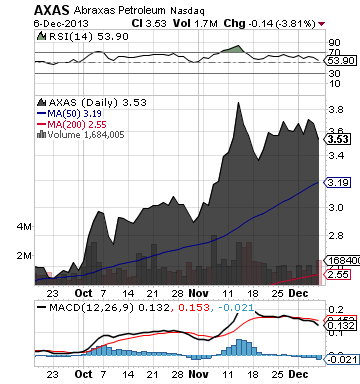 AXAS is a crude oil and natural gas exploration and production company with operations across the Rocky Mountain, Permian Basin and onshore Gulf Coast regions of the United States and in the province of Alberta, Canada.
More about Abraxas Petroleum Corporation (OTC:AXAS) at www.abraxaspetroleum.com
**
Read Full Disclaimer at www.pennyomega.com/disclaimer
Disclosure: I have no positions in any stocks mentioned, and no plans to initiate any positions within the next 72 hours.