Diabetes mellitus, or simply diabetes, is a group of metabolic diseases in which a person has high blood sugar, either because the pancreas does not produce enough insulin, or because cells do not respond to the insulin that is produced. This high blood sugar produces the classical symptoms of polyuria (frequent urination), polydipsia (increased thirst), and polyphagia (increased hunger).
According to a recently published study in the Journal of the American Medical Association, the prevalence of diabetes in the Chinese population has risen dramatically over the past decades to 11.6% today.
The International Diabetes Federation (IDF) estimated in 2012 that over ninety-two million people in China had diabetes. This represents nearly 25% of the IDF estimated worldwide population of 371 million people with diabetes. The president of the IDF has described diabetes in China as a "catastrophe"
Shares of NeuroMetrix Inc. (NASDAQ:NURO) soared on Tuesday's trading session, after the company reported that it has entered into an agreement with Omron Medical Devices, a subsidiary of Omron Healthcare China, to be the exclusive distributor for NC-stat(NYSE:R) DPNCheck(R) in China.
NURO's NC-stat DPNCheck is a rapid, accurate and quantitative point-of-care test for early detection of diabetic peripheral neuropathy (DPN), which affects over half of people with diabetes. DPN causes significant morbidity including pain, increased risk of falling in the elderly, and is the primary trigger for diabetic foot ulcers which may require lower extremity amputations.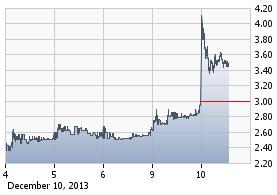 NURO is a medical device company that develops and markets home use and point-of-care devices for the treatment and management of chronic pain, peripheral neuropathies, and associated neurological disorders.
More about NeuroMetrix Inc. (NURO) at www.neurometrix.com
**

Acute myeloid leukemia (AML) is a cancer of the myeloid line of blood cells, characterized by the rapid growth of abnormal white blood cells that accumulate in the bone marrow and interfere with the production of normal blood cells. AML is the most common acute leukemia affecting adults, and its incidence increases with age. Although AML is a relatively rare disease, accounting for approximately 1.2% of cancer deaths in the United States, its incidence is expected to increase as the population ages.
Shares of BioLineRx, Ltd. (NASDAQ:BLRX) surged on Tuesday's market activity, after the company reported that it presented positive preclinical results of BL-8040 (formerly known as BKT-140), for the treatment of Acute Myeloid Leukemia (AML) and other hematological indications, at the 55th Annual Meeting of the American Society of Hematology.
According to BLRX, the data show that BL-8040 is efficient in inducing the death of AML cancer cells both in vitro and in a humanized mouse model.
BLRX's BL-8040 is a clinical-stage drug-candidate for the treatment of acute myeloid leukemia, as well as other hematological indications. It is a short peptide that functions as a high-affinity antagonist for CXCR4, a chemokine receptor that is directly involved in tumor progression, angiogenesis (growth of new blood vessels in the tumor), metastasis (spread of the disease to other organs or organ parts) and cell survival.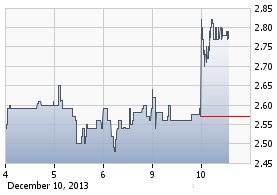 BLRX is a biopharmaceutical development company dedicated to building a portfolio of products for unmet medical needs, as well as those with advantages over currently available therapies.
More about BioLineRx, Ltd. (BLRX) at www.biolinerx.com
**
Read Full Disclaimer at www.drstockpick.com/disclaimer
Disclosure: I have no positions in any stocks mentioned, and no plans to initiate any positions within the next 72 hours.