Shares of Echo Therapeutics, Inc. (ECTE) skyrocketed on Wednesday's trading session after the company reported that it has entered into a strategic collaboration agreement with Medical Technologies Innovation Asia (MTIA), Ltd., Hong Kong, a fully integrated medical device company, for a license arrangement and equity investment in ECTE.
Under the terms of the License, Development and Commercialization Agreement, ECTE granted MTIA rights to develop, manufacture, market and distribute ECTE's Symphony CGM System on an exclusive basis for the Chinese market, including the Peoples' Republic of China, Hong Kong, Macau and Taiwan.
The worldwide market for glucose monitoring devices is approximately $10 billion, and is largely composed of blood glucose meters and test strips which provide single blood glucose values. ECTE's Symphony CGM System has the potential to offer a non-invasive, continuous glucose monitoring solution for use in the emerging hospital market.
This strategic partnership offers ECTE both the potential to accelerate Symphony's commercialization in China and to access to the Chinese market, where MTIA has established sales channels in more than 1,000 hospitals spanning the country's provinces.
According to ECTE, it will receive a $10 million equity investment from MTIA and Platinum Partners.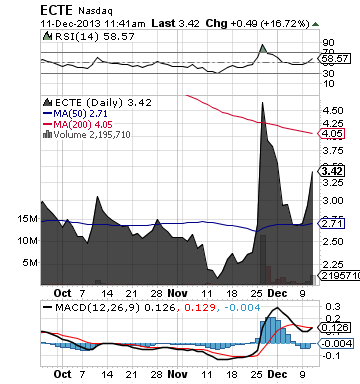 ECTE is developing the Symphony CGM System as a non-invasive, wireless, continuous glucose monitoring system for use initially in the critical care setting.
More about Echo Therapeutics, Inc. (ECTE) at www.echotx.com
**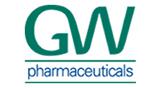 Glioma describes any tumor that arises from the glial tissue of the brain. Glioblastoma, considered a rare disease by the FDA and the European Medicines Agency, or EMA, is a particularly aggressive tumor that forms from abnormal growth of glial tissue.
According to the New England Journal of Medicine, Glioblastoma accounts for approximately 46% of the 22,500 new cases of brain cancer diagnosed in the United States each year. Treatment options are limited and expected survival is a little over one year.
The price of GW Pharmaceuticals plc (NASDAQ:GWPH) stock surged after the company reported that the United States Patent and Trademark Office (USPTO) has issued a Notice of Allowance for U.S. Application Serial Number 12/996,124, a patent which covers the use of cannabinoids for treating glioma.
The subject patent specifically covers a method for treating glioma in a human using a combination of cannabidiol (CBD) and tetrahydrocannabinol (NYSE:THC) wherein the cannabinoids are in a ratio of from 1:1 to 1:20 (THC:CBD) with the intent to reduce cell viability, inhibit cell growth or reduce tumor volume.
A Notice of Allowance is issued after the USPTO makes a determination that a patent can be granted from an application. The issued patent from this application will provide an exclusivity period until June 2029.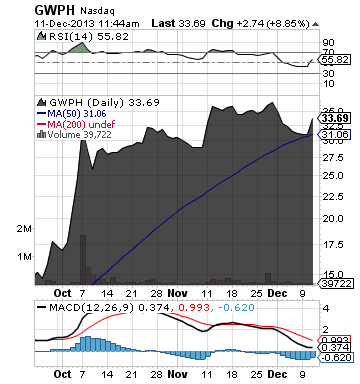 GWPH is a biopharmaceutical company focused on discovering, developing and commercializing novel therapeutics from its proprietary cannabinoid product platform in a broad range of disease areas.
More about GW Pharmaceuticals plc (GWPH) at www.gwpharm.com.
**

Shares of Vimicro International Corporation (NASDAQ:VIMC) climbed after it reported that its subsidiary Shanxi Zhongtianxin Science and Technology Co., Ltd. has received an order for a SVAC (Surveillance Video and Audio Coding)-based technology solution, valued at nearly USD $41 million, of which VIMC will receive approximately $16 million.
VIMC's subsidiary received the order from the Baoding Public Security Bureau for a city-wide SVAC-based surveillance network project in Baoding city in Hebei province. The network is being installed for security, surveillance, and traffic monitoring. The system will be comprised of several thousand video surveillance stations, and the project represents the first phase of a multiyear deployment and includes equipment and installation.
According to its business outlook, VIMC expects In the fourth quarter of 2013, revenues of $3.5 to $4.5 million for its PC and notebook image processor business line. For the surveillance products business line, VIMC expects to report at least $9 to $11 million of revenue from completed projects and expects to report additional revenue from several new orders with a total value of approximately $20 million currently being executed over the next couple of quarters.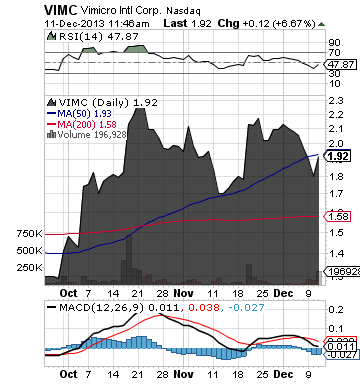 VIMC is a leading video processing IC and surveillance solution provider that designs, develops and markets mixed-signal semiconductor products and system-level solutions that enable multimedia capabilities in a variety of products for PC/notebook, consumer electronics and surveillance applications.
More about Vimicro International Corporation (VIMC) at www.vimicro.com
**
Read Full Disclaimer at www.pennyomega.com/disclaimer
Disclosure: I have no positions in any stocks mentioned, and no plans to initiate any positions within the next 72 hours.