VIVUS, Inc. (NASDAQ:VVUS) reported that it has entered into a License and Commercialization Agreement with Sanofi to commercialize avanafil on an exclusive basis in Africa, the Middle East, Turkey, and the Commonwealth of Independent States including Russia. Sanofi will be responsible for obtaining regulatory approval in its territories.
Avanafil is licensed from Mitsubishi Tanabe Pharma Corporation. VVUS owns worldwide development and commercial rights to avanafil for the treatment of sexual-dysfunction, with the exception of certain Asian-Pacific Rim countries.
Erectile-dysfunction (impotence) occurs when a man can no longer get or keep an erection firm enough for sexual-intercourse. Having erection-trouble from time to time isn't necessarily a cause for concern. But if erectile-dysfunction is an ongoing problem, it may cause stress, cause relationship problems or affect your self-confidence.
Under the terms of the agreement, VVUS is eligible to receive up to $61 million in upfront payments, regulatory and sales milestones. VVUS will also receive escalating royalties based on net sales over the life of the agreement
Sanofi intends to market avanafil under the tradename SPEDRA(NYSE:TM), the trade name for avanafil in the EU and certain other territories outside of the U.S., which has been approved by the EMA for the treatment of erectile-dysfunction in the EU, or STENDRA(TM), the trade name for avanafil in the U.S. and certain other territories, which is approved by the FDA for the treatment of erectile-dysfunction in the U.S.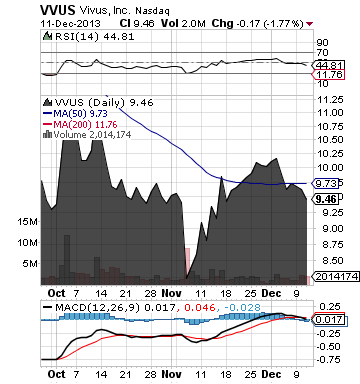 VVUS is a biopharmaceutical company commercializing and developing innovative, next-generation therapies to address unmet needs in obesity, sleep apnea, diabetes and sexual-health.
More about VIVUS, Inc. (VVUS) at www.vivus.com
**

Canadian Solar Inc. (NASDAQ:CSIQ) reported that it has been awarded a module supply agreement to provide Zhenfa New Energy Science & Technology Co., Ltd. with photovoltaic modules totaling 100MW for three solar power projects located in Gansu Province and one solar project in Inner Mongolia Autonomous Region of China.
CSIQ will supply about 400,000 pieces of its high efficiency CS6P245P, CS6P250P and CS6P-255P modules with power output of 245Wp, 250Wp and 255Wp for the projects. Module deliveries will commence in mid-December 2013 and are expected to be completed in January 2014.
The three projects in Gansu Province are respectively located in Jiangyuguan, Guliang and Minqin, with a total size of 200MW. The project in Inner Mongolia is located in Sanxin, with a size of 50MW.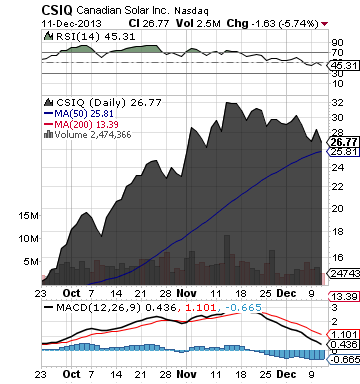 CSIQ is one of the world's largest and foremost solar power companies.
More about Canadian Solar Inc. (CSIQ) at www.canadiansolar.com.
**
Read Full Disclaimer at www.pennyomega.com/disclaimer
Disclosure: I have no positions in any stocks mentioned, and no plans to initiate any positions within the next 72 hours.