On intraday trading, Adobe Systems Inc. (NASDAQ:ADBE) reached a new all time high of $61.09 per share, after the company reported its financial results.
For the fourth quarter fiscal 2013, ADBE achieved revenue of $1.04 billion, within its targeted range of $1 billion to $1.05 billion, and diluted earnings per share of $0.13 on a GAAP-basis, and $0.32 on a non-GAAP basis.
According to its financial outlook, for the first quarter of fiscal 2014, ADBE is targeting revenue of $950 million to $1 billion, and on a diluted earnings per share basis, ADBE is targeting a range of $0.02 to $0.08 on a GAAP basis, and $0.22 to $0.28 on a non-GAAP basis.
ADBE closed at $60.89 per share, up $6.90 (or +12.78%) on Friday's market activity.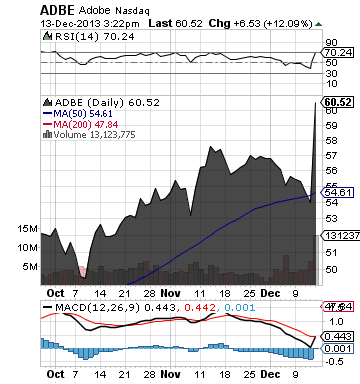 ADBE is changing the world through digital experiences. Content built and optimized with Adobe products is everywhere you look - from websites, video games, and smartphones to televisions, tablets, and beyond.
More about Adobe Systems Inc. (ADBE) at www.adobe.com
**
Procera Networks, Inc. (NYSEMKT:PKT) stock climbed slightly $0.34 (or +2.52%) to $13.83 on Friday's trading session. PKT was initiated with a Buy and price target of $19.00 by brokerage firm DA Davidson.
PKT recently received first-time orders for its PacketLogic(NYSE:TM) Intelligent Policy Enforcement systems from two Tier 1 fixed line operators in the LATAM region, including one cable MSO and one DSL operator. Both operators will deploy systems that profile subscriber and network usage by collecting high-resolution network intelligence in-line across their entire network.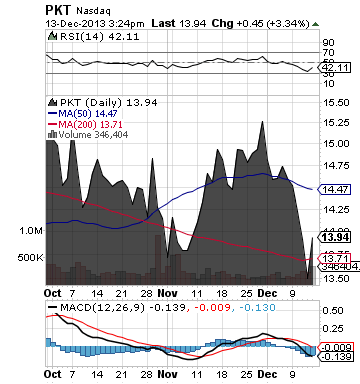 PKT delivers Internet Intelligence solutions to service providers and network equipment manufacturers for analytics and enforcement of broadband traffic worldwide.
More about Procera Networks, Inc. (PKT) at www.proceranetworks.com
**
Read Full Disclaimer at www.pennyomega.com/disclaimer
Disclosure: I have no positions in any stocks mentioned, and no plans to initiate any positions within the next 72 hours.