Myriad Genetics, Inc. (NASDAQ:MYGN)
Breast cancer is cancer that forms in cells of the breast. The breast consists of lobules (glands that make breast milk), ducts (small tubes that carry milk from the lobules to the-nipple), fatty and connective tissue, blood vessels and lymph vessels.
The milk-producing ducts and glands are the two most likely areas to develop cancerous cells.
Healthy breast cells contain receptors for the hormones estrogen and progesterone. They also contain receptors for a protein called HER2, which stimulates normal cell growth. About two out of three women with breast cancer have cells that contain receptors for estrogen and progesterone, and about 20 - 30 percent of breast cancers have too many HER2 receptors.
In triple-negative breast cancer, the cancer cells do not contain receptors for estrogen, progesterone, or HER2. About 10 - 20 percent of all breast cancers are triple-negative. This type of breast cancer is usually invasive and usually begins in the breast ducts.
MYGN presented clinical data at the 2013 San Antonio Breast Cancer Symposium that showed its HRD (homologous recombination deficiency) test was significantly associated with cisplatin response in patients with triple negative breast cancer.
According to MYGN, its data demonstrate that the company's HRD test has the capacity to precisely target DNA damaging therapy to the patients who are most likely to respond.
This is the second research study to show that MYGN's HRD test predicts drug-response to platinum therapy in triple-negative breast cancer patients.
MYGN's HRD test detects when a tumor has lost the ability to repair double-stranded DNA breaks resulting in increased susceptibility to DNA-damaging-drugs.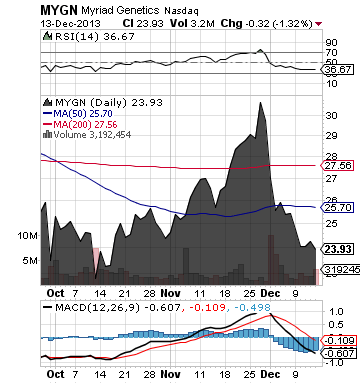 MYGN is a leading molecular diagnostic company dedicated to making a difference in patients' lives through the discovery and commercialization of transformative tests to assess a person's risk of developing disease, guide treatment decisions and assess risk of disease progression and recurrence.
More about Myriad Genetics, Inc. (MYGN) at www.myriad.com
**
Read Full Disclaimer at www.pennyomega.com/disclaimer
Disclosure: I have no positions in any stocks mentioned, and no plans to initiate any positions within the next 72 hours.