BioLineRx, Ltd. (NASDAQ:BLRX)
Acute myeloid leukemia (AML) is a cancer that starts in cells that would normally develop into different types of blood cells. "Acute" means that the leukemia can progress quickly, and if not treated, would probably be fatal in a few months. "Myeloid" refers to the type of cell the leukemia starts from.
Most cases of AML develop from cells that would turn into white blood cells (other than lymphocytes), but some cases of AML develop in other types of blood-forming cells.
AML starts in the bone marrow (the soft inner part of the bones, where new blood cells are made), but in most cases it quickly moves into the blood. It can sometimes spread to other parts of the body including the lymph nodes, liver, spleen, central nervous system (brain and spinal cord), and testicles.
According to the American Cancer Society, approximately 14,500 new cases of AML will be diagnosed in the United States in 2013, with 66 being the median age of AML patients.
BLRX reported promising initial results for its BL-8040 drug-candidate in a Phase 2 clinical trial for patients with relapsed or refractory acute myeloid leukemia (AML).
The early results show that BL-8040, as a stand-alone therapy and in combination with high-dose Cytarabine (Ara-C), is safe at all doses tested to date, and triggers substantial mobilization of cancer cells from the bone marrow to the peripheral blood, thereby increasing the vulnerability of the cells to chemotherapy treatment. In addition, signs of robust apoptosis (cell death) of cancer cells were observed following administration of the higher doses tested to date.
The study has not yet reached the highest planned doses, suggesting that a strengthening of BL-8040's effects may be observed in future dosing cohorts.
BLRX's BL-8040 is a clinical-stage drug-candidate for the treatment of acute myeloid leukemia and other hematological indications. It is a short peptide that functions as a high-affinity antagonist for CXCR4, a chemokine receptor that is directly involved in retention of cancer cells in the bone marrow, tumor progression, angiogenesis (growth of new blood vessels in the tumor), metastasis (spread of the disease to other organs or organ parts) and cell survival.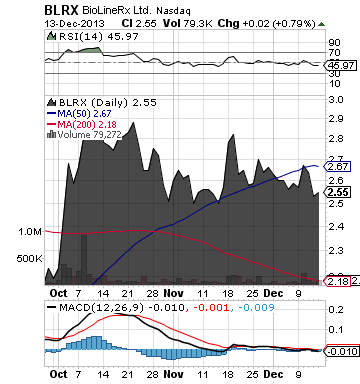 BLRX clinical-stage biopharmaceutical company dedicated to identifying, in-licensing and developing promising therapeutic candidates.
More about BioLineRx, Ltd. (BLRX) at www.biolinerx.com
**

AcelRx Pharmaceuticals, Inc. (NASDAQ:ACRX)
ACRX and Grunenthal GmbH reported that they have entered into a commercial collaboration, covering the territory of the European Union, certain other European countries and Australia for ZALVISO(NYSE:TM) (previously known as ARX-01) for potential use in pain treatment within or dispensed by a hospital, hospice, nursing home or other medically supervised setting.
ZALVISO, a drug-device combination product utilizing the opioid agonist sufentanil formulated in a proprietary sublingual tablet formulation and delivered through a pre-programmed, non-invasive proprietary delivery device is ACRX's lead program. ACRX retains all rights in remaining countries, including the U.S. and Asia.
Under the terms of the agreement, ACRX will receive an upfront cash payment of $30 million. ACRX is eligible to receive approximately $220 million in additional milestone payments, based upon successful regulatory and product development efforts and net sales target achievements. Grunenthal will also make tiered royalty, supply and trademark fee payments in the mid-teens up to the mid-twenties percent range, on net sales of ZALVISO in the Grunenthal territory.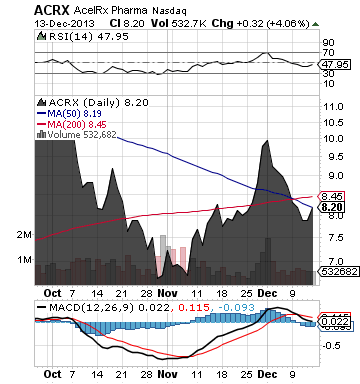 ACRX is a specialty pharmaceutical company focused on the development and commercialization of innovative therapies for the treatment of acute and breakthrough pain.
More about AcelRx Pharmaceuticals, Inc. (ACRX) at www.acelrx.com.
**
Read Full Disclaimer at www.pennyomega.com/disclaimer
Disclosure: I have no positions in any stocks mentioned, and no plans to initiate any positions within the next 72 hours.