Methes Energies International Ltd. (OTCPK:MEIL) .
Shares of MEIL soared on Tuesday after the company reported that its October and November production targets for the current calendar year were achieved, while production in November was the highest production month in gallons in MEIL's history, surpassing September and October by more than 60,000 gallons for each month. Production of biodiesel at its Sombra, Ontario facility for the months of September, October and November 2013 was higher than the total amount of biodiesel produced in all of its fiscal year 2012.
As MEIL expected, its 2013 fiscal fourth quarter saw the highest quantity of gallons produced in any previous quarter in the Company's history. As a result of this tremendous production growth, MEIL anticipates that it will record higher fourth-quarter revenues than any previous quarter in its history.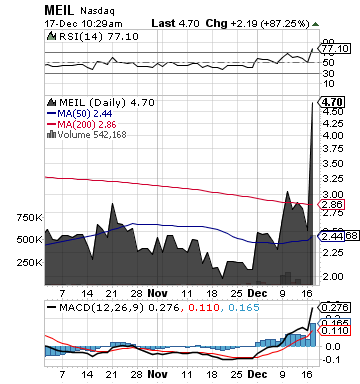 MEIL is a renewable energy company that offers a variety of products and services to biodiesel fuel producers.
More about Methes Energies International Ltd. (OTCPK:MEIL) at www.methes.com
**
Read Full Disclaimer at www.pennygovernance.com/disclaimer
Disclosure: I have no positions in any stocks mentioned, and no plans to initiate any positions within the next 72 hours.